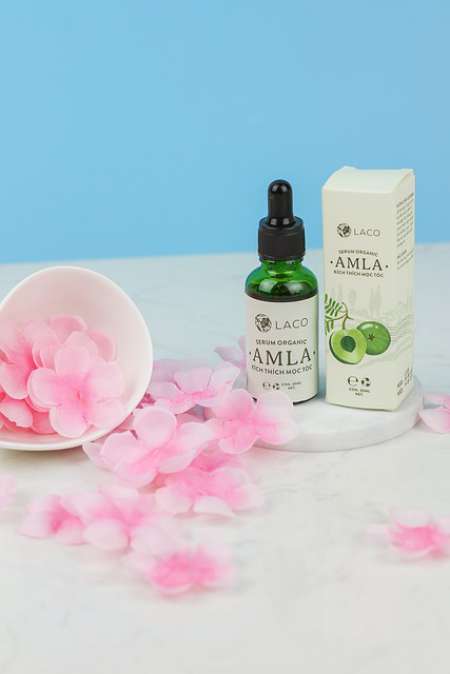 This sour tasting ingredient is packed with assorted nutrients that can treat various health ailments. This write-up is about its cosmetic benefits, stay tuned for DIY amla face mask recipes.
Hectic work schedule invites stress, anxiety, and frustration, which aren't good for your health and beauty. Few studies that claim, stress can trigger skin disorder.
There are different ways to avoid it. A natural remedy is one of the best ways.
Apart from stress, a chemical included creams, pollutants, low vitamin intake and excess exposure to sunlight results in hyperpigmentation.
Fortunately, Indian gooseberry or amla is loaded with nutrients that can improve your skin texture and help you to get rid of skin pigmentation.
What Causes Hyperpigmentation?
Your skin gets its color from a pigment known as melanin. Few external and internal factors influence its production resulting in dark patches at different places on your skin.
Excess exposure to sunlight, skin ailments, allergic reaction, certain medication, hormonal imbalance, and genetics are held responsible for this disorder.
Home available ingredients are packed with nutrients that inhibit melanin production and promote you radiant skin.
Why Shouldn't I Use Cosmetic Creams?
You can use. But, in most cases, these beauty creams come with harmful ingredients that aren't good for your skin.
Media is promoting skinny and flawless models for their marketing benefit. But, average women and teenage girls enticed by gorgeous models, aspiring to be like them. This zeal made them try different cosmetic products.
Unfortunately, most of them are unaware of the harmful chemical ingredients filled in those creams. Studies show that due to extensive use of beauty creams, your skin may lose its elasticity.
Antioxidant activity of amla can fight free radicals and prevent premature wrinkles. Apart from this, vitamins and other nutrients enhance the healthy functioning of the skin.
On the other side, natural items are inexpensive and filled with vitamins that are essential for healthy skin.
Interestingly, you can use this home available remedy for health, skin, and hair. Use it internally or topically, amla juice will improve your physical appearance.
Is Amla Good for Skin?
Amla powder or juice has assorted properties that can exfoliate your skin and make it firm.
With a high concentration of vitamin C, amla face pack helps to brighten your face and reduce dark complexion.
Regular consumption of amla juice and its topical application both help to promote the production of collagen and elastin, which makes your skin firm and wrinkle-free.
Cleansing ability of this face mask help to remove impurities and dead cell piled on the skin. Repeated application of this facial will reduce skin pigmentation.
Boosting collagen cells will make your skin supple and firm.
Antioxidant agents in amla powder flush free radicals and postpone aging wrinkles.
Astringent effect helps to shrink large pores and make your skin firm.
Antibacterial property can thwart bacterial infection and reduce acne inflammation.
Exfoliating property exhibited by amla facial removes dead cells from the skin.
Its healing ability encourages regeneration of new skin cells and prevents scaly patches on the skin.
How to Use Amla Face Mask?
Just washing your face with soap will not remove impurities, pollutants and dead cells stay on your skin. Repeated washing with soap may strip natural moisture from the skin.
Instead, add this homemade face pack recipe to your beauty regimen for effective results.
You must patch test before using it over the face. People with dry skin must blend other moisturizing ingredients with amla powder.
Depending on your skin type you can choose any below-listed recipe.
#1. Avocado and Amla Face Mask
Fatty acids in avocado hydrate your dry skin, vitamin C & E enhance collagen production and exhibits antioxidant properties.
Omega – 9 fatty acids are renowned to lock moisture and stimulate cell regeneration.
Take 2 teaspoons of amla powder in a bowl and add required amount of hot water to make a thick
Mash 2 teaspoons of avocado into a paste and add it to amla paste.
Wash or cleanse your face with water or gram flour and topically apply the face mask.
Rinse it off after 20 minutes.
Also read: How to Use Avocado for Acne?
#2. Amla, Yogurt and Honey Facial Mask
The best thing about homemade face mask is that you can blend innate substances based on your skin type.
If you've dry and acne skin, blend honey to amla powder. Apart from moisturizing this face mask will reduce inflammation.
Yogurt is packed with lactic acid that can treat acne and help you to obtain lightening skin.
Add lukewarm water to amla powder to make a paste-like
Add 1 teaspoon of raw or manuka honey and 1 teaspoon of plain yogurt.
Mix it well and apply topically to the face.
Optionally, you can use natural moisturizes like rosewater after removing the face mask.
#3. Papaya and Amla for Skin Whitening
Papain is an enzyme residing in papaya that exfoliates dead cells and impurities. Topical application of papaya will treat acne, remove dark spots and avoid premature aging wrinkles. It's a full package to make your skin supple.
Like mentioned above, mix amla powder with hot water to form a smooth paste.
Check the below recipe of amla for skin pigmentation.
Mash ripe papaya in a bowl and add it to amla paste.
Mix well to obtain thick paste-like
Wash your face and apply the face mask using your clean fingers. Let the assorted nutrients affect your skin for 20 minutes.
Rinse it off after that and pat dry.
Related: Is Papaya Good for Skin Whitening?
#4. Parsley and Amla for Acne
Along with parsley, add manuka honey in this recipe.
The high amount of vitamin C present in parsley promotes collagen production and vitamin A help to heal acne blemishes.
Vitamins residing in this ingredient help to lighten the appearance of scars and fight acne-causing bacteria.
Chop and crush fresh parsley with pestle and mortar.
Add 2 teaspoons of amla powder to it, hot water and 1 teaspoon of manuka honey to it.
Mix the ingredients thoroughly and then apply it as a spot treatment on acne lesions.
Allow it to dry for 15-20 minutes and then rinse it off with water.
#5. Milk Powder and Amla for Fairness
Vitamin A residing in milk powder fastens healing of dull skin, vitamin C promotes youthful skin and vitamin B6 encourages cell regeneration.
Lactic acid in milk powder helps to whiten your skin and make it supple.
Mix 2 tsp of amla powder, 2 tsp of milk powder and add aloe gel or rosewater to obtain a paste.
Wash your face with lukewarm water and then pat dry using a soft cloth.
Apply the amla face mask in a circular motion and then leave it to dry for 15 minutes.
Rinse it off with water.
Repeat this simple process regularly to obtain glowing skin. (Recipe source)
#6. Amla Juice Face Mask
Chop fresh amla pieces and blend it with the required amount of water.
Add 2 tbsp of honey and 1 tsp pepper to it. (For internal consumption)
For topical application, just add 1 tbsp of honey to amla juice and stir well.
Dip a cotton ball in the juice and apply it on your face.
#7. Turmeric, Lemon, and Amla
Cosmetic benefits of turmeric need no explanation. Its antibacterial, antiseptic and skin whitening properties are well known.
Lemon juice is prominent for its bleaching, antibacterial, and acne fight abilities.
Mix 2 tbsp of amla powder with 1 teaspoon of turmeric powder and 2 teaspoons of lemon juice.
Apply the mixed ingredients on your face.
Allow it to dry naturally for 15-20 minutes and then rinse it off with water.
People with dry skin must replace lemon juice with rose water.
Important Tips
As recommended before, apply natural moisturizers like olive oil or jojoba oil at night.
Along with the topical application, you must include amla juice and another vitamin rich food to your diet.
You're advised to hydrate yourself from inside by drinking enough water and consuming water-rich vegetables.
Wear a wide hat while going out in summer and stay away from irritants.
Refrain sleepless night.
Do physical exercise to improve your overall health.
Did you ever use amla face mask to lighten your skin or to treat acne? Share your favorite recipe in comments.