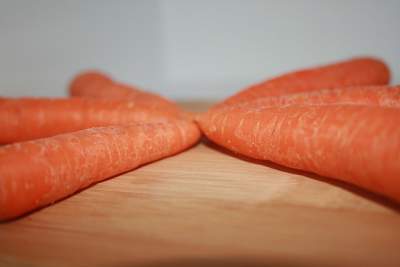 Why should you make your own homemade carrot face mask when you can get an instant facial treatment at a beauty spa?
Not that they are pricey, apart from being costly chemical ingredients housed in cosmetic creams may ruin your sensitive skin. Instead, this super beauty food can improve your complexion and combat ailments.
Add this home available ingredient to your arsenal to fight skin disorders.
Stay tuned, I'll share different recipes on using a carrot for skin whitening, wrinkles, and acne.
Every man has his own taste.
Likewise, for healthy functioning, different skin types need distinct ingredients. Dry skin needs moisturizing elements, while acne-prone skin needs anti-inflammatory agents and antioxidants can effectively fix wrinkles.
Is Carrot Good for Skin Whitening and Acne?
Carrot is packed with antiseptic and antioxidants, which can save skin cells from free radicals and infectious bacteria.
Carrots are renowned for its health benefits like improving vision, cleansing the body, preventing heart stroke and cancer. Apart from this, carrot, when used topically, can enhance elasticity and promote healthier skin.
Below mentioned are few notable benefits of carrot face mask for the skin. Anyway, it's not possible to include numerous nutritional benefits of carrots for skin in this post.
Ingesting carrot juice can effectively reduce scars and clear blemishes.
Vitamin C housed in carrot help to prevent wrinkles and fine lines on your face.
Topical application or internal consumption, however, you prefer this ingredient will hydrate your skin.
Beta-carotene and vitamin A residing in carrot exhibits antioxidant properties, which aids to thwart free radicals and slow down the aging process.
Apart from that vitamin A promotes cell regeneration and forms a protective layer of your skin.
You can get rid of dry skin if it is due to potassium deficiency.
Antiseptic agents help to strengthen the immune system and restrain infection triggering germs.
Anti-inflammatory agents in carrot can reduce acne inflammation and fasten healing process of injuries.
Vitamin C and potassium-packed in carrots stimulate collagen production and enhance skin's elasticity.
Vitamins and minerals residing in carrot help to combat skin ailments like acne, rashes, and dermatitis.
Assorted properties of carrot hydrate the skin from the outside and help to treat different skin ailments.
How to Make Carrot Face Mask at Home?
If you want to reap above listed cosmetic benefits, then the topical application is best.
There are many ways to use a carrot for glowing skin, the simple recipe would be to wash your face and apply mashed carrot paste on the damp skin.
Below mentioned are recipes, choose the one that goes well with your skin.
#1. Carrot Face Mask for Skin Whitening
When increasing pollution, dirt and dead cells get accumulated over your face they leave behind black spots.
Cosmetic face wash can wipe these impurities, but the harsh chemical ingredients can strip natural moisture from the skin making it dry.
Add honey, lemon and olive oil to mashed carrot for glowing skin.
Honey is packed with humectant, anti-inflammatory, antioxidant and antibacterial abilities that are essential for your skin.
Lemon is packed with bleaching and antibacterial properties that whiten your skin.
Olive oil is also prominent for its skin whitening abilities
Ingredients
Fresh Carrots – 2 medium sized
Raw honey – 1 tbsp
Olive oil – 1 tbsp
Lemon juice – 1-1/2 tbsp
Procedure
Initially, peal the carrot and boil sliced carrots in water until it becomes soft.
Using fork or spoon mash sliced carrots.
Add 1 tbsp of olive oil and 1 tbsp of raw honey or manuka honey and mix thoroughly.
Now add few drops of lemon juice.
Wash your face or cleanse it and pat dry.
With your clean fingers apply the facial mask evenly without missing any spot.
Leave the mask for 15 minutes and then rinse it off.
#2. Homemade Carrot Face Pack for Wrinkles
Vitamin C and antioxidant properties enhance skin's elasticity and reduce wrinkles. To hydrate the skin from the outside, add 1 tbsp of olive oil.
Extra virgin olive oil is loaded with vitamin E and K that exhibits antioxidant activity and reduces the appearance of wrinkles.
Take 1 or 2 peeled, boiled and sliced carrots to mash them in a bowl.
Mix 1 tbsp of olive oil with carrot paste.
Wash your face thoroughly and pat dry using a soft cloth.
Apply the obtained face pack and allow it to dry naturally for 15-20 minutes.
Rinse it off with water.
#3. Carrot Facial Mask for Refreshing
After a long day of hectic work we get tired, the same way our skin gets tired and need refreshing treatment.
Grate 2 carrots and add 2 tbsp of potato flour to it.
Mix 1 egg yolk to the mixture and apply it over the prewashed face.
Leave this refreshing face mask for 15 minutes then rinse it off with water.
#4. Carrot Facial Spray
Your skin feels uncomfortable and tanned after getting exposed to sunlight and dust. Carrot spray will remove accumulated impurities and fasten the healing process.
Mix extracted carrot juice with equal amount of rosewater.
Using a cotton ball to apply this spray to your face.
Store the remaining toner in a bottle for future use.
#5. Papaya and Carrot Face Mask
Papain is the vital ingredient in papaya that exhibits cosmetic benefits. Topical application of this fruit will help to obtain lightening skin.
Vitamins in this fruit help to reduce wrinkles and lighten the appearance of scars.
Mash peeled carrots and add required amount of papaya to it.
Add milk and grind to an obtained smooth paste-like
Wash your face and then apply the face pack evenly all over the face.
Allow it to dry naturally for 15-20 minutes.
#6. Cinnamon, Honey, and Carrot Face Mask for Acne
Experts say that inflammation is the main cause of acne lesions. Excess oil is secreted that blocks your skin pores.
Honey is packed with antibacterial and anti-inflammatory properties that help to combat acne-causing bacteria.
Mash 1 fresh carrot to obtain a smooth paste.
Add 2 pinches of cinnamon powder and 1 teaspoon of honey.
Mix well and apply it to the prewashed face.
Rinse it off with water after 15-20 minutes.
#7. Carrot Face Mask with Yogurt, Turmeric, and Besan
Gram flour or besan is my favorite ingredient to remove impurities. Regular application of this home available ingredient will whiten your skin.
Turmeric powder is also renowned for its antibacterial, anti-inflammatory and skin whitening properties.
Lactic acid in yogurt exhibits bleaching ability to obtain radiant skin.
Mix carrot paste with 1 teaspoon of yogurt and 1 teaspoon of gram flour.
Also, add 3 pinches of turmeric powder to it.
Now, apply this mixed face mask evenly on your skin.
Allow it to dry naturally for 15-20 minutes.
You're free to add any natural ingredient to carrot face mask to make it suitable for your skin type, but remember to stay away from ingredients that trigger an allergic reaction.
Apart from topical application, you must ingest vitamin-rich food to whiten your skin
Studies claim that stress ruins your appearance and may result in skin ailments. So avoid it.
Stay peace. Stay beautiful.
Did you ever, use carrot face mask for skin whitening or to treat acne? Let me know your recipe in comments.