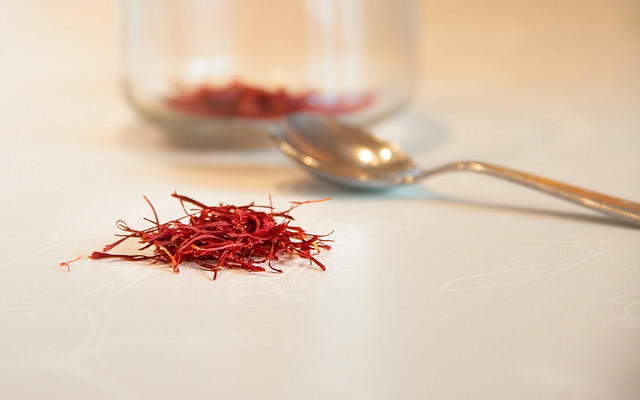 Difficulty in making this spice and its aromatic smell are real reasons behind its expensiveness. However, assorted nutrients packed in it can't be ignored. Read on this article to know how to use saffron face pack.
Renowned for its high medical properties saffron or kesar can be used as an ingredient in your homemade face packs. You just need to drop few strands of this spice and it's enough to obtain skin whitening.
Assorted properties in kesar face pack can remove tan, hydrate dry skin, treat acne, wipe impurities and help you to obtain supple skin.
Various cosmetic creams are enticed by nutritional profile of saffron and included it as an ingredient in their creams.
Renowned to treat menstrual cramps and premenstrual syndrome, you can also use it to drive interest in sex. (source)
Is Saffron Good for Skin?
Extolling benefits of saffron face pack for skin whitening are shared by many beauty experts.
Let's dwell into its nutritional profile. Kesar is packed with zinc, copper, potassium, iron, calcium and vitamins which include vitamin A, folic acid, riboflavin, niacin and vitamin C.
Skin whitening: Drop few strands of dried saffron in your face mask and it can effectively reduce hyperpigmentation.
Fight free radicals: Antioxidants packed in saffron can thwart free radicals and reduce aging wrinkles. (2)
Reduce wrinkles: Vitamin C packed in saffron will fade dark spots and enhance collagen production. Collagen production will improve elasticity resulting in wrinkle free skin.
Treats acne: A study concludes that people with acne lesion have shown positive results after treating topically with niacinamide. So, niacin residing in kesar face pack can reduce pimples. (3)
Hydrates the skin: Mix honey or other innate ingredients with saffron to moisturize your face.
Nutrients in this face mask helps to protect your skin from harmful UV rays.
Carotenoids packed in this spice exhibit antioxidant activity that help to reduce oxidative stress and thwart free radicals.
With its anti-inflammatory ability, saffron can effectively reduce chronic skin ailments like irritation, swelling and rashes.
12 DIY Saffron Face Mask Recipes
Because of its high price, it's recommended to blend few strands of this spice with other natural ingredients. Even with this minimal quantity of kesar strands you can nourish your skin and make it firm.
#1 Saffron Face Pack for Dry Skin
Most chronic skin diseases are associated by dry skin. Natural moisture surrounding your skin guards it from infection causing bacteria and virus. External and internal factors stripe this natural moisture making your skin dry and itchy. Saffron face mask can bring back moisture to your skin.
Take 5-6 strands of saffron, 2 tea spoon of malai or milk cream and 1 tbsp of rice flour.
Mix all ingredients in a bowl.
Now, wash your face and pat dry before applying the mask.
Using your clean fingers, evenly apply the saffron face pack excluding eye area.
Leave the mask for 15-20 minutes, and then rinse it off.
Both malai and rice flour are filled with exceptional nutrients which can remove the impurities and dirt from the skin. Milk cream face pack can effectively treat itching.
Read: Carrot skin whitening
#2 Saffron Face Pack for Skin Whitening
Do you know? Your skin sheds millions of dead cells on daily basis. (4) Along with pollutants, impurities and other factors like UV rays can leave your skin dark. Saffron face pack will help to remove tan and it will not stripe the moisture.
Take required amount of sandalwood powder, 4-5 saffron or kesar strands and raw milk.
Mix all ingredients and apply it over the face and around the neck.
Leave for 15-20 minutes to react and then rinse it off.
Like kesar or saffron, sandalwood powder has been used from ages as a beauty remedy. Its renowned activity helps to treat most skin disorders including acne, injuries, and sunburns.
Also read: Potato face mask for face whitening
#3 Papaya and Saffron Face Mask for Glowing Skin
Papain, an enzyme in papaya exhibits anti-inflammatory activity which can reduce acne inflammation. Apart from this, papaya can reduce aging wrinkles, dark spots, exfoliate your skin and moisturize it.
Select ripe papaya and mash into pieces after peeling its skin
Add raw milk or rosewater to make thick paste like consistency. Now, add 3-4 strands of saffron and mix well.
Apply the face pack over prewashed face.
Leave it for 15-20 minutes, and then rinse it off.
#4 Multani Mitti and Saffron Face Pack
Also known as fuller's earth, multani mitti is one of the cost effective ingredient to obtain radiant skin.
It is prominent to remove excess sebum piled over your face and treat acne. Nutrients in this home remedy help to lighten the appearance of dark patches and scars.
Take required amount of multani mitti and add few strands of saffron to it.
Mix the mask with milk to obtain smooth paste.
Wash your face and apply this homemade mask evenly.
Rinse it off after 15-20 minutes.
#5 Saffron and Turmeric Face Pack
Turmeric is renowned for its antiseptic and healing properties. This yellow spice is known to treat health and skin ailments. Vitamins housed in this spice are prominent to improve your skin complexion.
In this recipe, you need besan, yogurt and turmeric with saffron.
Gram flour or besan is an excellent ingredient to cleanse your face. Lactic acid in yogurt is beneficial for your skin.
Take 2 tbsp of yogurt, 10 strands of saffron, 1 tbsp of besan and ½ teaspoon of turmeric powder.
Mix all these ingredients and apply it over prewashed face.
Remember, excess use of turmeric powder may leave yellow stains on your face.
#6 Saffron Face Pack for Acne
Hormonal imbalance is one of the main causes of acne lesions. Saffron is packed with anti-inflammatory ability that can effectively reduce inflammation.
Astringent property of this ingredient helps to make your skin firm. Its regular use will lighten the appearance of scars and improve skin complexion.
Take 3-4 saffron strands and soak it ¼ cup of milk for about 2 hours.
Apply this mask evenly on your face using cotton ball.
Allow it dry naturally for 15-20 minutes and then rinse it off.
#7 Saffron for Skin Whitening
For this you'll need saffron strands, milk, olive oil, bread slice, sugar and distilled water.
Olive oil is packed with antioxidants, moisturizing, exfoliating and other essential vitamins that can combine to improve your skin complexion.
Sugar in this recipe help to exfoliate the skin and wipe dead cells accumulated on your face.
Soak saffron in a teaspoon of water overnight.
Now, add 1 teaspoon milk, a pinch of sugar and 3 drops of olive oil to it.
Immerse bread piece in the solution and spread it over your face.
Leave it to dry naturally for about 15-20 minutes.
Rinse it off with water.
#8 Sunflower Seeds and Kesar Face Pack
Sunflower seeds are packed with vitamin E, B1, copper, essential fatty acids, selenium, vitamin B6 and phosphorus.
Vitamin E enhances production of collagen and elastin. Its regular usage will reduce wrinkles, fine lines and make your skin firm.
Linoleic acid, oleic acid and palmitic acid housed in sunflower seeds help to hydrate your skin and make it supple.
Soak sunflower seeds and saffron strands in milk overnight.
In the morning, grind it into smooth paste and apply it over prewashed face.
Rinse it off after 20 minutes.
#9 Olive Oil and Saffron Face Pack
Due to its enticing properties, olive oil has been used for cosmetic purposes since centuries. Regular massage will improve blood circulation and fatty acids gets absorbed into your skin.
Instead of applying olive oil directly, soak 3 saffron strands in 1 tbsp of olive oil for a couple of hours.
Cleanse your face and pat dry with soft cloth.
Apply the mask using your clean fingers and leave it to dry naturally.
#10 Saffron and Honey Face Pack
Cleansing and cell regeneration ability of honey can help to improve your overall skin complexion.
Antioxidants, antibacterial and anti-inflammatory properties in this innate ingredient can't be ignored.
Mix 3 strands of kesar in 1 tablespoon of raw honey.
Apply this homemade face mask evenly all over the face and rinse it off with water after 20 minutes.
#11 Milk Powder and Saffron Face Mask
Since ancient times, milk has been used for cosmetic purpose. It exhibit cleansing and skin whitening abilities. Vitamin A, C, B6 and lactic acids helps to exfoliate your skin, heal damaged skin cells, promote collagen production and retain lost moisture.
Mix 2 tablespoons of milk powder with ½ cup of distilled water.
Add few saffron strands to it and mix thoroughly.
Now apply the obtained paste over prewashed face.
After 20 minutes, rinse it off with water.
#12 Saffron and Almonds Face Mask
Known for exceptional nutrients and vitamins, almonds are packed with vitamin E, potassium, zinc, omega-3& 6 fatty acids and antioxidant ability.
Topical application of almonds can help to moisturize your dry skin, reduce wrinkles, promote elastin, exfoliate and enhance cell regeneration.
Take few almonds and 10 saffron strands.
Soak them in a bowl of water overnight.
Grind them to obtain smooth paste.
Add little water to make paste like consistency.
Massage your face with this face mask and rinse it off after 20 minutes.
How to Make Saffron Face Pack?
Using above listed recipes you can make your own homemade saffron/kesar face pack.
Alternatively, you can use banana, honey, basil, neem, besan, multani mitti and other innate ingredients to saffron face pack for skin whitening, treating acne and to improve its healthy functioning.
Tips
Ingredients that irritate your skin must be avoided.
Start with small quantity to check if it goes well with your sensitive skin.
Regularly moisturize your skin before going to bed with jojoba oil, olive oil or rosewater.
Chemical included creams must be avoided.
Drink enough water and ingest vitamin rich diet to obtain healthy skin.
Researchers say that stress causes many ailments. So, avoid it.
Regular exercise can improve your overall health.