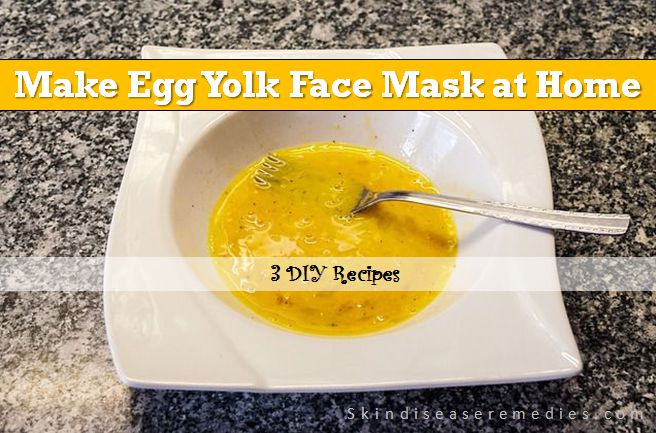 Eggs are packed with chock-full of nutrients. Whatever the form you consume it, you're served with proteins and vitamins. Most of us avoid egg yolk because of its calorie content; however you can reap the benefits of egg yolk for skin by applying topically.
According to Wikipedia.org yolk makes up 33% of liquid weight of the egg, because egg yolk is made of water and fat. This liquid content in egg yolk aids to lock moisture in the skin cells. So if you're worried about your dry itchy skin, then egg yolk face mask can serve you a smooth and supple skin.
In simple words, topical application of egg yolk face mask hydrates your skin.
After comparing egg white and yolk, we found egg yolk leads in nutritional values. But we recommend combining both to bring in more nutrients for your skin. (1)
Related post: Egg white face mask recipes
Nutrients in Egg Yolk
Like egg white egg yolk is packed with proteins, vitamin A, vitamin B2 and zinc, but in more percent.
Protein in egg yolk aids to rebuild broken tissues and improves skin elasticity.
Egg yolk has 245 IU of vitamin A, which heals dry skin with its antioxidant properties.
Vitamin B2 and B3 confronts free radicals, reduce inflammation and hydrates skin.
0.4 mg of zinc present in egg yolk reduces aging signs and also treats acne.
Also read: 10 ways to get rid of acne fast
Based on a study British journal published an article where it states that person with acne lesions applied 1 egg yolk face mask on skin to get rid of acne.
How to Make Egg Yolk Face Mask at Home
Experts avoid direct application of egg on skin, just add few interesting ingredients to it and you're ready to give your face a spa treatment. Few of them are discussed below.
DIY 1 – Egg Yolk Face Mask to Reduce Aging Signs (Olive oil and Banana)
Olive oil is a great antioxidant and moisturizing agent. Its topical application hydrates your skin and restrains bacterial infection. Mashed banana in this face mask reduces aging signs because of vitamin C in it.
Things you'll need
Egg yolk – 1
Olive oil – 1 tbsp
Ripe banana – 1
Face Mask Procedure
Using fork or spoon mash ripe banana in a bowl.
Add 1 tbsp of olive oil and 1 egg yolk to the bowl.
After mixing it thoroughly apply on prewashed face.
Leave it for about 15-20 minutes and wash with warm water.
Optionally you can apply toner or moisturizer. Practice the right way of applying face mask for best results.
Also read : DIY Banana face mask recipes
DIY 2 – Egg Yolk Face Mask for Acne (Honey)
Packed with anti-inflammatory, anti-bacterial and anti-oxidant properties honey is Almighty's gift to mankind. Topical application of honey can treat almost all skin diseases. A Reddit.com user shared how she cured acne, using raw honey.
Things you'll need
Egg yolk – 1
Honey – 1 tbsp
Face Mask Procedure
Whisk egg yolk and 1 tbsp of honey in a bowl. You can also add 1 tbsp of almond oil.
Use your fingers to massage on your face with face mask.
Let these natural remedies settle on your face for about 15 minutes.
Rinse it off using warm water.
Also read: Benefits of coconut oil on skin
DIY 3 – Egg Yolk Face Mask with Avocado and Yogurt
Avocado nutritional properties help to hydrate skin from outside and are great remedy for dry skin. On other hand yogurt has anti-fungal and anti-bacterial properties which helps to remove acne blotches.
Things you'll need
Ripe avocado – ¼
Egg yolk – 1
Yogurt – 1 tbsp
Face Mask Procedure
Mash ripe avocado to lump free in a bowl.
Now mix egg yolk and yogurt.
Using clean fingers apply it on your face in circular motion.
Let it sit for about 15 minutes, and then rinse it off with warm water.
Did you found Egg yolk face mask interesting? Share your views in comments.