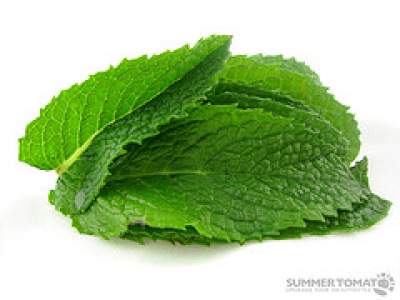 Prominent for its aromatic smell and flavor, this home available ingredient is packed with medicinal properties. In this article you'll know different mint face mask recipes.
Traditionally this medical herb has been used to treat stomach ache, chest pain and bowel syndrome. Cleansing properties binded in pudina/mint helps to reduce blemishes and make your skin supple.
Menthol and mint essential oil has been incorporated in numerous cosmetic and daily used products.
Renowned for its cooling effect, mint effectively treat pimples and calm inflammation. Now, let's check out innate ingredients blended in pudina face pack.
Benefits of Mint Face Mask
Restrain Bacterial Infection – Like any other natural ingredient, mint is packed with anti-microbial, anti-bacterial and antiseptic properties. These exceptional properties thwart infectious bacteria and harmful virus from the skin. Especially, it effectively treats acne blemishes and reduces inflammation.
Prevent Wrinkles – Vitamin A in mint enhances elasticity of the skin and reduces wrinkles. Popular books published on retinoids states that it fades dark spots and makes your skin smooth.
Tightens Your Skin – Astringent helps to tighten skin pores, even the skin tone and improve your skin's appearance.
Exfoliates Your Skin – As mint contains salicylic acid, it can be used to exfoliate and cleanse your skin. Topically using it will help to open blocked pores.
Treats Acne – Mint/pudina is packed with salicylic acid that has ability to treat acne blemishes.
Rejuvenates Skin – Vitamins housed in mint promote cell regeneration and regulates excess oil production.
Blackheads – Regular massage with this face mask will help to remove dead cells and blackheads.
Thwarts Toxins – When free radicals in your skin gets exposed to UV rays oxidation occurs leading to wrinkles. Antioxidant agents residing in mint face pack kills free radicals. If these free radicals are not cleared, they will attack collagen and other cells.
These were just notable benefits of mint for skin. Below listed are its recipes.
How to Use Mint Face Mask?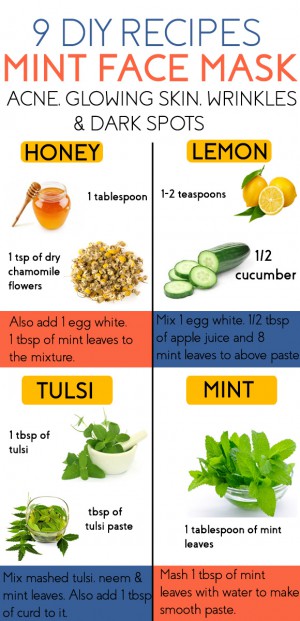 Unlike cosmetic creams, this innate ingredient is packed with excellent aromatic smell that will give you relaxing experience. This affordable face mask needs few minutes to make.
Let's start with the easiest recipe.
#1 Basic Mint Face Mask
This is for lazy guys who don't have time or patience to mix all ingredients
Wash your face to remove impurities. (Don't skip this step)
Take fresh mint leaves crush or grind them if you can. Apply the paste directly on the face and leave it to dry naturally.
Or you can just crush mint leaves and apply as spot treatment on acne, eczema and dry itchy patches.
#2 Pudina Face Pack for All Skin Types
Take cucumber and mint, both are known for refreshing your skin.
Cucumber has anti-inflammatory agents, which reduce acne lesions and its mild bleaching property treats skin tanning. Along with this, cucumber is known to soothe burns, heal injuries and hydrate your skin.
Take 1/2 cucumber and 1/4 cup of fresh mint leaves.
Mash the cucumber and strain its juice. Collect solid parts in a pan and add some water.
Now place the pan over stove on simmer.
Mean while chop mint leaves and add it to the pan. Leave it for 3-4 minutes and take off the pan.
Allow it cool and topically apply mint face mask over prewashed face.
Leave it for few minutes then rinse it off.
Also read: Cucumber face mask
#3 Mint Face Mask for Acne
Take few fresh mint, neem and tulsi leaves. All these herbs have excellent medical properties for your health and skin.
Neem is packed with antibacterial, astringent and salicylic acid. Apart from that fatty acids and vitamin E housed in this ingredient can make your supple and improve its skin texture.
Tulsi on other hand is packed with vitamin A, C, E and K, which promote cell regeneration and reduce appearance of scars. Anti-inflammatory, exfoliating and skin tightening abilities of this innate herb has been backed by researchers.
Take required amount fresh mint, tulsi and neem leaves.
Grind all the ingredients in mortar and pestle.
Add 1 table spoon of curd and water to the mixture.
Apply the obtained paste on prewashed face and leave it to dry naturally for 15-20 minutes.
Multani mitti is clay used to exfoliate and cleanse your skin. It helps to extract excess oil secreted by your skin. Anyhow, dry skin people can use this face pack but with caution, as it may dry up your skin.
Yogurt is known to have lactic acid, which help to reduce premature aging wrinkles and make your skin supple. Known to cleanse impurities, hydrate skin and tighten skin pores, this home available ingredient has many cosmetic benefits.
Mash mint leaves and add 1 table spoon of multani mitti powder to it.
Add 1 tablespoon of yogurt.
Mix thoroughly and apply it over the face evenly.
Rinse it off with water after 15-20 minutes.
#6 Mint Face Scrub
Assorted nutrients packed in mint leaves can cleanse your blocked pores and refreshes the skin. Add oats and milk powder and honey to turn it to a face scrub.
Mint leaves – few
oats – 1 tbsp
milk powder – 2 tbsp
honey – 1/2 tbsp
cucumber – 1/4
Mash all ingredients and add honey at the last stage. Wash your face to wipe impurities and then apply this face mask cum scrub evenly. Leave it to dry naturally and then wipe it using wet cloth.
#7 Egg White, Lemon Juice and Mint Face Pack
Egg white though contain less nutrients compared to egg yolk, it can cleanse and unblock pores. Along with this you can add cucumber, lemon juice and apple juice.
Lemon juice is known to have bleaching and acidic properties. Its antibacterial property help to fight bacterial infection and its application can reduce wrinkles, dark spots and other skin disorders.
Cucumber – 1/2
Egg white – 1
Lemon juice – 1/4 tbsp
Apple juice – 1/2 tbsp
Mint leaves – 8
Mash all the ingredients by adding one by one in the food processor. Like mentioned above wash your face and apply the mask and let it dry. Rinse it off after 15 minutes.
#8 Chamomile, Honey, Egg and Mint Face Mask
Chamomile tea helps to treat acne, reduce puffiness under eyes, lightens the appearance of dark circles, soothes irritated skin, exfoliates your skin, hydrates and helps to obtain radiant skin.
Healing, anti-inflammatory, antibacterial and humectant properties are packed in raw honey. Its extolling benefits are documented in religious scriptures and historical books.
Mix 1 egg, 1 tablespoon of honey, 1 teaspoon of dry chamomile flowers and 1 tablespoon of crushed mint leaves.
All these ingredients must be mixed in a bowl till you obtained smooth paste.
Wash your face to cleanse and pat dry with soft cloth.
Apply the mask evenly and leave it to dry naturally for 15-20 minutes.
#9 Yogurt, Milk Powder, Cucumber and Mint Face Mask
Zinc and lactic acid residing in yogurt stimulates healthy skin. Gently massaging yogurt over the skin will moisturize it. When mixed with other ingredients it turns to an excellent exfoliator.
Mix 1 tablespoon of non-fat milk powder with 1 teaspoon of plain yogurt, 1 tablespoon of mint leaves and ½ cucumber.
Mash cucumber and mint leaves to form smooth paste.
Add other ingredients and apply the obtained paste on prewashed face.
After 15-20 minutes, rinse it off with water.
Tips
Excess use of lemon juice can make your skin sensitive to sunlight. Apply sunscreen while going out.
Ingredients that may irritate your skin must be avoided.
Studies show that stress is one of the vital causes of chronic skin ailments. Avoid it to stay beautiful.
Change your lifestyle to reap benefits of mint.
Do regular exercise and drink enough water regularly.
Vitamin rich diet must be included.
Cleanse your face regularly to remove impurities and dead cells piled over it.
Did you ever use mint face Pack to treat acne or other skin disorders? Share your experience with us.