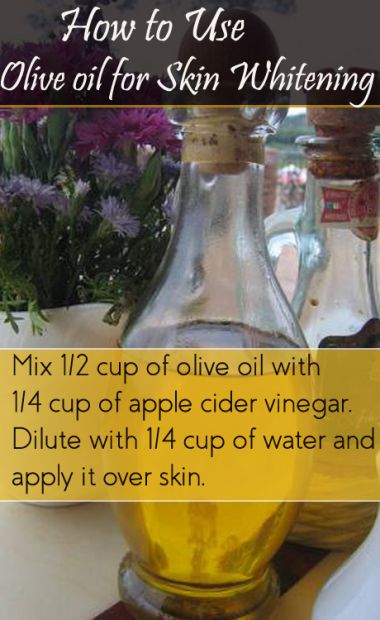 It's not another vegetable oil that can be used for culinary purpose. Olive oil benefits have been documented in religious books like The Holy Qur'an and in many ancient books. Here you'll learn how to use olive oil for skin whitening and get rid of hyperpigmentation.
Since centuries this oil has been used to treat various health issues and skin ailments.
Mediterranean women use this oil as a moisturizing and cleansing agent. Exceptional vitamins and fatty acids packed in olive oil make it an ideal remedy for sensitive skin people.
Topical application of this oil will help to rejuvenate your skin, improve skin complexion, get rid of dark spots, and fade wrinkles.
Also read: 10 Home Remedies to Get Rid of Foreheads Wrinkles without Botox
If you want to use olive oil for skin complexion, then you must remember that it's not an instant process and regular application is important to see positive results.
Benefits of Olive Oil for Glowing Skin (Why Olive Oil?)
High concentration of monounsaturated fatty acids in olive oil makes it the healthiest diet for Mediterranean people. Studies show that people who consume this oil have a lower risk of cardiovascular problems.
Along with its impeccable health benefits, olive oil can be used topically for face fairness, to make your skin supple and soft.
Is olive oil good for skin whitening?
Exfoliate your skin
When the increasing pollutants get accumulated over your skin, along with harmful UV rays they lead to dark skin. Nutrients in olive oil help to cleanse these piled impurities.
Polyphenols, flavonoids and vitamin E residing in this innate oil promotes cell regeneration, cleanse dead cells and lightens your skin.
Olive oil to get rid of hyperpigmentation
External and internal factors influence the excess production of melanin resulting in brown spots or dark complexion. Apart from this, skin ailments also leave scars that ruin your aesthetic appearance.
Vitamins and minerals packed in this innate oil can effectively help to improve your skin complexion.
Moisturize your skin
External and internal factors stripe natural oils from the skin, hydrating agents in olive oil penetrate deep into the skin and moisturize it from the outside.
Regular application of this oil will make your skin smooth and supple.
Antioxidants
Vitamin E and K in olive oil exhibit antioxidant activity, which fights free radicals and enhances cell regeneration. Free radicals damage skin cells and elasticity, resulting in fine lines or wrinkles. (1)
Anti-inflammatory agents
Most nutrients in this golden color oil show anti-inflammatory property, which reduces acne inflammation.
Dark Circles
Skin lightening properties housed in olive oil and lemon will improve your skin complexion.
Assorted nutrients in the oil help to promote elastin and collagen production.
Olive oil application will rejuvenate skin and reduce dark circles.
Treats Blackheads and Whiteheads
The nutritional ability of olive oil helps to cleanse blocked pores and remove blackheads. Regular massage will remove excess sebum accumulated on your skin and wipe blackheads.
Protects your skin from UV rays
Vitamin A and E residing in this oil protects from harmful UV rays and pollutants, which may damage your skin.
Repeated exposure to sunlight may lead to excess production of melanin and dark complexion. Vitamins residing in olive oil help to guard your fair skin.
Assorted nutrients in olive oil can improve your skin tone and its elasticity.
Unlike store available skin lightening products, olive oil is free from harmful chemicals that irritate your skin.
You can use olive oil for face whitening, because of A and E vitamins. They exhibit antioxidant property and improve cell generation.
To reap all exceptional nutrients, experts recommend using extra virgin olive oil for skin lightening and to make it supple. Because refined olive oil has chemical ingredients packed in it.
Recommended: Carrot face mask for skin whitening
How to Use Olive Oil for Skin Whitening?
Get an extra virgin olive oil from local drug store and topically massage over prewashed face. Best time to apply this oil is before going to bed. So the nutrients will have enough time to react to skin ailments.
You can use a cotton swab to apply it to acne lesions as a spot treatment. Don't expect instant results, natural remedies require continuous use. To make this natural oil more effective or suitable for your skin type, you're free to mix any innate ingredient to it. (Until you're not allergic to it)
Let's check out few different olive oil face mask recipes.
Also read: Olive oil for stretch marks
#1 Olive Oil for Fair Skin
Everyone desires to have a glowing skin. To obtain this, most people run after cosmetic creams that are included with chemical ingredients. You can use olive oil for glowing skin, but to make it more effective, beauty experts recommend blending it with other home available ingredients.
Blend 1 tablespoon of extra virgin olive oil with 1 tablespoon of raw honey and egg yolk.
Mix all ingredients in a bowl.
Wash your face with water and pat dry.
Evenly apply this face mask on the face and leave it to dry naturally for 15-20 minutes.
Rinse it off with lukewarm water.
#2 Olive Oil for Glowing Skin
Ingredients you need are honey, sugar, lemon juice and extra virgin olive oil.
To get a natural glow, you need to first wipe impurities accumulated over the skin. This olive oil face mask can help you exfoliate dead cells and dirt off the face.
Initially, wash your face with water and pat dry.
Mix olive oil, honey, and sugar in a clean bowl. Optionally add 1-2 drops of lemon juice.
Now, apply the face mask over the skin and smoothly start massaging in circular motion. After 15-20 minutes, rinse it off.
Lemon juice may irritate your sensitive skin, so limit its use or apply olive oil after this face mask treatment.
Also read: Sesame oil for skin whitening
#3 Lemon and Olive Oil for Skin Lightening
Acidic nature of lemon juice helps to remove impurities and lighten dark spots over the skin. Olive oil has hydrating properties that can moisturize and make your skin bright. Regular use of this face mask will fade dark spots and acne scars.
Initially, cook 1/2 cup of oatmeal and cool it. Now mix 1 tbsp of olive oil, few drops of lemon juice and 1 egg white to it.
Apply this face mask over prewashed face and leave it for 15 minutes.
Rinse it off and apply natural moisturizer like jojoba oil or coconut oil.
#4 Olive Oil for Hyperpigmentation
There are various factors that cause hyperpigmentation. External factors include excess exposure to UV rays, impurities and longer exposure to the computer screen.
Blend 1 tablespoon of oat flakes, 1 tablespoon olive oil and 1 tablespoon of raw milk.
Apply the obtained smooth paste over the prewashed face.
Leave it for 20 minutes, so that nutrients in the face mask penetrate deep into the skin.
Apart from this, include nutrient-rich diet and wear sunscreen cream while going out.
#5 Olive Oil and Cucumber
Like other natural home ingredients, cucumber is also packed with essential vitamins that your skin needs.
Cucumber is also packed with skin lightening abilities that can improve your skin complexion and lighten the appearance of scars.
Take 1 tsp of olive oil, 1 teaspoon of milk and 1 fresh cucumber.
Mash or grind cucumber slices into a smooth
Add olive oil and milk to the paste.
Mix thoroughly and apply it on the prewashed
Allow it to be on your skin from 15-20 minutes and then rinse it off with water.
#6 Oats, Milk and Olive Oil for Glowing Skin
Oats are prominent for exfoliating and cleansing your skin. Packed with exceptional vitamins and minerals, oats are beneficial for cosmetic purposes.
Lactic acid residing in milk is also renowned for its magical ability of whitening your skin.
Mix 1 tbsp of extra virgin olive oil with 1 tbsp of oats and 1 tbsp of milk.
Wash your face and pat dry with soft cloth.
Apply the mixed paste on your face and allow it to dry naturally for 15 minutes.
Rinse it off with water.
Repeat this simple process twice per week.
#7 Glycerin and Olive Oil to Whiten Skin
Glycerin is a colorless and tasteless liquid that is packed with healing properties. Mixing it with olive oil will help to relive inflammation.
In this recipe, you can also add lemon juice. Bleaching property of lemon lightens the appearance of dark or brown spots.
Mix ½ tbsp of olive oil with ½ tbsp of glycerin.
Also, add 2-3 drops of lemon juice to the solution.
Apply this mask to prewashed face and leave it to dry naturally.
Rinse it off with water after 20 minutes.
Omega-3 fatty acids residing in castor oil improves the elasticity of your skin and reduces pigmentation.
Ricinoleic acid is the main component in this viscous oil that helps to lighten your skin and make it look radiant.
Mix 1 teaspoon olive oil with 1 tsp of castor oil.
Optionally add few drops of lavender oil to above oil.
Apply this oil on your prewashed using a cotton ball or clean fingers.
Massage gently for 2 minutes.
Allow it to dry naturally for 20 minutes.
#9 Apple Cider Vinegar and Olive Oil
Glycol housed in ACV cleanse your skin and alpha hydroxy acids help to shed dead skin cells.
Assorted vitamins in vinegar help to lighten the appearance of your skin and make it radiant. Did you ever use apple cider vinegar for skin whitening? Check the below recipe.
Dilute ¼ cup of ACV with ¼ cup of water.
Also, add ½ cup of olive oil to it.
Stir well and apply the lotion on your face.
Allow to dry for 20-30 minutes and then rinse it off with water.
Store for future use.
How to Use Olive Oil for Face at Night?
All the DIY recipes listed above can be used at night.
Else, you can prepare your own night face mask cream with apple cider vinegar.
Mix ½ cup of extra virgin olive oil with ¼ cup of apple cider vinegar.
Dilute the solution with ¼ cup of distilled water.
Apply this natural face mask over the prewashed face with cotton ball.
Leave it dry naturally throughout the night.
Alternatively, dip a cotton ball in extra virgin olive oil and wipe it over dark areas of your face for skin whitening. You can also use this method to remove makeup.
Note: Patch test before applying olive oil to avoid an allergic reaction.
Where Can I Buy Olive Oil for Skin Whitening?
To reap all benefits listed above, beauty experts recommend extra virgin olive oil.
Check your local drug store or Buy it from Amazon.
Save
Save