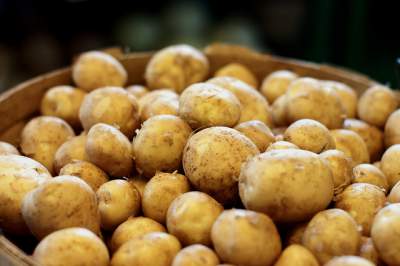 Though potatoes are tasteless, when they're deep fried with few spicy ingredients, they will allure your taste buds. Anyhow, now-a-days beauty conscious people are avoiding potatoes for its fat content. But the fact is, if you take away deep frying and extra fat, a baked potato has low calorie with higher fiber and blood-pressure lowering compounds.
Unfortunately, most people are unaware of exceptional nutrients packed in potatoes that can nourish and enhance the skin tone. Potato for skin whitening is an inexpensive and effective home remedy.
Vitamin C packed in potato face mask helps to

reduce wrinkles

by enhancing the skin elasticity.
Zinc fastens the healing process by building damaged tissues and wounds. Research has concluded that topical or internal use of zinc can

reduce acne

and other skin irritations. (1)
Potassium residing in this face mask will hydrate your skin topically and thwart

dry skin

patches.
Antioxidant agents help to postpone aging wrinkles and

fight free radicals

, which can damage cell growth.
Dead cells and impurities piled over your face can be removed using this face mask. It is renowned for removing tan and

reduces hyperpigmentation

resulting in lightning skin.
1. Potato face mask for skin/face whitening
Like any other natural homemade face mask, you can add other innate ingredients to potato face mask. However, you must patch test before trying the mask, because few allergic ingredients may irritate your soft skin.
Boil 1-2 potatoes with skin.
After cooling, peel the skin and slice them into small pieces.
Mash these small pieces and add 1 table spoon of olive oil. Optionally add 1-2 tbsp of raw milk.
After mixing thoroughly, apply potato face mask on prewashed face.
Leave it for about 15 minutes and then rinse it.
Olive oil is renowned for its moisturizing and exfoliating properties. This liquid gold ingredient can wipe the impurities accumulated over the face and enhance healthy functioning of the skin.
2. Potato and carrot face mask for skin lightening
Along with potatoes, carrots are also packed with assorted nutrients like vitamin C; antioxidants and vitamin A. Beta-carotene in carrot that is converted to vitamin A in your body can help you to reduce wrinkles.
Boil 1 potato and 1 carrot. After cooling them peel potato skin and chop both ingredients into small pieces.
Mash them into smooth paste and add 1 tbsp olive oil and 1 pinch of turmeric powder.
Wash your face and pat dry. Now, using your clean fingers apply the face mask topically.
Leave it for 15-20 minutes, so that nutrients start reacting. Rinse it off with water.
3. Potato face mask for dry skin
Most chronic skin diseases are associated with dry itchy skin. Naturally your skin is surrounded by moisture that guards it from infectious bacteria.
When you try chemical filled creams and soaps for skin whitening, they stripe this natural moisture along with impurities. Natural creams like potato face mask or aloe vera face mask brings back that lost moisture to your skin.
Boil 1-2 potatoes and peel the skin after cooling.
After chopping them into small pieces, mash them into paste.
Add almond oil, glycerin or coconut oil to the paste and apply topically over the skin.
Instead, you can try only coconut oil alone if you're lazy to make potato mask at home.
There is a huge list of ingredients which you can add into potato face mask for face whitening, unless you're not allergic to those ingredients.