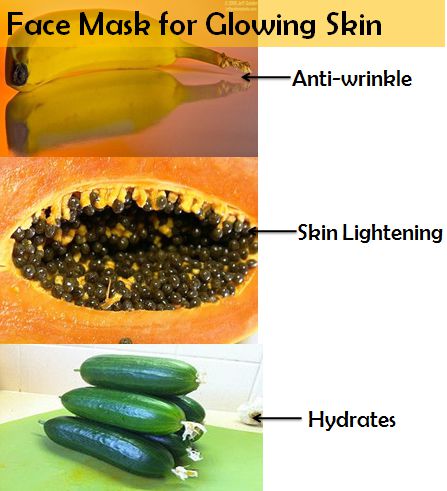 Apart from being delicious, papaya is housed in exceptional vitamins that are essential for your skin. This write up is about using papaya for skin whitening.
Papaya fruit face mask is extensively used in spas, you can make your own facial at home with this fruit.
Papain is the main enzyme in papaya that promotes face whitening, fade acne scars, and blemishes. With this homemade face mask, you can exfoliate your skin. Hydroxy acids combine with papain to shed dead cells and soothe roughness of the skin.
What Causes Hyperpigmentation?
It's important to know the mere cause of the disorder, before dealing with the ailment itself.
Melanin is a pigment that is responsible for your skin color. Due to some external and internal factors like sunlight, allergic reaction, skin ailments, certain medication, genetics and hormonal changes results in excess production of melanin.
Thus, this results in dark spots, dark complexion and scars.
Whatever the reason, they ruin your aesthetic appearance. Fortunately, innate ingredients like papaya provide vitamins and minerals to your skin to lighten the appearance of these scars and dark spots.
Is Papaya Good for Skin Whitening?
In ancient times, apart from using it as a remedy for digestive problems, papaya has been used for radiant skin.
The enzymes packed in this fruit are renowned for treating minor sunburns. Now, let's have a look at how its face mask blended with other natural ingredients can benefit your skin.
Papain, an enzyme residing in the fruit helps to whiten skin and reduce pigmentation.
Exfoliates the Skin: The dead cells over skin are spoilers, the beta hydroxy acid in this face pack exfoliates the skin, along with dead cells it also clears dirt and excess oil over the skin, which can lead to acne breakouts.
Fades Dark Spots: Vitamin A is responsible to reduce the appearance of dark spots. Add this innate face pack to your beauty regimen and it reduces those annoying dark spots.
Reduces Aging Signs: Vitamin C in papaya enhances collagen production and improves skin elasticity. It also acts as an antioxidant that restrains the growth of free radicals, which are responsible for aging.
Fade Acne Scars: Vitamin A heals dry skin and also fades acne scars.
Hydrates your Skin: Potassium housed in papaya fruit hydrates your skin from the outside relieving you from itching and other chronic skin diseases.
Vitamin C packed in papaya helps to enhance collagen production and improve elastin of your skin.
Flavonoids present in papaya repairs damaged skin and make the skin supple.
Treats Chronic Skin Diseases: Papain, an enzyme has anti-inflammatory properties that soothe acne, eczema, and other skin irritations. It also makes your skin smooth and supple.
Note: Before trying papaya face mask perform a test on inner elbow to confirm that your skin is not allergic to its ingredients.
How to Use Papaya for Skin Whitening?
To make the face mask more effective, beauty experts recommend blending it with other natural home available ingredients.
Below mentioned are few recipes, choose any one depending on your skin type.
#1. Papaya Face Mask for Skin Whitening
To reap the nutritional benefits of papaya use ripen papaya. After peeling the skin and removing its seeds, chop it into small pieces.
Now place these pieces into the blender. No need to mix any ingredient in this case, not even water. Blend it until you see smooth paste.
Wash your face, and lie down (like you do in a spa) and ask your partner to apply over face.
The reason you need to lie down is papaya paste may drip.
When face pack dries wash it with water.
#2. Papaya to Whiten Skin
To make it more effective, add raw honey and few lemon drops to papaya paste.
Religious and historical books documented the benefits of honey. It's packed with antibacterial and anti-inflammatory properties.
Honey is also rich in antioxidants, which keeps free radicals at bay.
Things you'll need
Ripe papaya – 1/4
Raw honey – 1 tbsp
Lemon juice – 1/2 tbsp
Procedure
Blend ripe papaya after chopping it into small pieces.
Add 1 tbsp of raw honey and 1/2 tbsp of lemon juice to papaya puree.
Wash your face and apply this papaya face pack for acne scars on the face evenly.
After 15 minutes rinse it off.
If you've sensitive skin, avoid using lemon juice.
#3. Papaya, Cucumber, and Banana for Glowing Skin
Hydrate your skin with an exceptional combination of cucumber, banana and papaya.
Cucumber is filled with water, which is a great moisturizer and will also soothe sunburns, whereas banana will soften your skin.
If you've been struggling with dark spots, scars or pigments, use this combination to obtain radiant skin.
Also Read: Cucumber Face Mask for Skin Lightening
Things you'll need
Ripe papaya – 1/2
Cucumber – 1/4
Banana – 1/2
Procedure
After peeling papaya, cucumber, and banana, chop them into small pieces.
Then place them in a blender to make a smooth paste.
Slather the paste over your face after washing it.
Let it start effect on the skin, and then rinse it off with warm water.
Tip: Apply any natural moisturizer after removing face mask.
#4. Papaya Face Pack for Oily Skin
To maintain the moisture over the skin, sebaceous glands secrete natural oil known as sebum.
Hormonal imbalance stimulates to produce more sebum, which results in oily skin. And this type of skin leads to acne or pimples. Topically applying papaya and orange face pack may reduce excess oil secretion.
Orange juice acts as an astringent which may control excess sebum production. Along with papaya, orange juice will clear clogged pores and enhances to procure supple skin.
Also read: Orange peel for skin whitening
Things you'll need
Orange juice – 1tbsp
Ripe Papaya – ¼
Procedure
After peeling ripe papaya, chop it into small pieces.
Now collect orange juice by squeezing few orange pieces.
Blend the ingredients in a bowl.
Using your hands apply it over the prewashed face.
Let it settle for 15 minutes and then rinse it off with water.
#5. Papaya and Honey Face Mask for Dry Skin
Both papaya and honey are renowned as moisturizing agents. When skin loses its natural moisture, these innate remedies work to hydrate skin from the inside and the outside.
Either consume it or include it into your beauty regimen as an ingredient, exceptional properties in papaya and honey strive to make your skin radiant and supple.
Things you'll need
Ripe papaya – ¼
Honey – 1 tbsp
Milk – 2 tbsp
Procedure
Chop ripe papaya into small pieces.
Add 2 tbsp of milk to papaya pieces.
Now add 1 tbsp of raw honey to above ingredients.
Mix it well.
Wash your face and apply this face pack massaging with your fingers.
Leave it for 15 minutes, so that assorted nutritional properties in papaya face mask start affecting your skin.
Then rinse it off with water.
Alternatively, you can try egg white with ripe papaya or other natural ingredients.
Egg white is packed with 69 different proteins that are essential for healthy skin. It's cleansing ability help to remove excess sebum, dead cells, and other impurities. Regular application of egg white will whiten your face.
Now you know how to make papaya face mask, but don't rush to try it immediately, the first test with a small quantity to confirm it's not allergic to your skin.
#6. Green Papaya, Vitamin E Oil, and Yogurt
Assorted nutrients residing in vitamin E oil protects cell membrane from toxins and free radicals. It also improves skin texture and fastens the healing process of acne.
Lactic acid housed in plain yogurt exhibits bleaching property that helps to whiten your skin. Moisturizing, anti-inflammatory and antibacterial abilities exhibited by yogurt combine to make your skin healthy.
Chop 1 green papaya into small pieces.
Add 1 tsp of yogurt and vitamin E oil to it.
Blend the mixture to obtain smooth paste-like
Wash your face with water and pat dry using a soft cloth.
Now, apply the obtained face mask on the skin.
Allow it to dry naturally for 15-20 minutes.
Rinse it off with water.
#7. Papaya for Face Whitening (Aloe Vera Gel and Bentonite Clay)
Topical application of bentonite clay will help to remove excess sebum, exfoliate dead cells and cleanse impurities from the skin.
Aloe gel is prominent for its soothing and hydrating abilities. Regular application of these ingredients will whiten your skin.
Take 4 tsp of bentonite clay, 2 tsp of aloe gel and ½ cup of papaya pulp.
Mix the listed ingredients in a clean bowl and apply it on the prewashed
After 15-20 minutes, rinse it off with water.
Repeat the process twice in a week.
#8. Pineapple and Papaya to Whiten the Skin
Assorted nutrients like vitamin B1, B2, B6 and vitamin C are housed in pineapple. This scaly skinned fruit can cleanse impurities and stimulate collagen production.
Collect ½ cup of chopped pineapple pieces.
Blend it with 1 cup of papaya pieces to obtain a thick
Now, apply the face mask on your face and allow it to dry naturally.
After 15-20 minutes, rinse it off with water.
#9. Tomato and Papaya
Tomato puree is also packed with skin brightening abilities. Its application can reduce dark spots, treat acne and improve your skin texture.
Mix 2 tbsp of papaya juice with equal amount of tomato juice.
Now, apply this homemade toner on your face using a cotton ball.
After 20 minutes, rinse it off with normal cold water.
Pat dry with a clean cloth.
Important Tips
Papaya is packed with innate nutrients, which helps to make your skin supple and eliminate blemishes and scars.
Now you can replace those pricey spa visits with this homemade papaya face mask. But remember to test it before trying.
Though papaya is packed with skin whitening abilities, you must make sure to change your lifestyle to obtain radiant skin.
Ingest foods that are known to lighten skin. Drink enough water to hydrate your skin from the inside.
Irritants that may trigger allergic reaction shouldn't be used.
Chemical-filled creams are also known to reap natural moisture from your skin, so stay away from them.
Few anecdotal reports claim that stress trigger skin ailments. Avoid it.
Real beauty is in your heart.