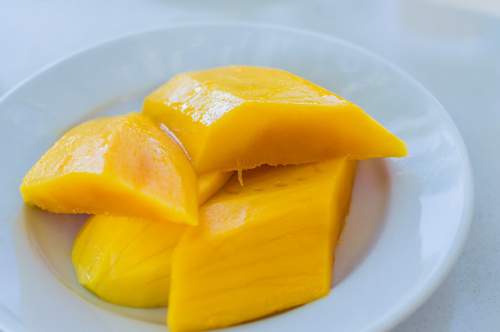 Instead of licking the delicious juice from mango, apply it on your face. The King of fruits is packed with all the essential nutrients needed for a supple skin. This write-up is about mango face mask and how you can use it to treat acne.
Regular consumption of mango juice will alkalize your body, improves digestion, regulates diabetes, fight cancer and it's a perfect snack.
Assorted nutrients in mango encourage skin lightening and restrain skin disorders like acne, wrinkles, dry skin and hyperpigmentation. To reap these nutritional benefits for skin, beauty experts recommend using it internally and topically.
Before you jump to the face pack recipes, let's dwell on its beauty benefits.
Also read: How to Use Coconut Milk Face Mask for Skin Whitening?
Is Mango Good for Skin?
Yes. I know this word isn't satisfying to many of you.
Take time to check nutrients and benefits highlighted below.
1. Improves Elasticity of Your Skin
Packed with vitamin A & C, mango face pack improves collagen production and elastin. It also exhibits antioxidant ability that is known to reduce premature aging wrinkles.
Collagen in mango enhances elasticity and regeneration of skin cells. Factors like pollution, dirt, environmental climate, and the genetic problem result in fine lines, wrinkles and sagging skin.
Dermis, which is involved in elasticity and flexibility include collagen has its main component. Collagen intake can improve your skin moisture, reduce wrinkles and make it supple. (1)
2. Reduce Wrinkles & Fine Lines
Vitamin C housed in mango provides antioxidant properties, which guards your skin against damaging free radicals.
External factors like harmful sun rays, pollution, and climate change can damage your skin resulting in wrinkles. Topically applying mango face mask, which is packed with vitamin C can save your skin from these harmful radicals.
3. Moisturizes Your Dry Patches
Most chronic skin diseases are associated with dry itchy patches. Vitamin A in mango exhibits moisturizing and rejuvenating properties.
You can also use this mask as a body or face scrub. Potassium makes dry skin smooth and supple.
4. Exfoliates Your Skin
Every day our skin drops millions of dead cells. Along with other impurities they get piled over your skin blocking pores. Alpha hydroxy acids in this face mask will help to exfoliate dead cells. (2)
5. Remove Sun Tan
Nutrients housed in this facial mask can effectively reduce stubborn sun tan instantly.
Vitamins in mango fruit regenerate new cells and lighten your skin.
6. Treats Acne
Topical application of this facial mask can cleanse clogged skin pores and lighten the appearance of acne scars.
7. Reduce Premature Aging Wrinkles
Vitamin A, C, E and other minerals encourage collagen production and its antioxidant ability reduces oxidative stress.
8. Helps to Get Rid of Dark Circles & Scars
As mentioned above, assorted vitamins and minerals packed in this fruit help to exfoliate, scrub and cleanse impurities piled on your skin. Vitamins on other side promote cell regeneration to reduce the appearance of dark circles.
7 DIY Mango Face Mask for Acne, Skin Lightening & Wrinkles
Blend it with other natural ingredients and it can replace your expensive beauty products.
But, make sure that you're not allergic to any of these ingredients.
Choose one of these recipes and stick to it for weeks before you turn to another product.
#1. Mango, Raw Milk and Sugar
As mentioned above, to increase the effectiveness of this mask you can add other ingredients. So, initially let's start with exfoliating the skin.
Cleopatra if admired for her beauty is known to use milk for her aesthetic appearance. Topical application of milk will help to shed pigmented skin cells and soothe minor burns.
Sugar is used as an exfoliator to remove impurities and dead cells accumulated on your skin.
Peel 1 ripe mango and collect its pulp in a clean bowl.
Add 2 tbsp of raw milk and 1 tbsp of sugar.
After mixing thoroughly and scrub over your face. After 15 minutes, rinse it off with lukewarm water.
You can use this face scrub on the whole body.
#2. How to Use Mango for Acne
The research concludes that acne is mainly caused by inflammation and the bacteria invade to worsen the situation.
Due to inflammation, excess oil is secreted by your skin that gets clogged at skin pores along with dead cells resulting in blackheads, which will soon turn into acne.
Mix honey and yogurt to ripped mango pulp to make it effective to treat acne.
As honey is packed with anti-inflammatory properties, it can easily reduce acne inflammation and fasten healing process. Moisturizing elements in mango helps to hydrate the skin from the outside. And yogurt softens the skin and reduces acne.
Regularly using mango, honey and yogurt face mask will treat acne and fade acne scars to some extent.
Take 1 tbsp of mango pulp
Honey 1 tbsp
Yogurt – 1 tbsp
Raw honey has abundant nutrients compared to refined honey.
Mix all the ingredients in a bowl and keep it aside.
Meanwhile, wash your acne blemishes with lukewarm water or expose them to steam. So that acne bumps open up.
Now, apply the mixed mango mask over acne blemishes. Leave it for 15 minutes, and then rinse it off.
#3. Mango for Skin Lightening
Alarming levels of pollution and dirt, which gets accumulated over the face, leave dark spots on it. Excess exposure to sun rays increases melanin production that makes your skin dark.
Gram flour is renowned for its exfoliating ability. Regular application of this home available ingredient can help you obtain lightening skin.
Apart from this, honey in mango face mask exhibits humectant, antioxidant and anti-inflammatory properties that are essential for a healthy skin.
Take 1-2 tbsp of mango pulp in a clean bowl.
Add 1 tbsp of honey and 2 tbsp of gram flour to the bowl.
Wash your face thoroughly and pat dry before applying this face mask.
Leave the mask to react for 15-20 minutes, and then wipe the mask with a wet cloth.
Later rinse it off.
Along with mango face mask, I recommend to take nutritional diet and to stay away from such external factors that can damage your skin.
#4. Mango Face Mask for Hydrating Your Skin
Several chronic skin ailments are initially triggered by dry skin. Moisturizing your skin from outside and inside is essential.
Use of chemical incorporated creams and soaps will strip natural moisture from your skin. Topical application of this face pack will bring the lost moisture to your face.
Include honey, Multani mitti and mango pulp in this facial mask.
Multani mitti or fuller's earth is renowned for its cosmetic benefits. When combined with mango and honey it can effectively hydrate your skin.
Take 1 ripe mango and collect its pulp in a bowl.
Add 2 tbsp of Multani mitti to it.
Optionally, add 1 tbsp of raw honey to the paste and mix thoroughly.
Wash your face with water and pat dry.
Apply the obtained face mask on your skin evenly and then leave it to dry naturally for 15-20 minutes.
Rinse it off with water.
#5. Mango Face Mask to Remove Sun Tan
To reduce the appearance of stubborn suntan, mix almonds, gram flour, and honey to mango pulp.
Almonds are renowned for its healing and skin whitening abilities. It can promote collagen formation in your skin.
Mix 2 tbsp of gram flour with 1 teaspoon of honey and 4 tbsp of mango pulp.
Apply the obtained paste on prewashed face and then allow it to dry for 15-20 minutes.
Wash it off with water.
#6. Mango, Rose Water and Yogurt for Sensitive Skin
Rose water has abilities to hydrate your skin and treat chronic skin ailments like acne. Its antioxidant ability can effectively reduce premature aging wrinkles.
Collect mango pulp from 1 ripe mango.
Add 2 teaspoon of Multani mitti, 2 teaspoons of rose water and 1 tsp of yogurt.
Mix all ingredients thoroughly and then apply it to the prewashed
Let it dry for 15 minutes and then wash it off with water.
#7. Oatmeal, Almonds and Mango Face Mask
Oatmeal is renowned for its exfoliating and cleansing properties. Its topical application will promote cell regeneration and make the skin firm.
Peel the medium-sized ripe mango and collect its pulp in a bowl.
Add 4 grounded almonds to it.
Also, mix 3 teaspoons of finely grounded oats and 2 teaspoons of raw milk to the pulp.
Optionally, add 3 tsp of Multani mitti to the mask.
Mix the ingredients thoroughly and then apply it on the prewashed
After 15 minutes wash the face mask with water.
Important Tips
Don't expect overnight results.
What you gain from the hard way will stay with you forever.
Apart from above-mentioned recipes, you must follow a healthy lifestyle.
Avoid stress, wear sunscreen while going out in summer, drink enough water, ingest vitamin-rich diet and stay away from chemical included beauty products.
Remember this: Real beauty lies within your heart.