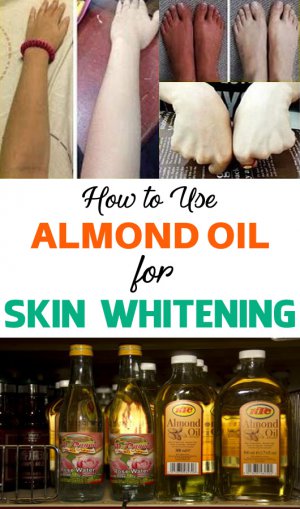 Quality of the skin defines your appearance. Increasing pollution and UV rays damage your skin texture resulting in dark patches at different places.
You can't combat with these external factors using chemical filled creams; you must include natural ingredients to your arsenal. Almond oil for skin whitening is one such power weapon that saves your youthful appearance.
What Causes Dark Complexion and Dark Spots?
Skin ailments, hereditary, vitamin deficiency, hormonal imbalance, harmful UV rays and hyper-pigmentation are held responsible for dark complexion.
Melanin is pigment that is responsible for skin's color. Prolonged exposure to sun rays increases production of melanocytes, which results in dark skin. This condition isn't associated with any health ailment, but it's a cosmetic issue.
Apart from UV rays, other skin ailments including acne, freckles and liver spots may lead to dark spots at different places. Most of them fade as time passes. But to fastening the healing process, topical application is must.
Why you should avoid cosmetic creams?
Everyone yearns to have a glowing face; according to this demand cosmetic industries started manufacturing skin lightening products.
To increase the shelf life of these beauty products, these companies incorporate chemicals. Studies state that these chemical included products may irritant your sensitive and lacks sufficient nutritional value. Instead, you can use almond oil for skin lightening.
Assorted nutrients in almond oil like vitamins and minerals help to lighten your skin tone, hydrate it from the outside, cleanse impurities and rejuvenate the skin.
Also Read: Is Castor Oil Good for Skin Whitening?
Does Almond Oil Lighten Skin?
Yes, as it is packed with skin lightening properties, topical application of almond oil will reduce scars, dark spots and improve your complexion.
It is one among the natural oils that had extensive use in ancient times. Nutrients like fatty acids, vitamin E, zinc, potassium, vitamin A and B are packed in almond oil.
Rich concentration of vitamin E helps to shed impurities off the skin and shields it from harmful UV rays.
Emollient activity of this innate oil helps to get rid of dry skin and restrain chronic skin infections like eczema & psoriasis.
Monosaturated fatty acids housed in the oil help to lighten or whiten your skin.
With its nutritional ability, almond oil lightens the appearance of scars, stretch marks, blemishes and dark spots.
Non-comedogenic activity of this oil unclogs skin pores and regulates excess production of sebum.
With its moisturizing property you can cleanse impurities and dead cells.
Assorted vitamins in this essential oil fade wrinkles and enhance collagen production.
Vitamin E rejuvenates the skin and lightens the skin tone including dark spots and circles. Apply it over dark circles regularly, but avoid contact with eyes.
With SPF 5, application of this natural oil can protect your skin from harmful UV rays.
Exceptional vitamins and nutrients in this oil hydrates, enhance healthy functioning of the skin and unclog blocked pores.
Regular massage with almond oil will improve blood circulation and promotes cell rejuvenation.
In a simple sentence, it's a package of beneficial things to obtain radiant and smooth skin.
How to Use Almond Oil for Skin Whitening?
Initially cleanse your face with gram flour mask and pat dry using soft cloth. Topically massage with almond oil evenly and leave it to dry naturally.
You can mix few drops of lemon oil to lighten the dark patches and obtain a glowing skin. Alternatively, steep this essential oil by indirect heat and massage evenly.
Optionally, mix vitamin E oil to pure almond oil and apply it over the face before going to bed. Rinse it off in the morning. Ingredients that you can mix with almond oil include honey, avocado paste, lemon juice, gram flour and sugar.
Must Read: How to Use Rice Flour for Skin Whitening?
#1 Almond Oil for Exfoliating
Your skin sheds millions of dead cells, to improve skin tone you must wipe them.
Mix 1 tablespoon of sugar with required amount of almond oil and rinse your face with water and pat dry.
Apply this face mask over the skin and massage evenly in circular motion.
Wash the mask with water after 15-20 minutes.
Sugar is renowned for its exfoliating abilities in cosmetic world. You can mix some rose water with the mask to make it more effective.
After rinsing your face with water, pat dry and apply rose water to moisturize.
#2 Almond Oil and Honey for Glowing Skin
Prominent for its medicinal abilities, honey can be used to obtain glowing skin. Healing, hydrating, antibacterial, anti-inflammatory and humectant properties exhibited by honey are essential for a radiant skin.
Take 1 tablespoon of raw honey and mix it with 1 tbsp of almond oil.
Cleanse your face and pat dry.
Apply the mixed oil on your face evenly using your clean fingers.
Allow it to dry naturally for 15-20 minutes.
Rinse it off with water.
You can add ½ cup of pomegranate fruit juice with the above solution. As, this fruit juice can reduce production of melanin.
Also read: How to reduce melanin by eating?
#3 Essential Oil and Almond Oil for Skin Lightening
Essential oils are packed with essential nutrients that your skin for aesthetic look. However, most essential oil may irritate your sensitive skin.
So, beauty experts recommend blending it with carrier oils.
Add 4 drops of lemon essential oil with 8 drops of sandalwood essential oil and 1 ounce of almond oil.
Stir well and apply the oil on your face using a cotton ball.
Leave it to for 15 minutes or until the oil gets absorbed completely by your skin.
Rinse it off with water next morning.
Preserve remaining oil for next use.
Repeat the recipe twice in a week.
#4 Almond Oil and Licorice
This combination will reduce scars, de-tan your skin and whiten your skin.
Take 2 tbsp of licorice powder in a bowl.
Add 5 drops of almond oil to it.
Mix thoroughly and apply the paste on prewashed face.
Wait for 15 minutes, so that nutrients in this mask start affecting your skin.
Rinse it off with water.
#5 Almond Oil for Wrinkles
Wrinkles and fine lines project you as an elderly person. Luckily, regular use of almond oil tightens your skin and fades wrinkles.
Wash your face with lukewarm water and pat dry. Heat almond oil for some time and mix vitamin E oil to it. Let the mixture cool down, so that you can apply it over face.
Add this mask to your beauty regimen to postpone aging wrinkles.
#6 Almond Oil to Protect Your Skin from UV rays
UV rays are mere cause of dark spots. Other disorders like wrinkles, dehydration, dry skin, sunburn and hyperpigmentation are caused by UV rays. This essential oil is one of the natural ways to guard your skin from these rays.
Mix honey or just apply pure almond oil regularly over your face and around the neck. Also wear wide-hat to block sun rays.
#7 Almond Oil and Gram Flour
Gram flour or besan is renowned for its skin whitening and cleansing properties. Regular application of this home available ingredient will remove dead cells, impurities and excess oil from your skin.
You'll need 1 teaspoon of almond oil, 30 grams of gram flour and 2 tbsp of honey.
Mix all these ingredients to form a thick paste like consistency.
Apply the paste on your skin excluding eye area.
Allow the nutrients in this face mask to get absorbed by your skin.
After 15-20 minutes, rinse it off with water.
Tip: Gram flour can be used to remove unwanted facial hair.
#8 Almond Oil and Corn Bleach
This is one of the most effective ways to obtain lightening skin. Instead of skin lightening products available in the market, you can use this simple recipe.
Take almond oil 1 teaspoon, corn flour 1 teaspoon and lemon juice ½ teaspoon.
Now, combine all listed ingredients in a bowl.
Mean while, wash your face and pat dry.
Apply the mixed mask evenly all over the face and around neck.
Leave it to dry naturally for 15 minutes.
Rinse it off with water.
Lemon juice is known to exhibit bleaching properties that help to reduce appearance of dark spots, scars and stretch marks.
Note: Excess use of lemon juice may irritate your skin.
#9 Almond Oil and Egg White
Apart from its nutritional abilities for health, egg white can help you with cosmetic issues.
It can remove blackheads and make your skin firm. Sticky nature will help to cleanse impurities and dead cells.
Take 1 egg white, 1 teaspoon of almond oil, few drops of lemon juice and ½ teaspoon of red sandalwood powder.
Apply the mixed mask on your prewashed face.
After 15 minutes, rinse it off with water.
Red sandalwood is also renowned for its skin whitening properties. Indians use sandalwood powder in every ceremony for its aromatic smell.
Tips
Please, don't expect overnight results with these recipes.
Unlike chemical included creams, these ingredients have vitamins and minerals that are essential for a healthy skin.
Stick with one recipe till you see some results.
If you experience irritation or redness on your face after using any ingredient, then stop using it and consult physician.
Ingredients that irritate your skin must be avoided.
Part from topical application, you must consider ingesting vitamin rich diet.
Hydrate your skin from inside by drinking enough water and consuming water rich fruits.
Avoid chemical incorporated creams, as they may strip natural moisture.
Long exposure to sun rays may leave dark spots or complexion on your face, so avoid it.
Don't smoke or drink alcohol, it's not good for your health and skin.
Avoid spending long hours in front of computer or mobile screens.
Studies states that stress triggers various skin ailments, so avoid it.
Have enough sleep, do regular exercise and be happy.
Is this article convincing you to use almond oil for skin whitening? Let us know in comments.