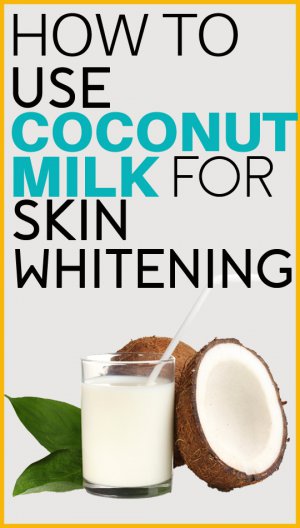 I love natural home remedies. Because they are free from chemical preservatives and packed with assorted vitamins that are essential for you. Stay tuned you'll learn about coconut milk for skin whitening and different face mask recipes here.
Enticing healing and hydrating properties of coconut milk made many cosmetic industries to incorporate it into their beauty products. Dry and itchy patches on the skin can be replaced with the moisturized smooth skin by using coconut milk.
Coconut milk face mask combined with honey or almond powder can be an excellent nutrient for your skin.
Remember coconut milk is different from coconut water. It's obtained by granting brown coconut and adding warm water to it.
Is Coconut Milk Good for Skin?
Coconut milk is lactose-free, unlike cow's milk. Though coconut considers has saturated fat, its rich in medium-chain- fatty acids, which may promote weight loss without an increase in cholesterol level.
Studies further show that ingesting coconut milk will reduce Alzheimer's disease.
Coming to beauty benefits of coconut milk face mask:
Beauty experts say that essential vitamins residing in this innate ingredient can reduce wrinkles and fine lines.
Protein, copper and fatty acids residing in coconut milk are beneficial for a healthy skin.
Cleansing ability and skin brightening property of coconut milk make it effective to whiten your skin.
Lauric acid housed in it exhibit antibacterial and antiviral abilities.
Antioxidant activity of coconut milk face pack thwarts free radicals and reduces oxidative stress.
Fatty acid in it hydrates and moisturizes your dry itchy skin.
These fatty acids in coconut milk are naturally antiseptic that doesn't clog skin pores.
Vitamins such as C, E, B1, B3, B5, and B6 are housed in coconut milk. Minerals include iron, selenium, sodium, calcium, and magnesium.
Antibacterial and antiseptic properties mentioned above can effectively treat acne lesions.
These assorted nutrients are beneficial when consumed or when topically applied to the skin.
Vitamins and minerals listed above removes impurities, cleanse your skin, treat acne, fade scars and make your skin fairer.
How to Use Coconut Milk for Skin Whitening?
Apart from using it as a beauty cream you can add it to cuisines and replace dairy products. But remember to choose only organic or unsweetened coconut milk.
#1. Coconut Milk Face Mask
Renowned for its moisturizing properties, coconut milk mixed with other nutrients like raw honey can leverage your skin's texture.
Honey is loaded with humectant, anti-inflammatory, antibacterial and skin lightening properties. Prominent for its medicinal and cosmetic properties, benefits of raw honey have been documented in religious and historical books.
Things you'll need
Coconut milk
Honey
Almond powder
Get organic coconut milk and honey, as they have most nutrients listed above. To make the face mask thick, mix almond powder. Apply over prewashed face and leave for 15 minutes. Rinse it off with water.
Also read: Honey cinnamon face mask
#2. Coconut Milk Face Pack for Infections
Soothing properties housed in coconut milk can relive you from inflammation caused by eczema, psoriasis and other chronic skin diseases. That being said, regular use can postpone aging wrinkles on your face. Get organic coconut milk from the local store and using cotton ball apply it over the prewashed face.
Minor sunburns can be healed using plain coconut milk.
Using cotton ball apply the milk to affected areas before going to bed.
Rinse it off in the morning.
Natural remedies always take time but they are more effective when compared to chemical creams.
Recommended: Milk face mask recipe
#3. Coconut Milk and Olive Oil as Make-up Remover
First thing is, am against applying chemical filled creams over the face. If you want to remove them, use this natural remedy. You must pamper your skin with natural remedies.
Combine organic coconut milk to an equal quantity of virgin olive oil.
Massage this solution over your face for few minutes.
Use a washcloth to wipe the mask off.
Also read: Olive oil and honey face mask
#4. Coconut Milk Scrub
Increasing levels of pollution and dirt get accumulated over your skin. Dead skin cells accompany them leaving your skin dehydrated and itchy. Using a cleanser you can shed these impurities and dead cells improving skin tone.
Mix 2 cups of white clay, 1 cup finely grounded oats and add enough coconut milk to the mixture.
Apply it over the prewashed
Allow it to dry for 15-20 minutes.
Rinse it off with water.
Optionally hydrate your skin with rose water.
#5. Cleanser – Coconut Milk Face Mask
Mix yogurt with coconut milk to cleanse your face. Yogurt is known to have skin brightening and hydrating properties.
Take required amount of coconut milk with plain yogurt in a bowl.
Wash your face and pat dry.
Apply the face mask evenly and leave it to dry naturally for 20 minutes.
Rinse it off with water.
#6. Coconut Milk – Skin Brightener
In this ingredient, you'll need almonds, lime juice, milk powder and coconut milk.
Almond is prominent for its exceptional nutritional value. Topical application of almond oil can whiten your skin.
Other innate ingredients in this recipe are also known for their bleaching and skin lightening properties.
Grind 4 almonds to obtain its powder. Mix 2 teaspoons of coconut milk, 1 tsp of milk powder and few drops of lime juice.
Wash your face to remove impurities.
Pat dry and apply the obtained face mask evenly on your skin.
After 15 minutes, rinse it off with water.
#7. Turmeric and Coconut Milk for Glowing Skin
Turmeric also includes skin lightening properties that can your skin radiant. Antiseptic and healing properties of this home available ingredient can treat chronic skin ailments and remove unwanted facial hair.
Mix ½ tsp of turmeric powder with 2 tbsp of coconut milk.
Optionally, add finely grounded rice powder and mix thoroughly.
Apply this face mask on your face and rinse it off after 15 minutes.
Bonus: Coconut Milk Facial Oil
This is from ancient ayurvedic beauty tips for glowing skin.
Extract half cup of coconut milk and heat it on low flame.
After few minutes, you'll see coconut oil turns into oil.
Off the gas and allow it to cool down.
Add a pinch of turmeric powder to this oil and mix well.
Apply this mask on your face and leave it to dry for 30 minutes.
Rinse it off with water.
Choose any one recipe and stick with it for 3-4 weeks.
Apart from these innate ingredients, you must ingest foods for skin whitening. Essential vitamins in your diet will reduce melanin and promote collagen production.
Drink enough water and other liquids to hydrate your skin from inside.
Never use chemically incorporated creams and avoid ingredients that may trigger an allergic reaction.
Did you ever use coconut milk face mask? Would you like to use it? Let us know in comments.