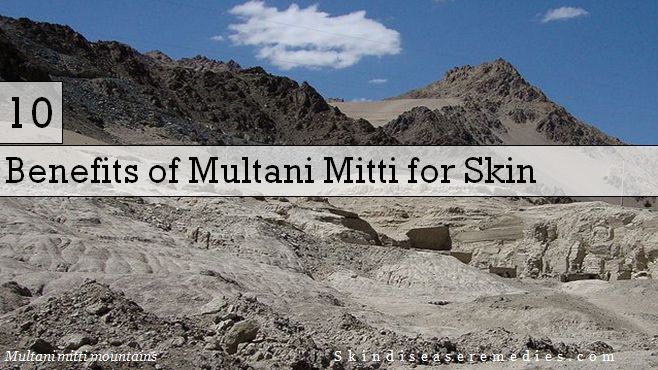 Though Indians and Pakistanis can reach pricey modern face masks available in local stores, most of them opt to go for traditional homemade face pack. Multani mitti is native to these areas and it got the name from Multan, a place in Pakistan. Multani mitti is nothing but it just represents clay, which has abundant of benefits for skin.
Westerners are not aware of the benefits of multani mitti for skin, so they're struck with spa and salons. However they identify this natural remedy as Fuller's Earth. Industries use fuller's earth for absorbing oil, grease and animal waste and the primary benefit to skin is it absorbs excess oil over skin and reduces bacterial infection.
Let's pause here and quickly have a glance over nutritional profile of multani mitti.
It has great cleansing and astringent properties. Magnesium chloride in multani mitti reduces acne lesions. Mainly it consists of clay minerals (hydrous aluminum silicates).
Also read: Home remedies back acne
Benefits of Multani Mitti
One of the most raved reason about multani mitti is it removes dead skin cells accumulated over skin, making it easy for your skin to breath.
Because of some hormonal changes our body sometimes releases excess sebum which gets clogged at skin pores, and bacteria feed on them resulting in acne lesions. Multani mitti face pack removes impurities off the skin, thus restraining bacterial infection.
One of the eminent benefits of multani mitti is it absorbs excess oil from skin. Excess oil plays vital role in acne blemishes. Topical application of this clay helps to reduce acne blemishes. Annoyed with oily skin? You can now cope for clear normal skin. Apply multani mitti face pack with honey, lime and water as ingredients. Regular use will relieve your from oily skin.
To reduce acne, mix multani mitti with turmeric, sandalwood and tomato juice. Then add required amount of water. Apply it on prewashed face and rinse it off after 15 minutes. If you've dry skin, apply moisturizer after face pack treatment.
Not just acne but regular topical application of multani mitti helps fade scars on skin. Mix carrot and olive oil with this clay.
Antiseptic and healing properties in multani mitti helps soothe irritated skin. Irritation starts when your skin comes in contact with allergic substances, which causes redness or rashes.
Our skin gets its color from a pigment called melanin. When melanin producing cells gets damaged they produce excess melanin which gets accumulated over one place of the body resulting in dark patches. Multani mitti topical application reduces skin pigmentation.
Blend papaya, vitamin E with multani mitti and apply it on pigments. (Read: Benefits of Papaya for skin)
Cleansing properties of multani mitti pulls out the dirt accumulated over skin, like neck where dirt gather to form black layer, regular application of this mask reduces blackening of neck.
Fine lines and sagging skin which are a night mare for many of us can now be treated with this natural homemade face mask.
Mix multani mitti powder with curd or beaten egg and apply it on prewashed face. Rinse it off with cold water.
Mixed with grinded almond, multani mitti can be used a scrubber to remove black and white heads.
Healthy nutrients and minerals in multani mitti has abundant benefits for skin, you can also mix it with other face mask and see your skin glowing. Regular application will removed dead cells, fades scars, reduces acne, removes black and white heads, tightens skin, clears pores, soothes skin and fades freckles.
Note: Dry skin people must apply moisturizer after using multani mitti.
Did we miss any rave benefits of multani mitti for skin? Share here in comments.