Almost all girls (including women) have zeal for radiant, smooth and supple skin. To obtain this, most of them use pricey chemical ingredient creams. While few smart ladies prefer innate home remedies.
Lemon and honey face mask is one among them. I love it, not because its mouth watering. But it has assorted nutritional benefits for skin. Most beauty experts prefer raw honey, as refined honey loses all exceptional properties.
If you want to dwell into nutrients of this homemade face mask, it's enough to know that religious and ancient books are filled with benefits of raw honey; it's renowned for its healing properties, whereas, lemon provides unfavorable environment for acne causing bacteria and thus restraining their growth.
Raw honey is packed with antioxidants and antibacterial properties, which thwarts free radicals when consumed and fights infectious bacteria when topically applied.
Anti-inflammatory properties are housed in both lemon and honey, which reduces acne inflammation.
Healing properties in raw honey stimulates collagen production and fasten healing process.
So, both lemon and honey can be most effective face mask recipe for you.
[Must read: An Evidence based approach – Lemon and Honey for Pimples]
Lemon and Honey Face Mask Recipe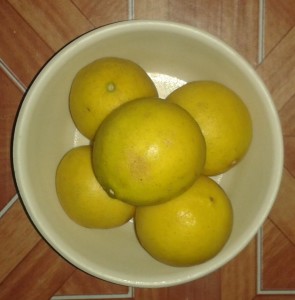 You're completely free to blend your favorite natural ingredient to this face mask. As long as you know what you're doing, else you may end up using allergic ingredient. (source: Lemon and honey face mask – Beautybanter.com)
For me lemon and honey are enough, I don't prefer any other ingredient as this face pack has all essential properties. Anyhow you can blend soft butter or granulated sugar to scrub.
Things you'll need
Lemon juice – 1 tbsp
Raw honey -1 tbsp
Bowl – 1
Procedure
Prepare yourself for face mask treatment. Expose your face to steam or wash it with lukewarm water, to open your pores. And pat dry with soft cloth.
Now add lemon juice and raw honey in a clean bowl. Mix it thoroughly and apply it over face avoiding the eye area. Let the assorted nutrients affect your face for 15-20 minutes.
Then splash with water and pat dry. If you've dry skin I recommend applying natural moisturizer post using face mask.
Honey and Lemon Face Mask for Acne Scars
Not all honey can treat acne or acne scars. Depending on cultivation, resources and climate honey varies. Manuka honey from New Zealand is the most effective honey. Though expensive you can easily squeeze every penny form it.
Anyhow, scientific researches, religious and historical books documented assorted properties of honey, which include antimicrobial, anti-inflammatory and antioxidant agents. Mix it with turmeric and it can treat acne and fade acne scars.
Things you'll need
Raw Honey – 1-2 tbsp
Turmeric powder – 1/2 tbsp
Curd or milk in required amount
Prepare your face before applying this face pack using warm water. When the skin is still damp apply turmeric face mask evenly over the face and wipe it off after 15-20 minutes. Don't be surprised to see yellow stains, it fade in few hours. Follow with any natural moisturizer.
Along with this lemon and honey face mask you must practice a healthy lifestyle. Drinking enough water, staying away from junk food and regular exercise are few tips that you all knew. But depression, stress and heavy workload are few things which may spoil your appearance. So take time to refresh yourself. (Read this: 5 Ways to Fight Depression)
Image credit: Skindiseaseremedies.com