Dark spots on lips are not something serious for your health, but these spots are indications of some abnormalities or lack of one or more essential elements in the body.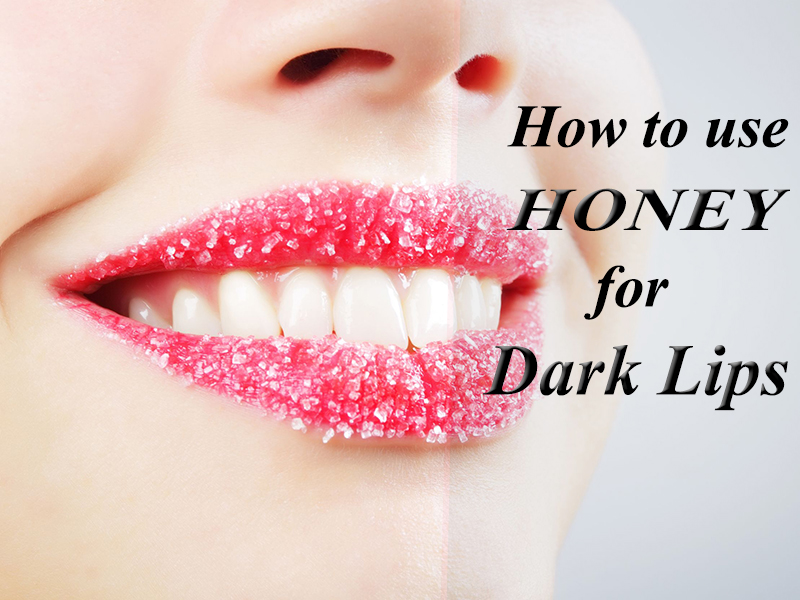 One of the biggest reasons you would want to get rid of the darkness of lips is self-consciousness. Although prolonged and severe darkness should not be taken lightly and you should consult your doctor, the darkness of lips during initial stages is very easy to remove.
There are so many home remedies proved very effective for dark lips, but honey has been one of the best remedies to get rid of dark lips.
Let's discuss the causes of dark lips, benefits of honey, and how to use it effectively to combat darkness of the lips.
(Read: DIY Sugar and Honey Lip Scrub )
Causes of Dark Spots on the Lips:
Numerous factors can be responsible for dark lips, but we have highlighted some of the major factors to assist you to manage at home.
Deficiency of Vitamin:
Several vitamins mainly Vitamin B12 are responsible for maintaining the tonicity of your skin. Deficiency of Vitamin B12 can cause several health-related issues including uneven skin tone and dark spots on the lips.
Hyperpigmentation:
There are so many responsible factors behind hyperpigmentation or melasma. Hormonal imbalance, especially in pregnant women, is the major cause of hyperpigmentation and it causes dark patches on different parts of the body including lips.
Allergies:
You can get skin allergies from so many different things around you. Depending on your body's reaction to various allergy-causing agents like pollens, dust, face makeups, lipsticks, lip balms, hair dyes, and various herbal teas etc. you can get skin allergy, and in the result, your skin can get dark.
Medications:
Several medications and drugs including antiarrhythmic, anticonvulsants, antipsychotic, antimalarial, and cytotoxic drugs are also responsible for marked changes in skin color and dark spots on the lips.
Why Honey is an Excellent Option for Dark Lips:
Excellent Skin Moisturizer:
Dryness of the lips can also be a factor behind lips' darkness. As you know, honey is used in numerous beauty and skin products thanks to its moisturizing properties. It will keep your lips moisturized for very long and help you to combat the dark spots.
Improves Skin Tonicity:
Using honey for skin can also be very effective to improve the lost tonicity of the skin. Improvement in skin tonicity will also assist you to get back the natural color of your lips.
Assists Natural Glow:
Direct application of honey will surely help you to get incredibly clear and glowing skin, and lack of tonicity and darkness of lips are also going to ease off.
Very Useful in Sunburns:
Sunburn is another factor behind dark lips. Honey is one of the best home remedies to cure sunburn. It decreases the inflammation due to sunburn and promotes the overall healing process. Dark lips due to sunburn will also get the natural glowing color.
How to Use Honey for Dark Lips:
If you want to get maximum results of honey in case of dark lips, you should use in best possible ways. Here are some tried and tested methods of using honey for dark lips.
Honey with Lemon:
Amazing astringent properties of lemon will back the advantages of honey. The moisturizing properties of honey and astringent nature of lemon are going to work wonders for your lips. Here are the tips to use.
Mix equal amount of honey and lemon in a little bowl.
Take half tbsp. of the mixture and apply properly on lips using your fingers.
Keep the mixture on for 30 to 45 minutes and then wipe off using water.
Honey and Rose Water:
Rose water is in use for various skin conditions for a very long time. Using it with honey will not only improve the discoloration of your lips, but it will also keep your lips moisturized and tinted. Have a look at the method of using honey with rose water. Adding a helpful of rose petals will make your job very easy.
Mash the rose petals gently to make a thick paste
Add one tbsp. rose water and one tbsp. honey to it.
Mix all the three ingredients properly.
Apply the paste on the lips properly and keep wearing for half an hour.
Honey with Strawberries:
Strawberries are the rich source of Vitamins, and it is also very good to improve collagen production. Using them with honey will give your lips natural pinkish color free from all the dark spots. Here is the best way to use strawberries with honey.
Mash one piece of strawberry and add one tbsp. honey
Mix both ingredients properly and apply on the lips.
Don't get greedy and keep it on for 30 minutes.
You will see the excellent results of using strawberry with honey.