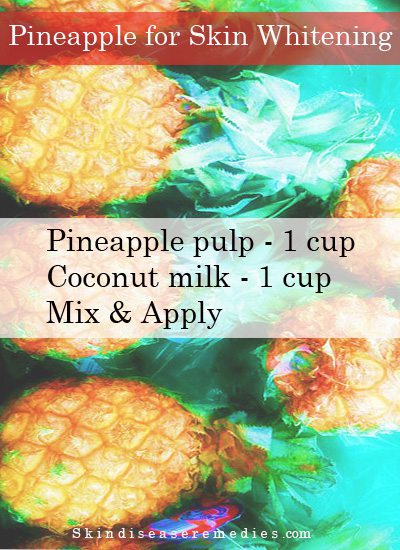 It's common, everyone in this world desire to have gorgeous skin, but beauty products aren't the way to achieve them. Instead they can ruin your dream and leave your sensitive skin with fine lines. (1)
The reason I choose pineapple for skin whitening is not because of its delicious taste, but due to assorted properties residing in them which can bring back the lost radiant effect on your face.
Before we dwell about the nutritional benefits of this rough skinned fruit, let me pull few more lines to table sorry tablet. 😉
People in this generation are practicing a very unhealthy lifestyle (including me).
Apart from alarming pollution, you're surrounded by technical gadgets that force you to sit at one place. Studies back my claim; repeated use of Smartphone can develop wrinkles, dark circles and acne in most people. (2)
Hope you got my point.
So to remove pollutants and stop dark spots on your skin you need an effective remedy. And am sure you can't get this with chemical filled creams. Natural remedies like pineapple are filled with nutrients that can cleanse and fill your skin with essential vitamins.
Is Pineapple Good for Skin Lightening?
Vitamin B1, B2, B3, B5 and B6, Vitamin C, manganese, copper, folate and other nutrients are housed in this tropical fruit.
Cleansing activity of pineapple face scrub will remove impurities from the skin.
Repeated use of its juice can lighten your skin and fade dark spots.
At the same time it hydrates dry and dull skin with its moisturizing activity.
Alpha-hydroxy acids residing in pineapple juice can reduce aging wrinkles.
Antioxidants housed in this face mask thwart free radicals that can damage cell membrane.
Vitamin C stimulates collagen production and enhances elasticity of the skin.
Acne scars and other marks on the skin can be reduced by potassium and vitamin C of this face mask.
Assorted nutrients in the fruit help to promote skin metabolism.
Pineapple fruit contains an enzyme that can effectively remove accumulated dirt and lighten the appearance of scars.
You can use its juice to smoothen cracked feet and to obtain beautiful nails.
How to Use Pineapple for Skin Whitening?
Interesting thing about natural remedies is that you can blend other ingredients with them to make it more effective. You can blend honey, gram flour, green tea, cucumber, papaya, coconut milk and olive oil to pineapple face mask.
#1 Honey, Pineapple and Olive Oil
Essential nutrients in raw honey and olive oil both combine to cleanse impurities, promote cell regeneration and improve your skin complexion.
Humectant abilities packed in these ingredients help to lock moisture on your skin.
Initially wash your face with water or cleanse it using gram flour mask.
Peel the rough skin over pineapple and make it into small pieces to mash it.
Add 1 tablespoon of raw honey and 3 tablespoons of extra virgin olive oil to it.
Mix thoroughly and apply it over prewashed face.
Leave it for about 15-20 minutes and rinse it off.
Optionally, massage your face with natural moisturizer like rosewater or jojoba oil.
#2 Coconut Milk and Pineapple Pulp for Skin Whitening
Mash required amount of pineapple in a bowl and add 1 cup of coconut milk to it.
Using cotton ball apply this face mask on the skin.
Let it dry.
Wash your face with lukewarm water and pat dry.
Repeat the process for about twice in a week.
#3 Pineapple and Gram Flour
Gram flour is my favorite home remedy to remove impurities. For years it has been used to keep the skin radiant and reduce dark spots.
Both pineapple and gram flour will help to remove dead cells, pollutants and dirt piled over the skin. If you don't remove these impurities, they accumulate to form dark patches at different places on the skin.
Peel fresh pineapple and slice them into small pieces.
Blend them to create smooth paste.
Mix 2 tablespoons of gram flour to the pulp thoroughly.
Apply this thick paste on the skin and leave it to dry.
Rinse it off with water or wipe with wet cloth.
#4 Pineapple Slice
If you're too lazy to blend other ingredients to pineapple, you can still benefit from this fruit by rubbing its slice on your face.
Vitamins and minerals housed in this fruit can effectively treat skin ailments like acne and lighten the appearance of dark spots.
Peel a fresh pineapple and wash it.
Cut into thick slice and start rubbing on your face.
Be gentle while rubbing it on your sensitive skin.
Allow it to dry for 15-20 minutes and then rinse it off with water.
#5 Egg White, Pineapple and Honey
Egg white is known to remove impurities and promote collagen production. Vitamin C residing in this home available ingredient can reduce wrinkles and lighten your skin.
Take 1 egg white in a bowl.
Add 3 slices of peeled pineapple and add 1 tbsp of honey to it.
Blend it to smooth paste and apply it on your prewashed face.
Allow it to dry naturally for 15-20 minutes and then rinse it off with water.
Also read: Homemade Recipes to Lighten Skin with Egg White
#6 Papaya and Pineapple to Lighten Skin
Papain is an enzyme residing in papaya that exhibits beauty benefits. It reduce dark complexion, treat ailments, encourage formation of elastin and make the skin supple.
Grind 3 slices of papaya with 2 slices of pineapple.
Add 1 tablespoon of raw honey to the paste and mix thoroughly.
Wash your face and apply the obtained face mask evenly on your skin.
Allow it to dry naturally for 15-20 minutes and then rinse it off with water.
#7 Turmeric and Pineapple
Curcumin is an active component in turmeric that has ability to make your skin supple and lighten your skin.
Extract juice from pineapple pulp by adding required amount of milk or water.
Now, add a pinch of turmeric powder to the bowl of pineapple juice.
Stir thoroughly and apply it on your skin using a cotton ball.
Let it dry for 20 minutes and then wash it off with water.
Tips that You Shouldn't Ignore
List of recipes is endless.
Choose one recipe and stick to it for 2-3 weeks to see positive results.
Apart from applying these innate ingredients, you must ingest vitamin rich diet and drink enough water to obtain radiant skin.
Excess use of beauty creams may irritate your skin and even strip moisture from the face. So avoid excess use of chemical incorporated products.
Avoid spending long hours before computer or smart gadgets, it can damage your sensitive skin.
There are studies that claim that stress can trigger skin ailments. So, avoid it and stay peace and beautiful.