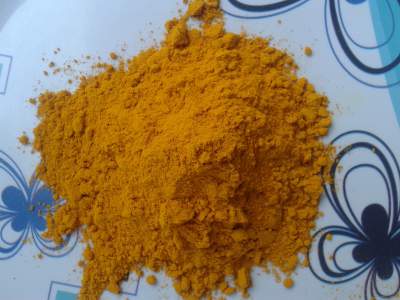 Does this home available spice can lighten your skin?
Turmeric is prominently used for culinary purposes exhibits cosmetic benefits. Below mentioned are different ways to use turmeric for skin whitening.
Indians have been using this golden powder as a medicinal herb and for the culinary purpose since a long time. It's the most popular first aid for minor injuries here in India.
Right from my childhood I heard exaggerating benefits of turmeric. Anyhow, recently science-backed these theories, which our grannies have known for a long time. 🙂 (1)
Filled with antioxidants and anti-inflammatory agents this home available remedy turns out to be an excellent face mask. It's not new for Indian women, on various occasions they use turmeric face mask for skin whitening as a ritual.
What Causes Dark Spots, Dark Complexion or Hyperpigmentation?
There are many factors that turn your fair skin brownish. Apart from hereditary, external and internal factors influence dark complexion.
We all knew that the skin gets its color from a pigment known as melanin. Excess exposure to sunrays, repeated use of chemical included creams and certain medications results in dark spots.
Apart from this, skin ailments like acne, eczema, psoriasis, and rosacea are main causes of leaving scars and dark patches on your face.
Low levels of the vitamin in the food also influence dark complexion.
Why shouldn't you use beauty creams with harmful chemicals?
When I say harmful, the sentence itself is self-explanatory to avoid using them.
However, there are few cases where repeated use of these chemical included beauty products damaged natural elastin of the skin.
Instead, natural remedies are packed with essential vitamins that your skin needs.
Does Turmeric Lighten Skin?
Enticing properties of turmeric made westerners start using this Asian spice and medicinal herb.
Thandie Newton (Hollywood actress) reveals that she use turmeric as a moisturizer to add her skin tone. (2)
Antioxidant Ability
The research concludes that turmeric does contain medical agents, known as curcumin. It's a strong antioxidant and anti-inflammatory agent. (3)
Antioxidant ability of this home available ingredient helps to reduce wrinkles and thwart free radicals that cause oxidative stress.
Cleanses Your Skin
Cleansing ability of turmeric face mask help to lighten your skin and reduce the appearance of dark spots.
Reduce Melanin
Hyperpigmentation and melanin production can be reduced by curcumin. Melanin, which is a pigment responsible for skin color is triggered by pituitary stress, sun exposure, and skin ailments.
Curcumin is turmeric helps to lighten the skin and restrict ACT hormones that trigger melanin production.
Anti-Inflammatory Ability
Inflammation, which is main the cause of acne or pimples, can be reduced by topically applying turmeric face pack.
Anti-inflammatory properties of curcumin are said to match the effectiveness of drugs. (4)
Thwart Free Radicals
Along with fighting free radicals, turmeric compounds boost antioxidant enzymes in the body. (5)
Reduce Wrinkles
It can be used as an anti-aging remedy. Along with skin diseases, you can use it to treat health problems like heart diseases, cancer, and depression.
Vitamin C residing in turmeric powder enhances collagen production and elastin of your skin.
Regulate Sebum Production
Phytosterols and fatty acids present in turmeric can effectively reduce excess production oil.
A 2012 study backs this claim, people who were treated with turmeric for 2 weeks showed a significant decrease in sebum secretion.
Treats Skin Ailments
Healing abilities residing in turmeric powder help to treat acne blemishes and other chronic skin ailments like eczema and psoriasis.
Antibacterial property exhibited by turmeric help to restrain infectious bacteria.
Protects Your Skin from UV Rays
Excess exposure to sun radiation reduces collagen between the outer and middle layer of the skin. Nutrients in turmeric inhibit enzymes that degrade collagen, thus prevent damage.
Also read: Papaya Face Mask for Skin Whitening
How to Use Turmeric for Skin Whitening?
It's important to know that turmeric face pack leaves stains over your fair skin but fades in few hours.
To reap its nutritional abilities, you need to mix turmeric with other innate ingredients and apply it on your face.
Depending on your skin type choose the best recipe listed below.
#1 Honey, Turmeric, and Olive Oil
Things you'll need
Turmeric powder – 1/4
Raw honey – 1 tbsp
Olive oil or coconut oil – 1 tbsp [for dry skin]
Yogurt (1/4 cup) and lemon juice – 1 tbsp [for oily skin]
Flour (powder) – 2 tbsp
Procedure
Mix all ingredients in a bowl. Leaving yogurt & lemon if you've dry skin.
Prepare your face by washing or cleansing it.
Evenly apply the turmeric face pack over your face avoiding the eye area.
Leave it for about 15-20 minutes and wipe it off using warm wet cloth.
Assorted abilities of honey and olive oil need no explanation. Cleansing, antibacterial, skin lightening and anti-inflammatory properties exhibited by these natural ingredients can lighten your skin.
Also Read: Is Cucumber Good for Skin Lightening?
#2 Curd and Turmeric Face Mask for Skin Whitening
Mix 1tbsp of turmeric powder with 3 tbsp of curd thoroughly.
Apply topically over the prewashed face.
After 15 minutes, wipe it off.
Apply moisturizer when the skin is still damp.
People with sensitive skin must avoid lemon juice and use raw honey. You add milk to make a smooth paste.
Lactic acid housed in this recipe help to make the skin bright.
#3 Lemon Juice and Turmeric
Lemon juice is housed with bleaching properties that help to lighten skin. Antibacterial properties of this ingredient help to prevent skin ailments.
Vitamins in this face mask will make your skin firm and reduce premature aging wrinkles.
Add 2 tbsp of lemon juice with 1 teaspoon of turmeric powder.
Wash your face and pat dry with a soft cloth.
Apply the mixed mask gently on your face and leave it to dry naturally for 15 minutes.
Rinse it off with water
Repeat this simple process twice in a week.
#4 Gram Flour and Turmeric for Skin Lightening
Gram flour is renowned for its cleansing properties. This combination will remove dead cells, impurities and infectious germs from your skin.
Add 2 tbsp of gram flour with ½ tsp of turmeric powder.
Mix required an amount of plain yogurt with these two ingredients to obtain smooth paste-like
Apply the mask on prewashed face and rinse it off after 15 minutes.
#5 Cucumber and Turmeric to Lighten Skin
Hydrating, healing and skin lightening properties of cucumber are well known.
Astringent property of cucumber will help to tighten skin pores and prevent premature aging wrinkles.
Grind sliced cucumbers and obtain its juice.
Mix this cucumber juice with ¼ tsp of turmeric powder.
Apply this paste on your face and allow it to dry for 15 minutes.
Rinse it off with water.
#6 Turmeric and Rice Powder
Finely grounded rice powder is packed with exceptional exfoliating and skin whitening abilities. It can effectively cleanse your skin from dead cells, pollutants, and excess oil.
Mix 2 tbsp of finely grounded rice powder with ½ tsp of turmeric powder.
Add required amount of rose water or distilled water to make a thick paste.
Apply the obtained face mask on your skin and allow it to dry for 20 minutes.
Rinse it off with water.
#7 Sandalwood Powder and Turmeric
These two ingredients are extensively known for their cosmetic benefits. Indians use sandalwood and turmeric face mask extensively in religious and cultural events.
Sandalwood application on your face will prevent excess secretion of sebum and lighten the appearance of dark spots.
Mix 1 tbsp of sandalwood powder with ½ tsp of turmeric and rose water.
Apply the obtained paste on your face.
After 20 minutes, rinse it off with water.
#8 Orange Peel and Turmeric
Like oranges, its peel is loaded with vitamins that can prevent wrinkles, fight ailments and make the skin radiant.
Grind dried orange peel to obtain its powder.
Mix 1 teaspoon of turmeric powder to 2 tbsp of orange peel powder.
Add distilled water to obtain smooth paste-like
Wash your face and apply the face mask evenly.
Rinse it off with normal water after 20 minutes.
#9 Potato and Turmeric to Lighten Skin
Catecholase is the active enzyme housed in potato that helps to reduce acne scars, dark spots and improve your skin complexion.
Extract juice from potato by grating it.
Add a pinch of turmeric powder to this juice.
Mix thoroughly and apply the juice to your face using a cotton ball.
After 20 minutes, rinse it off with water.
#10 Oatmeal and Turmeric
The exfoliating ability of oatmeal help to lighten dark spots, acne scars and improve skin complexion.
Vitamin E and B1 residing in oats improves blood circulation and reduce wrinkles.
Try this recipe to reap skin whitening abilities of oatmeal.
Mix 1 tbsp of finely grounded oatmeal with 1 teaspoon of turmeric powder.
Add enough water to make a thick paste-like
Apply this mixed paste on your face and leave it to dry naturally for 15 minutes.
Rinse it off with water and then pat dry.
#11 Tomato, Coconut Oil, and Turmeric Powder
Tomato is packed with skin brightening abilities. Vitamin B residing in it reduces the appearance of wrinkles and promotes cell regeneration.
Coconut oil is packed with skin whitening properties that can make your skin flawless.
Peel tomato and mix pulp with coconut oil and turmeric powder.
Mix thoroughly and apply the mask on your face.
Leave it to dry naturally for 15-20 minutes.
Rinse it off with water.
#12 Banana and Turmeric
Phytochemicals and antioxidants packed in banana help to get rid of aging signs and make the skin smooth.
Mash ½ ripe banana and add ½ tsp of turmeric powder to it.
Mix thoroughly and then apply it on the prewashed face.
After 30 minutes, rinse it off with water.
#13 Neem and Turmeric
Antibacterial and assorted vitamins packed in neem leaves restrain skin ailments and lighten the appearance of scars.
Take fresh neem leaves and grind them into a smooth paste.
Add ½ tsp of turmeric powder to the paste.
Mix thoroughly and apply the paste to your face.
Allow it to dry naturally for 15-20 minutes and then rinse it off with water.
Thandie Newton uses moisturizer after turmeric application. If you don't like chemical creams then use jojoba oil or shea butter.
All ingredients listed above have abundant nutrients in it. Anyhow, you can replace them with your favorite ingredient, like curd, sandalwood powder, milk, rosewater, papaya, orange peel or egg white. But, avoid allergic substances.
Turmeric face mask for skin whitening is not confined to face, you can use it over knees, legs, elbows, and hands. But remember that stains last for few hours.
Important Tips
Apart from applying it on the face, you can add turmeric to your diet to improve your skin texture.
Drink enough water and ingest vitamin-rich diet to obtain whitening skin.
Avoid chemical included creams, as it may irritate your sensitive skin.
Studies also state that stress trigger skin ailments. So avoid it. Foods that are packed with essential nutrients can prevent ailments and help to obtain enticing look.