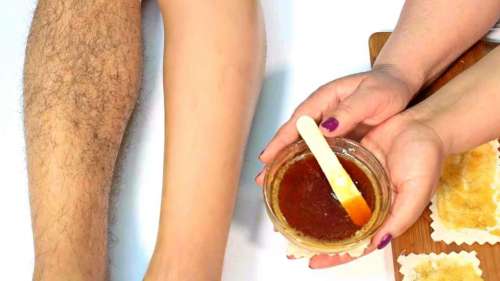 Are you one of them who are looking for an easy method to remove unwanted hair from your body? If yes, read on complete article to know easy method to remove unwanted hair without causing any damage to your skin.
We often choose to shaving creams which are loaded with chemical products to remove the unwanted hair of our skin. But this process is temporary and will not provide us desired results. Instead of shaving, waxing is the best way to get smooth and clear skin. Because waxing process will remove the hair from its roots and it take more time for your hair to regrow back.
So, now it's time to say good bye for long queues in the parlors and hair removal creams that contain harsh chemicals that damages our skin, simply prepare your own wax in your home to pamper your skin.
Check out simple homemade wax made with natural ingredients to remove unwanted hair at home
Home Made Hair Removal Wax:
Things You Need:
2 cups of sugar
¼ cup of lemon juice
¼ cup of water
2-3 drops of any essential oil
How To Prepare:
Mix all ingredients in a small bowl and put it on the stove and set the temperature from medium to high.
Stir the mixture constantly until you get syrup like consistency. Generally sugar burns very easily, so don't stop stirring for too long.
Once the mixture turns in to golden brown color remove the wax from heat and store it in a glass jar.
Allow the wax to cool down completely at least before two hours of use.
How To Use Sugar Wax:
Check whether the wax is warm enough to touch or not, if not place it in heat safe dish and allow it to warm in the microwave for 10-30 seconds.
Dip a wooden stick in to the wax and spread it over your skin in direction of hair growth.
Cover the wax area with a thin cloth strip and press it down, so that it sticks to your skin completely.
Grasp the end of the cloth and pull it off in a quick motion away from your skin. If done correctly you can see the hair stick to cloth.
If you still see hair on your skin reapply the wax and continue the process until you get smooth and clear skin.
You can even reuse the clothes after waxing.