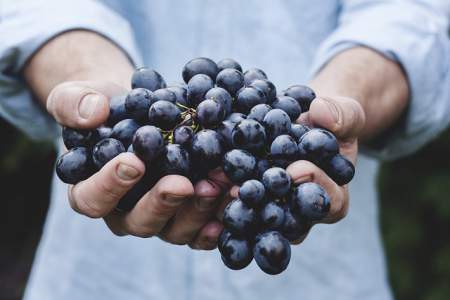 Have you ever thought that grapes can be an excellent ingredient to give smoother and youth full skin? Yes, of course, grape face mask makes your skin smooth and reduces pores and wrinkles on the skin.
Grapes are also known as "Queen of Fruits" and can be available in different types and each variety occurs something unique in taste and flavor.
Grapes are rich in vitamins, minerals, and antioxidants which benefit your health immensely. This incredible fruit can prevent and reduce the diseases like cancer, heart diseases, high blood pressure and constipation.
Before knowing the use of grape face mask, we will let you know the benefits of grapes to your health.
Is Grape Face Pack Good for Health and Skin?
#1 Avoid Migraine
Grapes are beneficial for people suffering from migraines. Ripe grape juice is a perfect remedy for a migraine. Consume one glass of ripe grape juice without dilution every morning for best results.
#2 It maintains Heart Health
The fibers and potassium in grapes will help you in maintaining your hearts health. The polyphenols in grapes such as resveratrol, antioxidants, lip lowering and anti-inflammatory properties that will help to reduce the risk of cardiovascular disease.
Intake of high potassium will reduce the intent of stroke, protects against loss of muscle mass and preserves bone mineral density.
#3 Constipation
The water and fiber in grapes help people to stay hydrated, maintain regular bowel movements and reduces the risk of constipation.
This tiny fruit also contains organic acid, sugar, and cellulose which help to relieve chronic constipation and tone the intestinal muscles.
#4 Protects Against Sunburns
Grapes are rich in a number of vitamins and minerals and its seed extracts contain proanthocyanidins and resveratrol which are powerful antioxidants. It protects us against harmful UV radiations of the sun.
#5 Fights Diabetes
Pre-diabetic patients consuming grapes can experience 10 percent drops in their blood sugar levels, due to antioxidant name as resveratrol.
So if you want to reduce your diabetes, then include grapes in your regular diet.
#6 Eye Health
Grapes are rich in antioxidants like lutein and zeaxanthin, which helps to maintain eye health. Grapes help to neutralize unstable molecules known as free radicals. They reduce the oxidative stress and damage to the retina and helps in preventing cataracts and other diseases.
#7 Aromatherapy
Grape seed oil is essential and effective over massaging your scalp. The seeds of grapes have a nongreasy texture that doesn't leave any residue on the scalp.
This oil is very light and contains emollient properties which are suited for all types of skin. This is the reason grape seed oil is very popular in aromatherapy.
#8 Help in Controlling Dandruff
Grapes contain antioxidant properties that increase the blood circulation in your scalp and shed down the dead skin cells by providing a path for growing new cells.
Grape seed oil is very effective in treating dandruff, massaging your scalp regularly with grape seed oil will control all hair problems and gives you natural beautiful hair.
Also read: 7 Homemade Mango Face Mask Recipes
DIY Grape Face Mask for Skin Whitening & Acne
#1. Grape Face Pack for Glowing Skin
Yogurt, lemon juice:
Yogurt is not only delicious to eat but the nutrients in yogurt help to maintain healthy and glowing skin.
The lactic acid in yogurt will help to dissolve dead skin, tightens the skin and reduces pores on the skin significantly.
Lemon juice contains vitamin C and citric acid which makes it a skin brightener. It also helps in lightening dark spots on the skin, lightens the skin complexion and treats the oily complexion.
What do you need?
A smooth paste of mashed grapes
One tablespoon of yogurt
3 drops of lemon juice
How to use:
Mashup 3-4 grapes well in a bowl and add one tablespoon of yogurt and few drops of lemon juice mix them well.
Now apply this pack on your face as a mask and rinse it off after 20 minutes with regular water.
Use this recipe regularly to improve the texture of your skin and see the best results within days.
Also read: How to Use Lemon Essential Oil for Acne?
#2. Grape Face Mask for Wrinkles
This remedy is very easy to follow. You just need 2/3 grapes in your hand. Cut the grape into two half's and rub it over on your skin and left it overnight.
This should be done at least 3 times in a weak to get the effective results over wrinkles.
#3. Grape Mask for Oily Skin
Grapes, Olive oil, and honey:
Olive oil has been used as a beauty product for centuries and it is rich in vitamin E which helps in treating inflammation, acne, neutralize from free radicals and protecting the skin from several severe issues.
Honey helps in hydrating and tightening of skin pores for a clear complexion. It also lightens the skin and increases healing and tissue regeneration of the skin.
What do you need?
8-10 grapes(medium size}
1 tablespoon of olive oil
1 tablespoon of honey
How to use:
Peel the grapes and remove the seeds and add other ingredients into it and blend them to form a paste.
Apply this paste on your skin and let it remain for 25-35 minutes. Rinse it off with regular water and pat dry.
#4 Grape Face Mask for Anti Aging
Grapes and gram flour:
Gram flour is used for lightening the skin for several years. It makes the skin to become fair and smooth.
It is also an excellent cleanser which removes the dirt from the pores of the skin and the dead skin cells.
What do you need?
1-2 grapes
½ tablespoon of gram flour
How to use:
Take a bowl and add gram flour and squeeze the juice of grapes into it, mix them well and apply it on your face.
Gently massage it on your face for few minutes, and then wash it with regular water. Repeat this remedy for 3-4 times in a week to experience the anti-aging properties of grapes.
Related: How to Use Egg White for Face Wrinkles?
#5. Grape Facial Mask for Dry Skin
For this mask, you need the following 3 ingredients.
Avocado pulp, honey, and rose water.
Avocado contains an incredible amount of essential nutrients, minerals, and antioxidants. It is a moisturizing agent especially for dry skin and dry hair.
Rose water is packed with benefits for the skin, due to its mild astringent properties, it helps to tighten the pores and gently tones the skin.
What do you need?
2-3 grapes
One spoon of avocado pulp
One tablespoon of rose water
Half tablespoon of raw honey
How to use:
Squeeze the juice from grapes and add all other ingredients in a bowl and mix them well, until it forms a paste.
Apply this paste on your face and let it remain for 20-25 minutes and then rinse it off with Luke warm water.
Repeat this remedy regularly to get rid of dry skin issues.
Instead of avocado, you can also use papaya pulp.
#6. Honey & Grapes for Skin Whitening
This face mask tightens pores of the skin and also it improves the elasticity of the skin.
What do you need?
The pulp of grapes (2-3)
One tablespoon of honey
How to use:
Take the pulp of the grapes and blend to a smooth paste and then add 1 tablespoon of honey.
Mix it well and apply it on the face and let it remain for 20 minutes and rinse it off with Luke warm water. Regular usage of this pack will brighten your skin.
Important Tips
Apart from topical application, regular consumption of grape juice can improve your skin texture.
Researchers state that stress can trigger skin ailments, so avoid it.
Stay away from ingredients that irritate your skin.
If you ever used grape face mask to obtain glowing skin, then share your recipe in comments.