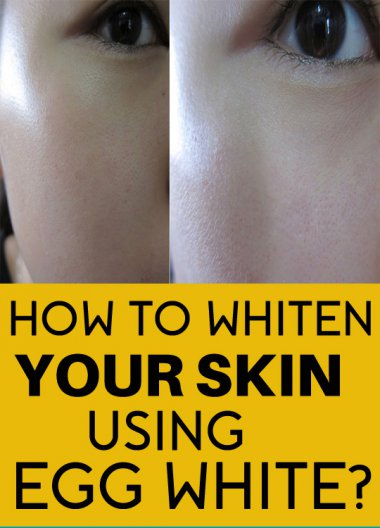 Your hectic work schedule doesn't allow you to regularly visit the spa for skin care. Don't worry you can use egg white for face whitening.
Pollutants and dead cells pile on the skin making it dry and dark. This is what my friends and colleagues complain when I ask about their dry patches.
Your kitchen is loaded with many ingredients that can be used for cosmetic and medicinal purposes. These ingredients are packed with essential nutrients that can show some positive results instantly.
Why shouldn't you use media promoted beauty products?
Not all, but most cosmetic products are loaded with chemical ingredients that can strip natural moisture and result in premature wrinkles.
Yes, they claim to include natural ingredients but the refining process removes all nutrients in them.
Egg white is packed with nutritional values that penetrate deep into the skin and thwarts ailments. Though egg yolk is packed with more nutrients, egg white has enough properties to remove impurities from the skin.
Also read: How to Use Tomato for Skin Whitening
Is Egg White Good for Face Whitening?
Along with impurities, excess sebum secreted by your skin and dead cells block skin pores resulting in bumps. If you don't wipe them off, infection triggers leading to chronic ailments.
Egg white contains 69 different proteins that work magically on your skin.
Lysozyme is an enzyme present in egg white face mask which can restrain acne-causing
Cleansing ability housed in egg white help to remove impurities, dead cells and excess sebum from the skin.
Vitamin A residing in this ingredient exhibit antioxidant and healing properties.
Prominent to remove blackheads, vitamins in egg white prevent infectious bacteria.
Proteins residing in egg white promotes cell repair and helps to get rid of wrinkles.
Potassium in this mask will hydrate your skin and locks the moisture.
Magnesium and riboflavin help to get youthful skin and fights cell-damaging toxins respectively.
Egg white can effectively tighten skin pores and reap the dirt from the skin.
When large pores shrink, chances of ailments like zits, cysts can be reduced.
Assorted vitamins in egg white help to enhance collagen production and promote elastin, which results in the youthful
How to Use Egg White for Skin Whitening?
You can use this foul smelling mask alone or blend it with other ingredients if you don't like the smell.
#1 Egg White and Orange Juice
Orange juice and its dry peel are prominently used for skin lightening. Vitamin C, bleaching agents and cell regenerative ability of orange peel can lighten your skin.
You can optionally add turmeric powder to lighten scars and treat ailments. Curcumin is the vital ingredient in turmeric that is packed with cosmetic benefits.
Mix egg white and 1 teaspoon of orange juice till the mask become frothy.
Add 1 teaspoon of turmeric powder and mix thoroughly.
Mean while wash your face with water or cleanse it.
Pat dry and topically massage the mask all over the face and leave it to dry naturally.
Turmeric may leave yellow stains on your face and clothes. So wear an old t-shirt while applying this face mask.
After applying the face mask lay down and refrain smiling, else wrinkles may appear.
#2 Yogurt and Egg White for Glowing Skin
Moisture is very important for a radiant skin. Your skin is surrounded by natural moisture that protects it from infectious germs. Due to external and internal factors, this protection strip and germs invade leading to disorders.
Yogurt contains effective agents that can thwart acne and turn your dry skin to soft. Lactic acid residing in yogurt show bleaching property that helps to whiten your skin.
Also read: Is yogurt good for face whitening?
Avocado is renowned for its hydrating properties.
Mash avocado pulp and mash using fork.
Add egg white and 1 teaspoon of yogurt to the pulp.
After mixing thoroughly, apply it over the face.
Let it dry naturally for 20 minutes
Rinse it off with water.
#3 Lemon Juice and Egg White for Face Whitening
Like above-mentioned ingredients lemon is also packed with bleaching properties that help to reduce dark spots and improve your skin complexion.
Drop 1 egg white in a bowl and add 2 teaspoons of lemon juice to it.
Optionally, add 1 teaspoon of olive oil and mix thoroughly.
Cleanse your face and pat dry.
Apply the mask evenly and massage in circular motion.
Wash your face after 15-20 minutes.
Repeat this process regularly for best results.
#4 Egg White and Honey
Religious scriptures and historical books back benefits of raw honey. Apart from healing and medicinal abilities, this natural ingredient can treat acne, eczema, clear blackheads and make your skin radiant.
You can mix lemon juice with this ingredient to make it more effective on your oily skin.
Mix 1 egg white with 1 teaspoon of honey and ½ tsp of lemon juice.
Wash your face and pat dry.
Evenly apply the mixed egg white mask on your skin.
Allow it to dry naturally for 15 minutes and then rinse it off with water.
As honey is packed with humectant properties, your skin will be guarded by natural moisture.
#5 Egg White, Cucumber, and Yogurt
Cucumber has hydrating and skin lightening properties, which are essential to obtain radiant skin. Healing, antioxidant and anti-inflammatory abilities of this home available ingredient are essential for a healthy skin.
Grate cucumber and obtain its juice.
Take egg white, yogurt and 1 tsp of honey to a bowl.
Add cucumber juice to the same bowl.
Mix well and apply the mask on prewashed face.
Allow it to dry naturally for 15-20 minutes.
#6 Oatmeal and Egg White for Glowing Skin
Oatmeal is packed with an amino acid that is renowned to lighten the appearance of dark spots, scars and improve your skin complexion.
Vitamin B1 residing in oatmeal improves blood circulation and makes the skin radiant. Vitamin E fades wrinkles on your face by boosting elastin.
Check out benefits of oatmeal for skin whitening.
Take egg white and whisk till it turns frothy.
Add 1 tsp of honey and 1 teaspoon of oatmeal to egg white.
Wash your face and apply the obtained face mask.
Allow it to dry, so that ingredients in the mask start affecting your skin.
Rinse it off after 20 minutes.
Eggs are not just for the healthy body. You can use them for perfect skin.
Topical application of egg white isn't enough for skin whitening. Internally, you must ingest vitamin-rich diet that promotes collagen and elastin.
Drink enough liquids on a day that your skin gets hydrated from inside.
Chemical peels and products aren't recommended if you love your skin. There are some cases where regular use of these beauty creams resulted in chronic ailments.
Above mentioned recipes aren't associated with any serious side-effects, however, if you're sensitive towards any ingredient then stop using them.
The most important thing, avoid stress. Studies show that stress results in ailments. Clear your mind and stay beautiful.
Did you ever use any recipe mentioned in this article? Would you mind sharing your personal experience with egg white for face whitening with me?