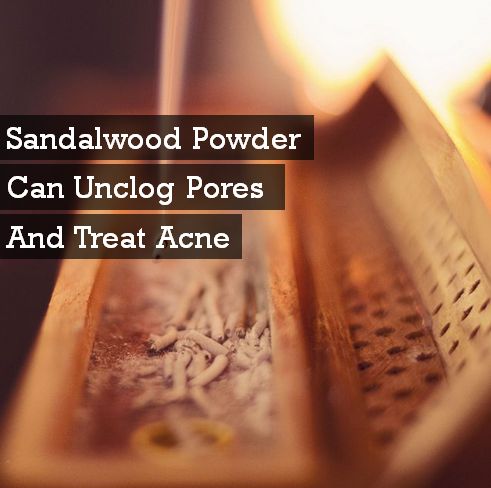 Sandalwood powder and oil are renowned for its distinctive aroma. Its powder has been an integral part of ceremonies and rituals in many religions. Up till 1930 sandalwood essential oil was popular for its antiseptic and urogenital uses. Santalol which is the main component in sandalwood powder that weighs about 75% has antimicrobial properties.
Sandalwood powder or oil for acne works because it's packed with antiseptic, antimicrobial and antibacterial properties. To reap these nutritional benefits many cosmetic and soap manufacturing industries include this oil and powder as mere ingredient.
Acne is the common skin condition in teenagers and adults; Mayoclinic blames hormones as the main cause of acne blemishes. In simple words, hormones trigger excess production of sebum which gets accumulated over skin pores, dead cells accompany this oil forming bump. The bacteria invade to worsen the situation.
How Sandalwood Oil for Acne Works?
Numerous traditional medicines like Ayurveda and Chinese medicine are associated with sandalwood. Properties like antibacterial, antiseptic and antimicrobial housed in sandalwood battles with clogged pores and reduce its affect. (1)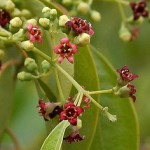 Food and Chemical Toxicology journal published in 2007 states that, sandalwood powder also contains antiviral and bactericidal properties.
These assorted properties unclog pores and enhances healing process. It also rehydrates skin and helps in tissue regeneration. Herbalist use this natural oil to treat sunburns, rashes, pimples and other skin diseases. You can include sandalwood to your beauty regimen; this makes your skin supple and radiant.
Also read: Jojoba oil for oily skin
Sandalwood Face Pack for Acne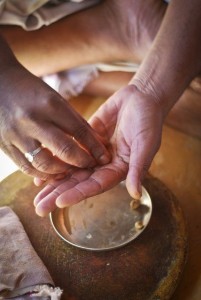 Apart from directly using sandalwood powder or oil topically you can make your own face pack to treat acne and give your face a lightening effect.
Sandalwood, turmeric and honey face pack
Sandalwood powder and turmeric powder both has antimicrobial agents which aids in removing tan, pimples and scars. Coming to honey, its uses are documented in various religious books. Properties like antioxidants, anti-inflammatory, antibacterial and antiviral are housed in raw honey. This nutrition list is mouth watering, isn't it?
Want to reap all these properties for your skin? Mix all the tree ingredients in required quantities. (Preferably 1/2 tbsp of sandalwood and turmeric powder, 2-3 tbsp of honey). After mixing it well, topically apply over prewashed acne prone skin. Leave it for 15 minutes and rinse it off with water.
Note: We recommend opting manuka honey as an effective treatment for acne
Alternatively you can use sandalwood powder and rose water. Mix them in required quantities and apply over face to treat acne and acne scars.
Must read: How to apply a face pack
How to Use Sandalwood Oil for Acne
Concentrated sandalwood oil may trigger allergic reaction. So experts suggest to test with small quantity first, by diluting it with water or carrier oil. Remember to wash and pat dry your face before applying. Don't apply pressure over acne blemishes or it may bust.
Natural remedies always take time to treat unlike chemical filled medicines. So have patience and don't give up. Along with sandalwood oil or powder change your diet for reducing acne.
Other treatments include
Sandalwood for Acne Scars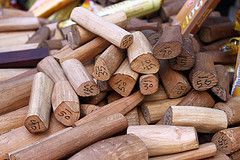 Not just acne it also fades acne scars, but you must use it regularly. Above mentioned face pack will work to fade acne scars. Though these scars are not associated with any serious skin problem most people want to remove it out of cosmetic concern.
We lack evidence to prove sandalwood fades scars; anyhow many beauty experts have been recommending this folk remedy to their clients.
Things you'll need
Black gram powder
Sandalwood powder
Rose water
Procedure
Mix sandalwood powder with black gram powder in a plastic container.
Then pour rose water to the mixture till you obtain paste like consistency.
Now topically apply the paste over prewashed face or skin. Leave it for 15 minutes so that properties in these innate items start effecting over skin.
Rinse it off wither water.
Alternatively you can try turmeric, oats or carrier oil. Regular application is important to fade acne scars.
Conclusion
Antibacterial and antimicrobial properties in sandalwood powder can treat acne and fade acne scars. Include this aromatic powder to your beauty regimen to obtain radiant skin. However, consult doctor if you're allergic to any of the ingredients listed above.
Did you ever use sandalwood powder or oil for acne? Put down your views in comments.