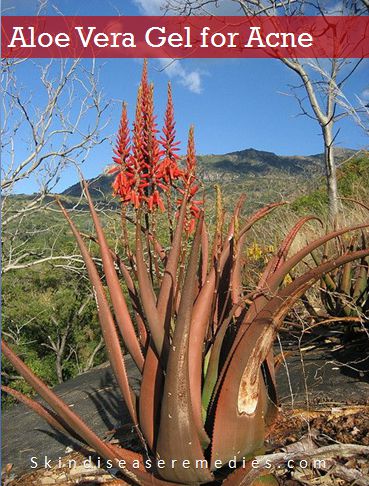 Your skin needs moisturizer to keep infection causing bacteria at bay. Sebaceous glands look after this by secreting oil known as sebum. Medical News Today states, when your skin produces excess sebum it gets clogged in hair follicles along with dirt and dead skin cells forming pimples. Thus acne arises. Hormonal imbalance is the mere cause of acne blemishes.
With home remedies you can reduce inflammation, swelling of acne/pimples and fade acne scars. Aloe vera gel for acne is one of the eminent remedies. Aloe vera is packed with all essential nutrients needed to soothe skin. This includes antioxidant, astringent, anti-inflammatory and antibacterial properties. According to a review published on National Institute of Health, aloe vera gel has 75 active nutritional constitutes namely, vitamins, minerals, amino acids, sugars, enzymes and proteins. (1)
How Aloe Vera for Acne Works?
Let's dwell into nutritional profile of aloe vera gel and know how these properties soothe acne blemishes.
Aloe gel contains 8 enzymes; bradykinase is one among them that aids to reduce inflammation of acne blemishes. While other enzymes in aloe gel work to break down compound sugars and fats in your body.
Aloe gel has abundant anti-inflammatory agents like auxins, gibberellins, β-sisosterol, lupeol and salicylic acid. All these aids to reduce inflammation, swelling, redness and pain of pimples.
Antioxidant agents like zinc, beta-carotene, vitamin C and E, thwarts free radicals that trigger infection. It also soothes your skin and enhances healing process.
Amino acids in aloe gel acts on hard skin cells to soften it and zinc acts as an astringent to tighten pores and control excess sebum production.
Along with anti-inflammatory properties salicylic acids consists of antibacterial properties, which kills acne causing bacteria, P.acnes.
Aloe vera gel is acclaimed for its healing properties. Gibberellin and glucomannan enhances collagen production. This in-turn results in fading acne scars.
How to Use Aloe Vera Gel for Acne?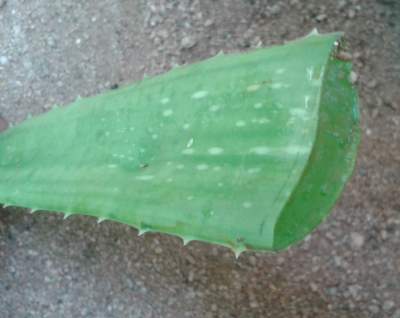 To reap all nutritional properties of this natural herb use it in raw form. Aloe vera is a home plant; borrow it from your neighbor if you don't have one. You can either mix it with other natural ingredients or directly apply it over acne blemishes. Remember to test before trying as you may be allergic to aloe vera gel.
#1 Using Raw Aloe Gel
Initially extract gel from succulent aloe leaf. It's simple! Just like you peel any vegetable, peel the skin off and congrats you've sticky gel in your hands.
Wash affected part with warm water and pat dry with soft cloth. When the skin is still damp apply aloe vera gel smoothly.
Don't rub it too hard, it may burst pimples. Rinse it off with water.
Repeat the process daily to see the change.
Note: Change your diet plan.
#2 Aloe Vera and Honey for Acne
Mix fresh aloe gel with turmeric, honey and rose water.
After mixing it well apply it over acne blemishes.
After settling it for about 15-20 minutes, wash with thoroughly with water.
Also read: Honey and cinnamon face mask
#3 Aloe Vera and Lemon for Acne
Extract aloe gel from fresh aloe leaf and blend it.
Now drop few drops of lemon juice into aloe vera gel.
Stir thoroughly and apply it over acne blemishes. Rinse it off with water.
Else you can try store-bought aloe vera gel or creams with aloe gel as ingredient. Regular application is must to see results.
#4 Aloe Vera Mask for Acne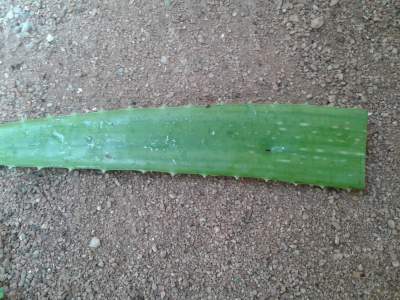 For a radiant and glowing skin add aloe vera gel to your face mask regimen. With cucumber, cottage cheese, lemon juice you can make aloe vera face mask, to treat acne and acne scars. Beauty of this face mask is that it heals acne, fades acne scars and also leaves your skin supple.
Mix cottage cheese, seedless dates, cucumber and aloe vera gel in a bowl.
Now add few drops of fresh lemon juice.
Wash your face or cleanse it using any natural or store bought cleanser.
Using your prewashed hands massage this mask on acne blemishes.
Let it settle while nutrients in aloe gel and other ingredients start acting on pimples, then rinse it off after 15- minutes.
People with sensitive skin should limit the use of lemon juice.
Related post: Cucumber for Acne
#5 Aloe Vera for Acne Scars
As listed above aloe vera gel consists of anti-inflammatory properties, which acts on acne scars to fade them by enhancing collagen production. You can use any of them recipe to fade acne scars or use it in raw form.
After cutting aloe leaf to the ground from aloe plant.
Wash it with water to remove mud or dirt.
Now slice the borders of succulent leaf and cut into small pieces.
Then peel the green skin off using knife.
Start rubbing over acne scars regularly.
Regularly apply this herb over skin to fade scars.
Also read: 10 Home Remedies for Acne Scars
You can use aloe vera juice for acne, but we prefer it in gel form as it stays on skin for long time. Instead you can consume aloe vera juice with any citrus fruit.
According to Livestrong.com, aloe barbadensis and arborescens, species of aloe vera plant has mostly associated with healing properties. Though there is lack of conclusive evidence, aloe vera gel has shown significance results when used topically.
Did you ever use aloe vera gel for acne or acne scars? Please share your thoughts on this herb.