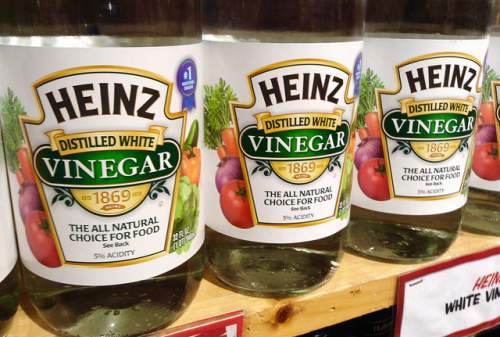 Acne can cause anxiety if it is not taken care of. Women try out many things to remove, including harsh chemicals and sometimes even surgeries.
What would you do if someone suggests you a 100% effective home treatment? It can surely reduce your overall cost. White vinegar for acne is one of those amazing home remedies.
This hair follicles' disease can occur due to many reasons, not just one. Sometimes, due to unknown reasons, something triggers the sebaceous gland while one is in puberty.
Acne can happen because of changes in hormones. The oil inside the skin called sebum starts increasing and it becomes harder to control it.
White vinegar is easily obtained and it is used for multiple purposes such as medicine, domestic and industries. Vinegar is obtained by the process of ethanol fermentation by using bacteria of acetic acid.
You can use many types of Vinegar and some of them are sherry, malt, apple cider, palm, wine, fruit, coconut, raisin, honey, beer, sugar cane, palm, and date. Other than that, you can find many other types of Vinegar such as Spirit vinegar and kombucha vinegar. Such vinegar is used for the purpose of food preparation and medicals either.
Studies show that white vinegar has been used by people since traditional days for treating acne. Before we head any further, let's find out the reasons behind acne.
What Causes Acne?
The excess oil can attract the P.acne bacteria. A pimple or acne forms because of the excess oil and P.acne bacteria.
According to many dermatologists, people between the age group of 11 to 30 are more prone to acne. However, it can also happen in adult people either.
Sometimes even genes can cause your acne breakouts. Studies show that when the person is facing first-degree acne breakout, their relatives get under the risk of getting it either. Following are other reasons of acne breakouts in many people and children:
Higher iodine level in your body can act as a trigger for your acne.  Many studies show that there is some connection between iodine and acne. Even though iodine can help the thyroid to function properly, it can cause hazardous effects if taken in access.
A study done in 2014 show that there is a connection between acne breakout and chocolate. The study examined the effects of Cocoa on their respective skins. The results shocked the researchers since they could see the growth of pimple lesions.
A bad diet can also cause the acne breakout according to many dermatologists. A study shows that the diet consisting of greater starch portions in food intake can cause acne breakouts.
Stress is also one of the major causes of acne. It doesn't directly affect your skin and causes acne, but it can make the condition worse if your skin is sensitive and prone to acne.
When you are highly stressed, there is an excess of sebum production in your skin. Acne occurs when this extra oil starts building up on your face. Stress can not only cause acne but also promote the appearance of inflammation and redness on your skin.
Acne and makeup go hand in hand while you are still suffering from acne problems. Some experts recommend using ingredients having non-comedogenic elements. This is to avoid clogging pores and worsen acne problems.
Greasy foodstuff has seen to affect the skin more than others. If the food is prepared in an unhealthy way, you are inviting blocked hair follicles and excess of oil in your skin that can cause acne.
Also read: How to Use Herbal Tea for Acne?
Is White vinegar Good for Acne?
Yes, it is.
Following are some of the reasons behind its vast usage for acne.
Vinegar has many health benefits if sued in properly. It can help in controlling glucose level in your blood and reduce bodily fat. It has the antimicrobial property that can help you to get rid of acne-causing bacteria.
1. Anti-bacterial property
Many experts call white vinegar a natural disinfectant that is used to clear your skin as well as acne. It's because of the antimicrobial property that the white vinegar is able to penetrate deep into your skin layers and kills those bacteria.
2. Removes excess of oil
White vinegar is a natural toner that absorbs the extra oil from your skin. It removes extra impurities from your skin and makes your skin radiant. It helps in increasing the flow of blood in your skin and gets you smooth and soft texture.
3. Gives you balanced skin
Proper pH balance is important if you need a healthy skin. Regular use of White Vinegar on your skin provides you beautiful skin and balanced pH. It gives you relief from skin irritation, acne breakouts, and redness.
4. Natural and cheap
As compared to the chemical products, many women use natural remedies to get rid of skin problems. White vinegar is one of them.
It is one of the cheapest methods you can use for the treatment of your acne. You don't have to deal with the side effects of preservatives and chemicals in artificial treatment.
5. Helps in reducing pimple swelling
Swelling can make you suffer and pain a lot. The irritation is reduced only when the swelling goes away. Thankfully, white vinegar can help you to get rid of swellings and provides you beautiful skin. It further prevents infection and provides you redness free skin.
6. Promotes healthy skin
White vinegar helps you to regain the balanced pH and makes your skin healthy. It also helps you to get rid of conditions such as redness, breakouts and clogged pores. It also promotes normal sebum production and prevents the p.acne bacteria to appear.
7. Antifungal and antiseptic
It prevents the skin from getting attacks of bacteria such as Staphylococcus epidermidis and Propionibacterium acnes. It provides you a healthy skin by killing the bacteria causing acne.
Also read: Is Lavender Oil Good for Acne?
How to Use White Vinegar for Acne?
There are many ways to use white vinegar for acne scars and acne breakouts. You can apply white vinegar to treat acne or pimples directly on your affected area.
Experts, however, say that diluting the white vinegar is a useful technique to get effective results. There are various methods of using white vinegar such as:
#1 White Vinegar and Water
Add water to the white vinegar according to the acidic level it has, many have the concentration of 2.4 pH level.
Before using it directly over the acne, try it on your skin to see if it is too concentrated.
Make sure that you are not allergic to white vinegar before using it on your face.
Wash your face and dry it with a clean towel. Use of cleanser or soap can be preferable.
Take a cotton ball and dip it in the white vinegar. Apply it to your acne and let it rest for 10 minutes.
Wash your face with clean and cool water.
Don't forget to use moisturizer after your skin gets dry.
#2 White Vinegar and Cornstarch
Take cornstarch and white vinegar in a bowl and mix them well.
Take a cotton ball and dip it in the solution. Apply it on the acne prone area of your face.
Let it rest for about 15 minutes.
Wash it off with warm water.
Apply moisturizer after drying your skin.
Related: How to Use Gram Flour for Acne?
#3. White Vinegar and Baking Soda
Take little amount of baking soda and mix it with the white vinegar.
Apply it to your acne prone area using a cotton ball.
Let it rest for 15 minutes.
Rinse your face using warm water and dry it off.
Apply moisturizer on your face.
#4. White Vinegar and Aloe Vera Gel
This remedy is helpful in healing acne scars and provides further protection to your skin.
Take one teaspoon white vinegar and double Aloe Vera gel in a bowl.
Mix them well and apply it on your face and neck.
Let it rest for 15 minutes and wait for the solution to work.
Rinse it off with warm water.
Use it weekly to get better beauty benefits.
#5 White Vinegar and Onion Juice
This facial mask is especially useful for fighting off the condition of skin pigmentation, which can cause acne further.
Take one teaspoon white vinegar and onion juice in similar quantities and mix them well in a bowl.
Add three teaspoons of rosewater to the mixture and mix well.
Apply it on your face and leave it for 15 minutes.
#6 White Vinegar with Strawberry
Exfoliating by this ingredient will help to remove impurities, dead cells and excess oil from the skin.
Mash 3 fresh strawberries in a bowl.
Add 2 teaspoons of white vinegar to it.
Mix thoroughly and then apply it on prewashed face.
After 15 minutes wash off with warm water.
#7 White Vinegar for Direct Application
Wash your face with a mild cleanser.
Apply petroleum jelly or coconut oil to your acne spots to form a protective layer against the acidity of vinegar.
Using a cotton ball, apply the vinegar to the acne spots.
Let it sit for 10 minutes and rinse off with cool water.
Bonus: White Vinegar with Honey and Rosewater
Ingredients:
2 tsp. Raw Honey
1 tsp rose water
1 tsp White Vinegar
Method for Application:
Mix all the ingredients together to make a fine paste.
Pour the ingredients into a bottle.
Refrigerate it for a few hours.
Apply this cool refreshing mix to your face using a cotton ball.
Let it sit for an hour.
Wash off with cold water.
This recipe will demark the acne scars and also dry up the pimples in no time.
Important Tips
Make sure that you don't leave the above mixtures on your face for a long time. If you are allergic to white vinegar, it can have adverse effects.
You can use all the above methods every day for better effects.
Use of a diluted mixture of white vinegar depends on the individual. If you can handle the pain of less-concentrated white vinegar on your skin, you can definitely go for it.
Make sure to apply it diluted since the acid can harm your skin.
Don't apply it on your eyes or areas around it.
White vinegar for acne is an effective remedy if the rights steps are followed. You can use the above-mentioned techniques to get better results.