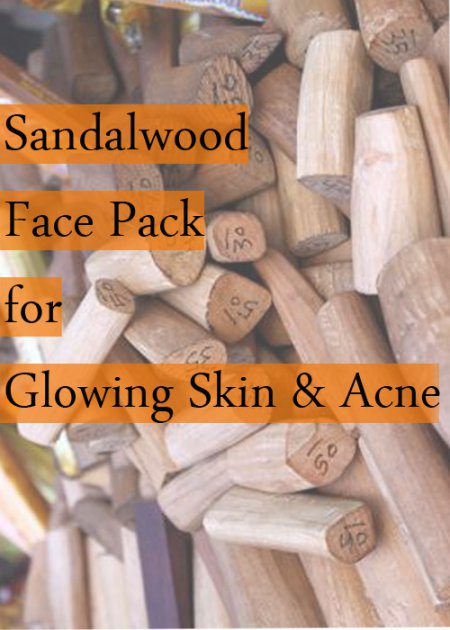 You can't think of Indian traditional and religious occasions without sandalwood powder. Wonder how sandalwood face pack for acne and glowing skin works? Go through the article to find out.
Having natural glow is everyone's dream, which can't be achieved by frequent spa visits. Because, studies show that repeated use of chemical incorporated cosmetic creams may strip natural moisture and can damage skin's elasticity.
Sandalwood face mask is prominent for its aromatic smell can be used to obtain glowing acne free skin. Due to cooling and soothing properties, ancestors used it for cosmetic purposes. Modern beauty product manufacturers enticed by its nutrients, started adding it to their creams.
It's a known fact that these companies also use other preservatives in their products that can irritant your skin.
Is Sandalwood Good for Skin
Hectic work schedule and changing climate doesn't go well with your skin. Impurities, pollutants and low nutritious diet make it dry, scaly and sometimes results in chronic skin ailments.
Sandalwood helps to remove these impurities and excess sebum produced by your skin, thus prevents acne.
Unlike beauty products, you can blend other innate ingredients with sandalwood face pack. If you've dry skin, add some rosewater to the mask. Rosewater is known for its moisturizing ability can hydrate your skin.
For extremely dry skin, you can apply jojoba oil or olive oil before going to bed.
Let's see what this fragrant powder has for your skin.
Excess oil produced by sebaceous glands block skin pores along with dead cells resulting in acne. Sandalwood face pack removes dead cells and excess sebum.
Apply sandalwood face mask over acne lesions as a spot treatment. This will make the bumps dry and fasten the healing process.
Impurities, pollutants, dead cells and UV rays make your skin dark. Vitamins and minerals in the face pack wipe the impurities and improve your skin tone.
Assorted properties in this innate remedy enhance collagen production and make your skin firm. Thus, it prevents premature aging wrinkles and makes the skin supple.
With its cooling activity, your skin will feel excellent.
Blend this powder with rosewater and milk powder to balance pH level of the skin.
Regular application of this face pack will make your skin soft and supple.
Nutrients in sandalwood ace mask can treat various skin ailments and reduce appearance of marks caused by sun tan.
Now let me share face mask recipes.
How to Use Sandalwood Face Pack
#1 Sandalwood Face Mask for Glowing Skin
Your skin is exposed to various irritants, so having dark spots and acne is common. Sandalwood powder rejuvenates skin cells and improves its complexion.
Rosewater has vitamin A, C, D and E in it. These nutrients not just hydrate your skin, but they supply essential nutrients to it. (Also read: Glycerine and Rosewater Face Mask)
As mentioned, it's a whole package which will help to achieve a radiant skin.
Blend 1/2 tablespoon of sandalwood powder with required amount of rosewater.
Add a pinch of turmeric powder for it has antiseptic properties.
Wash your face with lukewarm water if you've acne.
Pat dry and apply the mask evenly all over the face.
When it dries completely, rinse it off.
Dry skin people are advised to use natural moisturizers like almond oil or rosehip oil after face mask application.
In case you've oily skin, add gram flour powder to above face pack to remove impurities.
#2 Sandalwood Face Pack for Acne
Pimples are most common skin disorder. Along with your body and voice your skin changes as your grow. Fortunately, you can use sandalwood powder to control excess sebum over the skin and restrain bacterial infection.
Even dry skin people can get acne. When your skin becomes dry your brain signals skin to combat dry skin by storing sebum in skin pores, which may result in acne. There are more than a bunch of home remedies that can treat acne.
Take 1 teaspoon of sandalwood powder in a bowl.
Add 2-3 drops of rosewater to it and mix thoroughly.
To make your homemade face pack effective at treating acne, mix few drops of raw honey.
Expose your face to steam, so that blocked skin pores open up.
Pat dry with a cloth, and apply the face pack all over the face.
As a spot treatment apply the mask over acne blemishes.
Rinse it off after 20 minutes.
Acne is gone!
But, you're not done yet. Pimples leave large and deep scars on the skin which must be lightened. Regularly use the above mentioned face mask in step 1 to fade acne scars. Optionally, add turmeric powder once in a while to prevent infectious bacteria.
#3 Anti-tanning Face Pack
Don't expect over night results from this face pack recipes. Blend lemon juice in the face mask, as lemon has acidic and bleaching property; it helps to get rid of dark complexion.
However, excess use of lemon juice will make your skin sensitive and dry.
In the above discussed face mask add few drops of lemon juice and mix thoroughly. Wash your face and apply the sandalwood face pack. After washing your face with water, apply rosewater to moisturize your skin.
Alternatively, you can add multani mitti powder if you've oily skin.
#4 Sandalwood Face Pack for Acne Scars
In this recipe, you need 1 teaspoon of turmeric powder, 1 teaspoon of sandalwood powder and camphor powder.
Anti-fungal and anti-bacterial properties in turmeric powder can efficiently reduce acne causing bacteria.
Anti-inflammatory ability exhibited by this home available spice can reduce swelling, redness and pain.
Antioxidants, antiseptic and astringent properties residing in turmeric reduce wrinkles, lighten the appearance of scars and make the skin firm.
Also read: How to Use Turmeric for acne scars
Camphor is packed with antioxidant, astringent and skin tightening properties. This oil is extracted from camphor tree has medicinal properties.
Mix sandalwood powder, turmeric powder and camphor powder in a bowl.
Add required amount of distilled water to obtain smooth paste like consistency.
Wash your face and apply the mask evenly.
Leave it to dry naturally and rinse it off with water.
#5 Sandalwood Face Pack for Dry Skin
Nutrients in sandalwood powder help to balance pH level on the skin. Dryness is one of the main causes of skin ailments.
Mix 3 tablespoons of sandalwood oil and 1 tablespoon of rosewater with 3 tablespoons of milk powder.
Prepare your face by washing with water and pat dry.
Evenly apply the face mask and leave it for 15-20 minutes.
Rinse it off with water and optionally moisturize with rosewater.
Milk powder is renowned for its cleansing and beauty enhancing abilities. Lactic acid, vitamin A, vitamin C, B6, calcium and potassium residing in this natural ingredient hydrates your skin, promotes collagen production, heals dry itchy skin and make your skin youthful.
#6 Sandalwood and Orange Peel Powder for Oily Skin
Skin whitening and cleansing properties of orange peel face pack is prominent. For oily skin, it helps to remove excess sebum and remove impurities piled over the skin.
Take 1 teaspoon of orange peel powder and mix it with 1 tsp of sandalwood powder.
Add some rosewater or distilled water to make smooth paste.
Now, apply this face pack over prewashed face and allow it to dry naturally.
After 15-20 minutes, rinse it off with water.
#7 Sandalwood for Dark Circles
There are various causes of dark circles under eyes including hereditary, ailments, age and unhealthy lifestyle.
It's a cosmetic concern and need to be treated.
Mix 1 teaspoon of sandalwood powder with required amount of rosewater.
Wash your face to remove impurities and apply this face mask evenly under the eyes.
Leave for 15 minutes and rinse it off with water.
Add this to your beauty regimen to see positive results.
#8 Aloe Vera Gel and Sandalwood Face Mask
Aloe gel is sticky in nature and taste isn't good. But it is prominent for its healing and cooling abilities. Skin issues like itching, dry skin and even chronic skin ailments can be reduced by its topical application.
Add 1 teaspoon of aloe gel with 1 tsp of sandalwood powder.
Add required amount of coconut milk to make smooth paste.
Now apply it over the skin and rashes.
Rinse it off after 15 minutes.
#9 Honey and Sandalwood Powder
Humectant, anti-inflammatory, anti-bacterial, anti-fungal and skin lightening properties of raw honey are prominent.
Mix 1 teaspoon of raw honey with 1 teaspoon of sandalwood powder.
After mixing thoroughly, apply it over prewashed face evenly.
After 10-15 minutes, rinse it off.
If you've acne prone skin, then add few drops of lemon juice as mentioned above.
Tips on Using Sandalwood Face Pack
These homemade recipes will help to remove impurities and cleanse your skin. To some extent ingredients in these face pack recipes can improve your skin complexion.
Regular use it important to see positive change.
Make sure you're not mixing any allergic ingredient with the face mask.
If you experience irritation after this face pack use, then stop using it and consult physician immediately.
Drink enough water to hydrate your skin from the inside.
Like your providing essential nutrients topically, internally you must ingest vitamin rich diet for healthy skin.
Practice healthy lifestyle by having good sleep and avoiding stress.
Life is beautiful, when you're at peace. 🙂
Save