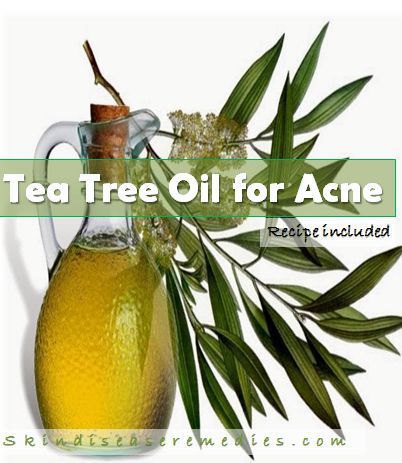 When you check aisle of home remedies to treat acne you'll find tea tree oil as most effective yet inexpensive remedy.
Tea tree oil is yellowish essential oil. According to WebMD, tea tree oil is derived from Melaleuca alternifolia tree. It was named tea tree by 18th century sailors, who made tea using leaves of the tree.
Is tea tree oil good for acne?
Tea tree oil has many acne fighting properties in its arsenal.
Anti-microbial properties
Anti-bacterial properties
Anti-fungal properties
Antiseptic properties
A Study of Tea Tree Oil for Treating Acne:
There are few exaggerated claims about tea tree oil. However, only anecdotal evidence exists in treatment of various skin diseases.
To prove this, a study carried out for 124 patients with acne. Half of them treated with 5% of tea tree oil and other half are treated with 5% benzoyl peroxide. After a course of 3 months, result showed both reduced acne lesions but people who're treated with benzoyl peroxide left with side-effects where as people with tea tree oil treatment has less side-effect. (source)
Based on this study we can confirm and rely on tea tree oil for treating acne.
Important Note: Tea tree oil can be used topically, internal use may harm you. As concentrated tea tree can irritate your skin, we recommend diluted tea tree oil.
Also read this: Hydrogen peroxide can treat acne
How to Use Tea Tree Oil
As mentioned above diluted tea tree oil is recommend, even in the above mentioned study researchers used diluted tea tree oil.
Get tea tree oil from a local store.
Clean the affect part before treating it with essential oil.
Take 1/2 cup of water and add 2-3 drops of essential tea tree oil.
Stir the solution well.
Dip cotton ball into the solution and apply gently over affected area when the skin is still damp.
Leave it for about 20 minutes then rinse it off.
Repeat the process.
You can substitute water with aloe vera gel or green clay powder.
Tips
For spot treatments, use green clay powder and tea tree oil.
Though this remedy is effective and has no serious aide-effects, it takes time to show results.
Share your experience with tea tree oil for acne. Did you ever use this essential oil for skin?
Other Remedies for Acne