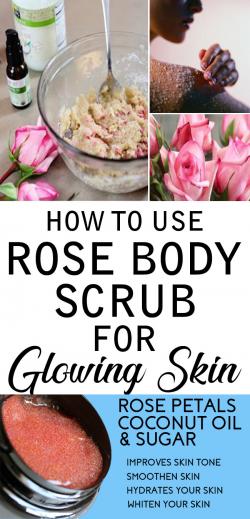 We do numerous things to protect our skin in all the ways we can. But, the environmental factors and unhealthy habits often results in causing some side effects that we often neglect.
Body scrubs are something that protects our skin to remove all dead skin cells and keep our skin healthy. Whereas body scrubs available in market are very expensive and cannot be afforded by many people. Scrubbing your body using natural ingredients is a great way to exfoliate your skin and to add nourishment.
Here is an excellent recipe for body scrub using rose and coconut oil which is very easy to prepare and loaded with numerous skin benefits.
Benefits:
Rose:
Roses have therapeutic properties that benefit that helps in relaxing your body by improving the glow of your skin. Rose petals contain natural oils and sugars that will help to lock moisture in to dry skin cells. It also adds healthy glow to your skin and maintains it healthy all day long.
Coconut Oil:
Coconut oil keeps your skin hydrating and acts as a perfect moisturizer to keep your skin soft and healthy. Additionally, the anti bacterial and anti fungal properties protect your skin from certain skin issues.
Sugar:
Sugar is considered as natural skin exfoliator that helps to get rid of dead skin cells and protect your skin. Sugar is also great source of glycolic acid that penetrates deep in to your skin and encourages cell turnover.
Recipe For Rose Body Scrub:
Things You Need:
Handful of fresh rose petals
6 table spoons of sugar
6 table spoons of coconut oil
Steps To Prepare:
To a blender add sugar and coconut oil, blend it until well combined.
Now, add rose petals and blend the mixture again.
Scoop this mixture in to a clean airtight jar and here we go with natural and best body scrub for your healthy skin.