Pain and depression accompanied by eczema can't be expressed in words. Talk to the people who experienced severe eczema; their stories are heart wrenching.
Well, I know you're here to know about benefits of almond oil for eczema.
Most people wonder, why to use natural remedies to treat this chronic skin ailment when there are many cosmetic steroid creams available in the market?
Believe me, they don't work. I experienced mild eczema and the embarrassing feel to scratch irrespective of who is staring at you is frustrating.
Steroid cream does show positive results initially, but soon in few weeks itching commence. On another side, natural remedies may not show instant results but, they penetrate into the skin and thwart the infectious germs.
Studies also state that you can use almond oil for baby eczema by regular massaging. However, please consult your physician if you see eczema signs in your baby.
What Triggers Eczema?
Red itchy patches on different parts of your body can be the sign of eczema. You're not alone; studies state that 31.6 percent of people in the US experience this ailment.
The mere cause of eczema is unknown; however, genetics, immune system, and external irritants are held responsible to trigger eczema flare-ups.
Steroid creams and natural remedies can't permanently cure this chronic skin ailment. Yes, unfortunately, you can't complete thwart this ailment.
However, topical application of these remedies will reduce inflammation and save you from rigorous itching.
Almond oil, which is packed with essential nutrients, can reduce eczema flare-ups effectively.
Note: Please stay away from foods that trigger eczema. I personally experienced rigorous itching right after eating eczema triggering food items.
Is Almond Oil Good for Eczema?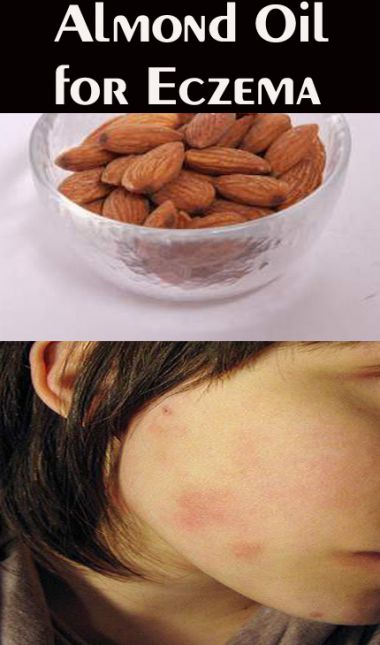 Originated from southwest Asia and the Middle East, almond extensively uses in the medical and cosmetic field. Unsaturated fats housed in this innate ingredient can reduce bad cholesterol and diabetes.
Hamdard University of India in 2007 study stated that almond oil can reduce the effect of UV rays on the skin.
Renowned for hydrating activity, sweet almond oil can moisturize dry itchy patches of eczema.
People with eczema patches experience extremely dry skin, moisturizing them with essential vitamins can give instant relief from inflammation.
Antioxidants packed in this oil helps to restrain free radicals that trigger oxidation stress.
Inflammation caused by repeated itching over eczema affected skin can be reduced by anti-inflammatory property of almond oil.
Its exfoliating property helps to shed hanging dry patches off the skin.
Vitamin A is said to avoid further ailments over the skin.
Prominent humectant property of this carrier oil allured many cosmetic industries to incorporate it into their products.
Skin lightening properties in almond oil can lighten the appearance of eczema scars.
SPF 5 residing in this oil helps to protect your skin from harmful UV rays.
Vitamin E housed in almonds promotes skin rejuvenation.
Non-comedogenic ability of almond oil prevents clogging of skin pores.
Assorted nutrients in it help to shed dead cells, impurities and guard your skin from pollutants.
Unlike cosmetic creams, mild-hypoallergenic sweet almond oil easily penetrates deep into the skin.
How to Use Almond Oil for Eczema?
To empower your homemade recipe, you can blend other innate ingredients with almond oil. Myrrh and rose oil can be mixed with this carrier oil for topical application.
Doctors initially try to reduce itching, dry skin and inflammation. They prescribe corticosteroid creams to relieve itching.
Almond oil which is known for humectant properties also has a similar effect on eczema.
#1 Almond Oil as Moisturizer
National Eczema Association states, "The important aspect of treating dry skin is to put back the lost water." Further, this association notes that regular application of moisturizer will help to enhance the effect of a topical medication prescribed by a physician.
Wash the affected part with water and pat dry.
Take sweet almond oil in your palm and evenly apply it over the eczema patches. This is one of the easiest ways to use this remedy.
#2 Almond Oil, Milk, and Banana for Dry Skin
Vitamin E residing in sweet almond oil is beneficial for all skin types. Raw milk and banana are packed with essential vitamins and minerals.
Mash 1 ripe banana and add 1 tablespoon of sweet almond oil to it.
Also, mix 1 teaspoon of raw milk to the mask.
Wash the skin and pat dry with soft cloth.
Apply the obtained paste over the skin evenly and leave for 15-20 minutes.
Splash water on the face to rinse the almond mask and apply rose water to keep the skin moisturized.
#3 Almonds, Honey and Lemon Juice to Reduce Inflammation
Benefits of raw honey and lemon juice need no explanation. Honey has all the required vitamins that can treat health and skin ailments. Bleaching property of lemon juice helps to reduce eczema scars and also treat acne.
Take 6-7 raw almonds and soak in water overnight.
Peel its skin next morning and mash to form a smooth
Add 1 tablespoon of raw honey and few drops of lemon juice to it.
Mix thoroughly and apply it to the skin.
Excess use of lemon juice may irritate your sensitive skin. Avoid its use if you experience irritation after its application.
Related post: Use Aloe Vera Gel to Treat Eczema
#4 Egg Yolk, Raw Honey, and Almond Oil
Ingredients in this facial mask help to moisturize, exfoliate dry skin and effectively nourish the skin.
Lightly beat 1 egg yolk and add 1 tablespoon of plain yogurt to it.
Further, add 1 tablespoon of raw honey and 1 teaspoon of sweet almond oil to above mixture.
Apply the mask over prewashed face and allow it to penetrate deep into the skin from 20 minutes.
Rinse it off with cold water and pat dry.
Also read: Is Honey Good for Psoriasis?
#5 Almond Oil and Vitamin E Oil
These two ingredients help to treat eczema and improve blood circulation. Nutrients in these innate substances can reduce fine lines and wrinkles.
Heat almond oil slightly to body temperature to make it more effective.
Add 2 drops of vitamin E oil to it.
Apply this oil over eczema affected skin and leave it to dry naturally.
Repeat the process at least twice in a day.
#6 Avocado, Honey and Almond Oil
You may wonder why to use all these ingredients when you just want to treat eczema.
The reason is what worked for me may not work for you. One Reddit user shared that raw honey cured acne. But, that may or may not work for your skin type.
Vitamins in these natural remedies may perfectly fit to work on your skin.
Mash ¼ fully ripe avocado in a bowl.
Add 1 teaspoon of raw honey and sweet almond oil to the paste.
Wash your face and apply the mask evenly for 15-20 minutes.
Rinse it off with cold water and apply rose water or another skin toner.
#7 Almond Oil Bath
Hot water irritants your dry skin and triggers itching.
Add 1 tablespoon of almond oil to the bath tub to minimize the effect of the dry skin.
#8 Almond Oil for Eczema on Scalp
As your scalp is exposed to different irritants, like your skin scalp needs to be cleansed. Inflammation caused by eczema can be reduced by regular massaging with almond oil.
Slightly heat almond oil for best results.
Gently massage your scalp with almond oil and leave it to dry naturally.
Or mix it with a mild shampoo to relieve itching.
#9 Almond Oil in Diet
To reap its nutritional benefits, you can include this innate ingredient to your diet.
Before going to sleep add 4 drops of sweet almond oil to coconut milk, juice or smoothie. Check this healthy chocolate and almond smoothie.
#10 Almond Oil for Baby Eczema
According to Vanderbilt University, gently massage babies with almond oil before bath. (Source)
Massaging stimulates blood circulation, easy digestion and moisturizes the skin. Use fingertips to massage over baby's scalp in circular motion.
Remember to be gentle while massaging.
Bonus: Homemade Eczema Cream with Almond Oil
I can say this is ultimate remedy for a fight this chronic skin ailment.
In this recipe include other natural ingredients along with almond oil.
Because you can reuse it and store, take the wide-mouthed jar.
Ingredients:
Raw shea butter – ½ cup
Almond oil – ¼ cup
Local honey – 1 tablespoon
Lavender essential oil – 30 drops
Tea tree essential oil 8 drops
Use a double boiler to melt raw shea butter and add almond oil, honey to it.
Stir and add other ingredient listed above to the mixture.
Once cooled; use a mixer to thoroughly mix this cream for few minutes till you obtain thick paste like consistency.
Transfer the cream to the jar and use it regular over eczema. Store it at room temperature.
How to Make Almond Oil at Home?
If you love to make your own products, rake 1 cup of raw almonds, few teaspoons of olive oil and a glass jar.
Grind dry almonds till you blend them into a paste.
Add 1-2 teaspoon of olive oil and again grind them.
Now transfer the obtained paste to a glass
Keep the glass jar at room temperature for 3 weeks.
Now, you can easily separate the oil from residue.
Strain the residue and collect the oil in a jar.
Important Tips for Using Almond Oil for Eczema
Though almond oil is safe, it may irritate few people. So, it's best to patch test over a small part of the body.
Stop using almond oil if you're allergic to its ingredients.
Regular application of almond oil will gradually treat eczema and other ailments.
Avoid chemical ingredient soaps and beauty creams, as they irritate your skin.
Pregnant women must consult a physician before ingesting almond oil.
Include vitamin rich diet to enrich your skin.
Foods that irritate your skin must be avoided.
Regularly moisturize your skin with rose water or almond oil before going to bed.
Did you ever use almond oil to treat eczema or to nourish your skin? Share your favorite recipe in comments.
Stay healthy 🙂