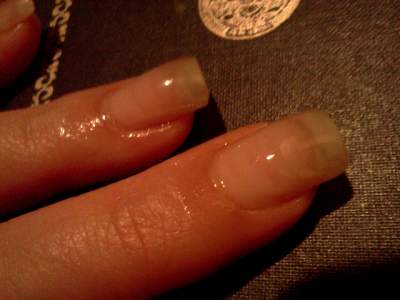 Having healthy and well-moisturized cuticles makes a big difference for your manicure. On the other side, cracked and dry cuticles hurt you. Luckily, there are many natural oils to treat; coconut oil for cuticles is one among them.
A thin skin surrounding and protecting your nail plate from infectious bacteria is known as cuticle. Like your skin, cuticles are a barrier to your nails, which guard nail plate against infectious germs without this you can't expect healthy nails.
Most of us cut or pick dry cuticles out of ignorance. Experts condemn this act, as cutting cuticles will leave a small gap through which fungi may invade to trigger infection.
Extolling benefits of coconut oil for dry skin enticed experts to try this cheap yet effective remedy on nails, and it's confirmed that coconut oil for cuticles is an excellent home available moisturizer.
What Causes Dry Cuticles?
Most people experience minor issues with cuticles, which are easily treated.
External factors like low humidity, cold weather and wind strip moisture from cuticles leaving it dry and cracked. Apart from this few chemical incorporated lotions, soaps and creams can damage cuticles.
Ailments like nail fungus, eczema and psoriasis also leave your cuticles dry. Few habits like pushing, plucking or cutting cuticles may leave them injured.
Internal factors include lack of nutritious diet and dehydration may result in dry cuticles.
Is Coconut Oil Good for Cuticles?
Hydrating properties packed in coconut oil help to moisturize your dry cuticles and make it look healthy.
Coconut oil consists of anti-fungal agents that restrain infectious germs from nail plate and avoid fungal infection.
Essential fatty acids in coconut oil enhance collagen production and fasten the healing of dry cracked cuticles.
Regular application of this oil over dry cuticles can strengthen your nails and avoid hangnails.
Topical application of this natural oil helps to remove impurities from the skin.
Lauric acid housed in the oil acts as an anti-bacterial agent and protects your nails from bacterial infection.
Regular application of pure coconut oil will stimulate the growth of nails.
Due to lack of moisture, your nails and cuticles crack ruining your physical appearance. The moisturizing ability of coconut oil will help to cure ridges and cracks.
Assorted nutrients in this oil help to restrain mild to moderate atopic dermatitis over nails and skin.
How to Use Coconut Oil for Cuticles?
Who doesn't want to have healthy and attractive nails?
Along with trimming nails and cleaning them, you need to pamper your cuticles. Dry and hanging cuticles give an unsightly look. Few external and internal factors dry them out. But! No worries. Every home has coconut oil, which is popular for hydrating skin; scalp and now it can be used to moisturize dry cuticles.
While assorted properties residing in coconut oil helps to moisturize dry cuticles, lauric acid restrain bacterial and fungal infection.
#1 Coconut Oil for Dry Cuticles
Wash your hands (including cuticles) with a conditioner after a bath.
Pat dry with a soft cloth and apply virgin coconut oil around nails and on cuticles.
Regular use will do wonders.
You can blend essential oils listed below if you've a problem with coconut oil smell.
The night is the best time to apply this natural ingredient. Cleanse before going out.
#2 Coconut Oil and Lavender Oil
Solid coconut oil is enough to treat dry cuticles, but if you'd like to make it more effective then mix it with lavender oil.
Renowned for its aromatic smell and hydrating abilities, lavender essential oil can do wonders for your skin.
Take 2 tablespoons of melted coconut oil and add 1 drop of lavender essential oil to it.
Mix thoroughly and apply it over prewashed cuticles.
Leave it to dry naturally and rinse it off with water. (Source)
You can save remaining in a tight container.
#3 Aloe Vera Gel and Coconut Oil
It's sticky gel prominent for healing and moisturizing properties. Also, the antimicrobial activity of this gel thwarts infectious germs and protects your nails.
Dead cells piled around the nails can be cleansed by this home available remedy.
Take 1 tablespoons of coconut oil and mix required amount of aloe vera gel to it.
After mixing thoroughly apply it around nails and on cuticles.
Allow nutrients in this remedy to act effectively and heal cuticles.
#4 Best Nail Soak with Coconut Oil
Hydrating is one of the most important factors of treating dry cuticles. To make it more effective, you can mix honey and rosemary oil with coconut oil.
Honey is known for its humectant properties, which help to lock moisture in the skin. Anti-inflammatory and anti-fungal properties avoid fungal infection and reduce inflammation.
Rosemary oil thwarts free radicals that damage cell membrane and promotes new skin cells. Moisturizing and astringent abilities of the oil can make it more effective.
Mix ¼ cup of virgin coconut oil with ¼ cup of raw honey.
Also, add 2-3 drops of rosemary oil to the solution.
Wash your fingers and pat dry with a soft cloth.
Now, soak your fingers in this solution for about 15 minutes once in a week.
#5 Coconut Oil – the best cuticle oil
This is the ultimate cuticle oil, packed with all innate ingredients.
If you're like simple things, then go with coconut oil + aloe vera gel. To make the cuticle cream more effective, try this below-mentioned recipe.
To start you need lavender essential oil, eucalyptus essential oil, grapefruit essential oil, vitamin E oil, peppermint essential oil, coconut oil and a bottle to store this cuticle oil.
Add 15 drops of lavender essential oil, 10 drops of eucalyptus essential oil, 10 drops of grapefruit essential oil and 5 drops of peppermint oil in a bowl.
Mix 1mL of vitamin E oil to it and add required amount of coconut oil to the solution.
Shift the oil to empty nail polish bottle and shake well before applying it over the cuticles. (Source)
Tips on Using Coconut Oil for Cuticles
Instead of picking or cutting dry cuticles, experts advice to push them back using metal or wooden cuticle pusher.
Take experts help if you're doing it for the first time. If you frequently visit the spa, avoid manicurist from cutting cuticles.
Apply coconut oil or any other moisturizer on cuticles before going to bed. This way you don't have to dip your oil filled nails in a drink or dish.
Housewives are recommended to wear rubber gloves while doing household works, as prolonged contact with water may weaken your nails and cuticles.
Alternatively, you can apply other cuticle oils to moisturize cuticles.
A simple tip, don't apply coconut oil on cuticles in a closed bathroom, because it's difficult to turn the doorknob with oily hands 🙂