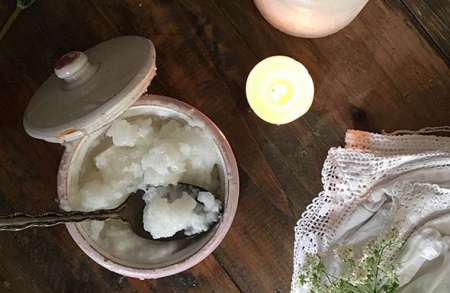 You can treat cracked heels overnight using coconut oil available in your home. Moisturizing ability packed in this oil can hydrate dry heels and reduce the inflammation.
Now, your blanket will not be snagged by your cracked heels. I personally apply coconut oil over dry scalp, hands and on feet and the result is amazing.
Coconut oil is renowned for its moisturizing properties from ancient times. Its hydrating properties soothe your dry itchy skin instantly. Whereas, it's antibacterial and anti-fungal agents restrain infectious and harmful bacteria from your sensitive skin.
Benefits of Coconut Oil to Treat Cracked Heels
Not just retaining moisture, topical application of coconut oil will help to shed dead skin cells.
Nutrients in this oil strengthen your tissues underneath epidermis layer.
Due to its immense nutritional benefits, people in certain regions of the world use it for culinary purpose.
Packed with antibacterial and soothing abilities, coconut oil can treat chronic skin ailments and restrain infectious germs.
How to Use Coconut Oil for Cracked Heels?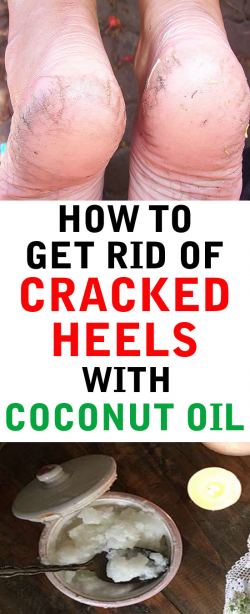 I personally, apply coconut oil on scalp and on dry handy every alternate day before going to bed. You can consider this simple method. However, there are different ways you can use it as a face mask for skin whitening.
To hydrate feet, pour few drops of coconut oil in a tub of lukewarm water, soak your feet for 15 minutes, twice or thrice in a week.
In case you've dry scaly patches, try coconut oil scrub to cleanse dead cells accumulated.
Take 30g of brown sugar, 100g of softened coconut oil and 1-2 drops of essential oil.
Mix thoroughly and apply over hands and feet. Rinse it off after 15 minutes.
Best time to use coconut oil for dry hands & feet is before going to bed or before taking bath.
Coconut Oil for Dry Hands and Feet
External and internal factors make your skin dry, though you're more concerned about face, hands and feet also deserve equal care. While shaking hands and while swimming your hands & feet get noticed, dry patches over hands definitely leave bad impression on others.
It's not just a cosmetic issue; dry skin easily gets affected by infectious bacteria. Moisturizers like coconut oil and olive oil will enrich your skin with natural oils, which will help you fight bacteria and virus.
Bad weather made my skin dry and itching slowing triggered. Like an average person I started scratching and the cycle went on till it turned to an injury. I ended up with small injury patches at different parts of my body.
But, I couldn't resist myself from scratching. After trying cosmetic moisturizing cream the skin hydrated a bit, as the cream was chemical filled I tried to check out something natural and with my mom's help I got this inexpensive remedy, coconut oil.