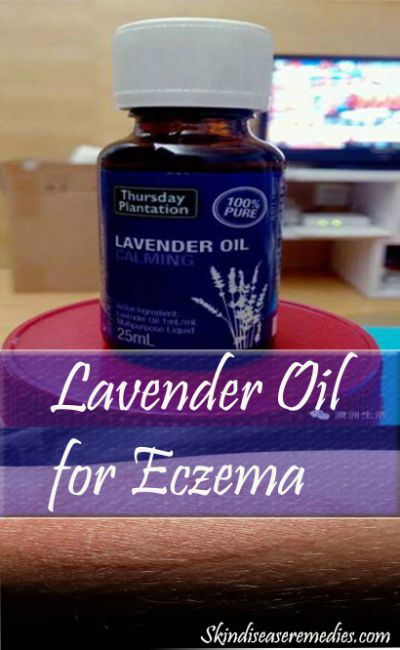 A dry itchy patch accompanied by inflammation is quite annoying. This write will help you to put an end to the rigorous itching cycle. Though lavender oil for eczema is packed with essential nutrients, you can't treat it permanently.
Actually, there is no remedy to cure eczema. However, with other innate ingredients like lavender essential oil, you can reduce its symptoms.
The main cause of this chronic skin ailment isn't known. Researchers hold genetics, food irritants, stress and other external factors to trigger eczema.
These dry itchy patches ruin your physical appearance and you're not alone; approximately 9-30% of US population is affected by eczema. (1)
Red inflamed skin, intense itching, blisters or bumps on the skin, rough and scaly patches are few common signs of eczema.
Why shouldn't you rely on steroid creams?
There are few anecdotal reports that claim that repeated use of certain chemical incorporated creams may trigger contact dermatitis.
There is a wide range of home remedies and cosmetic products that claim to treat eczema. While home ingredients are packed with the natural ability to soothe inflammation and reduce eczema flare-ups, cosmetic creams are incorporated with chemical ingredients that may irritate your skin.
One thing you must remember before proceeding is, what worked for me may not work for you. So, as natural remedies aren't associated with any side-effects you can give it a try.
Is Lavender Oil Good for Eczema?
I can imagine that embarrassing situation from scratch in public areas.
To get rid of these itchy patches I applied steroid cream, which I bought from a local store. Inflammation, red itchy patches were reduced within a week and it was great.
But, after 1-2 months, again slowly itching started. Steroid cream may show you the instant result but they don't treat the ailment from the root.
This essential oil is a broader spectrum for you. Because of its healing and restorative properties, lavender oil has been used to in World War-I for heal wounds.
Healing ability: Antiseptic, anti-inflammatory and healing properties residing in lavender oil can effectively reduce scaly patches and help to obtain a smooth texture.
Reduce Inflammation: Itchy rashes, redness and inflammation signs of eczema can be reduced by the anti-inflammatory ability of this essential oil.
Lavender penetrates deep into the skin and promotes healing.
Get Rid of Stress: The aromatic property of lavender oil helps to reduce the stress that can reduce eczema and improve your mood.
Apart from reducing eczema flare-ups, assorted nutrients in this oil can enhance overall functioning of the skin.
Hydrating ability: Its moisturizing ability will help to make your skin soft and supple.
Antioxidant activity exhibited by lavender essential oil can thwart free radicals that damage cell membrane.
Reduce itching: hydrating and healing abilities of lavender oil can help you to relieve itching.
Antibacterial properties exhibited by this essential oil can restrain bacterial infection.
Its antiseptic ability can fasten the healing process of eczema affected skin and prevent infectious germs.
Regular massage with lavender essential oil can improve blood circulation and promote cell regeneration.
Note: Pregnant women must stay away from lavender oil. Or consult your physician before using it.
How to Use Lavender Oil for Eczema?
Wash the affected area with water to cleanse the impurities and pat dry with a soft cloth.
Take few drops of pure lavender essential oil in our palm and apply gently on eczema flare-ups. Leave it to dry naturally.
Night is the best time to apply this home remedy. Repeat the process regularly till eczema scars fade.
Simple, isn't it?
But, some beauty experts recommend diluting essential oil with base oil.
#1 Lavender Oil + Water
To make a homemade spray, blend 1 cup of distilled water with 10 drops of lavender essential oil. Shake well before spraying it over the skin.
Blend coconut oil in 15-20 drops of lavender oil.
Mix well and apply it over the prewashed
Leave it to dry naturally.
The reason why experts don't recommend applying undiluted lavender oil is that it can be too harsh on your sensitive skin. So to avoid any irritation, it's safe to blend lavender essential oil with water.
#2 Coconut Oil and Lavender Oil
Hydrating ability residing in coconut oil can relieve itching and its antibacterial property can thwart infectious germs.
Fatty acids housed in this innate ingredient can help to strengthen connective tissues.
Mix 1 tablespoon of coconut oil with 2 drops of lavender essential oil.
Apply it on the prewashed face and then leave it to dry naturally for 15 minutes.
Rinse it off with normal water.
#3 Almond Oil and Lavender Oil for Eczema
Vitamin A and other essential nutrients residing in almond oil help to hydrate eczema affected skin and encourage cell regeneration.
Take 2 tablespoons of almond oil in a bowl and add 2-3 drops of lavender essential oil to it.
Mix the solution thoroughly and then gently apply it on the prewashed
Let it dry for 15-20 minutes and then rinse it off with water.
Pat dry with a soft cloth to avoid itching.
Also read: Is Almond Oil Good for Eczema?
#4 Egg White and Lavender Essential Oil
A study carried out with atopic dermatitis affected children, by this you can could that topical application of egg white can have a positive impact on your skin.
Sticky nature of egg white can efficiently remove hanging skin cells.
Its antioxidant ability helps to thwart free radicals that damage cell membrane.
Add 2-3 drops of lavender essential oil to egg white.
Mix thoroughly and apply it on the eczema-affected
Allow it to dry for 15 minutes and then rinse it off with water.
#5 Aloe Vera and Lavender Oil
Healing and cooling properties exhibited by aloe gel can effectively reduce eczema inflammation and promote the healing process.
Prominent for its hydrating ability, aloe gel help to lock moisture on dermatitis affected skin.
Glycol housed in aloe gel exhibits anti-inflammatory properties that can help you from inflammation.
Scoop aloe gel from fresh aloe vera plant and mix it with 2 teaspoons of lavender oil.
Mix well so that you obtain paste-like
Wash your face and then pat dry with a cloth.
Apply the mask and allow it to dry for 15 minutes.
Repeat this effective process regularly before going to bed.
#6 Oatmeal and Lavender Oil
Renowned for its exfoliating and soothing abilities, topical application of oatmeal will soothe your eczema affected skin and encourage skin regeneration.
Nutrients in this home available ingredient can relieve rigorous itching.
Take 2 tablespoons of (wet) finely grounded oatmeal in a bowl.
Add 3-5 drops of lavender oil to it.
Optionally include rose water to obtain paste-like
Now, apply the mask on the eczema-affected
Rinse it off with water after 15-20 minutes.
#7 Lavender Oil and ACV
Riboflavin and other minerals packed in ACV helps to treat eczema flare-ups. Its anti-bacterial and anti-fungal abilities can effectively reduce itching.
Topical application of cider vinegar will help to balance pH level on your skin.
It also includes anti-inflammatory and soothing abilities that can relieve burning sensation.
Take equal amount of apple cider vinegar and lavender essential oil in a bowl.
Stir well and then apply it to the prewashed
Allow it to dry naturally for 15-20 minutes and then rinse it off with water.
#8 Baking Soda and Lavender Oil
Its cleansing property helps to remove hanging dry patches and wipe infectious bacteria from your skin.
Bleaching ability of baking soda can lighten the appearance of eczema scars.
Mix 2 tbsp of finely grounded oatmeal with 1 tablespoon of baking soda and required an amount of distilled water.
Add few drops of lavender essential oil to the above mixture.
Apply the mixed mask on your affected skin and leave it to dry for 15 minutes.
Rinse it off with water and pat dry with clean cloth.
#9 Rosemary and Lavender Oil
Anti-inflammatory property exhibited by rosemary oil can reduce burning sensation on the eczema-affected skin.
Regular application of this mask will improve blood circulation and help to regenerate skin cells.
Mix 5 drops of lavender essential oil with 5 drops of rosemary oil.
Optionally, add 1 tbsp of raw honey to the solution.
Apply it to the prewashed skin and then leave it to dry for 15 minutes.
Important Points
Above listed recipes can prevent itching and inflammation to some extent.
But, to prevent it completely you must avoid certain foods that trigger this chronic skin ailment.
Consult your physician to confirm the food items to avoid.
Instead, ingest vitamin-rich diet and consume water-rich fruits to hydrate your skin from the inside.
And the list of does n'ts includes itching, scratching or wearing clothes that trigger the ailment.
Did you ever use lavender essential oil to treat eczema? If yes, then please share your recipe in comments.