Stretch marks can't be prevented permanently and there is no cream or remedy to fade them completely. Lavender oil for stretch marks can help you lighten the appearance of these annoying lines and enhance healthy functioning of the skin.
Sudden weight gain or loss results in stretch marks. They may look ugly and sometimes embarrassing, but they aren't associated with any health issue. It's interesting that few people love these lines. However, great percentage of people tries to get rid of these streaks.
Excess stretching damages elastic fiber of the dermis resulting in red perpendicular lines. You can see a bunch of creams and steroids available to remove stretch marks, but experts say that none proved to be effective. They have very less impact on the scars, this include natural remedies. However, nutrients in innate ingredients can lighten the appearance of scars.
Also read: Lavender Oil for Skin Lightening
How Lavender Oil Can Lighten Stretch Marks?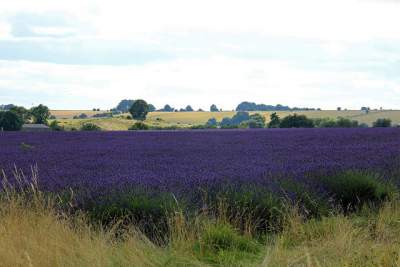 Lavender oil is prominent for its calming and relaxing fragrance. It is one among the versatile essential oils that is being used in aromatherapy. Researchers say that lavender oil has significant use in medicinal and religious purposes.
Its exceptional healing properties speeds the healing of minor burns, cuts, wounds and injuries.
Antioxidant properties residing in this essential oil will combat with free radicals that can damage cell membrane.
Anti-bacterial and anti-fungal activity of lavender oil helps to restrain infectious bacteria.
Topically massage your skin with this oil, and nutrients in it will help you to fade wrinkles.
Ailments like insomnia, migraine, headache and stress can be reduced by this oil.
Its impact on stretch marks can be effective, if you use it regularly. Experts recommend applying essential oil over waist, stomach and shoulders regularly when you're gaining or losing weight. Nutrients in this oil will enhance elasticity of the skin and thus may prevent stretch marks to some extent.
Pregnant women must consult their doctor before using lavender oil to prevent stretch marks.
How to Use Lavender Oil?
Pure lavender oil may or may not irritate your skin. Shirley Price an expert, recommends blending lavender oil with carrier oil like calendula oil before applying it over the skin.
Wash the affected part with water and pat dry. Now, topically massage the oil over the skin and leave it to dry naturally. Nutrients and vitamins in lavender oil will benefit your skin more than your expectation.
Another recipe: Mix 1/2 tbsp of lavender oil, 1/2 tbsp of chamomile oil with 2 tbsp of almond oil. These ingredients hydrate your skin; improve elasticity and helps cell regeneration to lighten the stretch marks.
Did you ever use lavender oil to get rid of stretch marks?