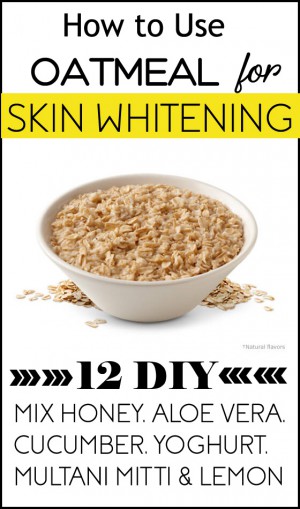 You're here because you desire to have glowing, flawless and whitening skin, every women desire to have such radiant skin.
Instead of media promoted products, in this article you'll learn about benefits of oatmeal mask for skin whitening.
Though oats are prominent in weight loss, it is packed with essential nutrients that you skin needs. Renowned for its exfoliating ability this home available ingredient can do wonders.
Chemical incorporated creams though claim to include natural extracts, often its application results in different disorders.
Why go for these pricey creams, when you've natural remedies at home.
Oatmeal for skin whitening is the most inexpensive yet effective way to make your skin smooth, well toned and wrinkle free. Apart from being an excellent food for diabetic patient, oats can also turn your rough, dry itchy skin into smooth and lightening skin. (1)
Benefits of Oats for Skin Whitening
Cleansing and exfoliating property in oatmeal can help you to wipe off the impurities piled over your face. These impurities along with UV rays results in hyperpigmentation. Have a look at the exceptional nutritional profile of oatmeal for skin whitening.
As mentioned its prominent exfoliating property removes dirt, oil and dead cells from the skin.
Saponin is a substance residing in oatmeal known to remove toxins that causes skin discoloration.
Starchiness in oatmeal along honey or yogurt builds a barrier over your skin and helps to lock the moisture.
Antioxidants in oats have got significant importance. Free radicals that damage skin cells will be restrained by this activity. Free radicals make your skin lose its elasticity and wrinkles starts appearing.
Anti-inflammatory activity shown in oats can reduce acne inflammation and enhance your skin's functionality.
Amino acids housed in this homemade face mask can lighten the appearance of dark spots, scars and improve your skin complexion.
Vitamin B1 in oats improves blood circulation and enhances skin whitening.
Zinc deficiency results in dry skin, acne and white spots on nails. Oatmeal face mask can reduce acne and other skin disorders, but you must also take nutritional diet along with it.
Vitamin E helps to soothe dry skin and gives you a wrinkle free skin.
Using oatmeal as face mask is not new, right from centuries historians have used it for their beauty. Below are different recipes with innate ingredients.
12 DIY Recipes of Oatmeal Face Mask for Skin Whitening
One of the easiest recipes would be to use cooked oatmeal with plain water and apply it over the face after cooling.
All you need to do is to massage gently so that its exfoliating property start working to cleanse impurities.
#1 Oatmeal and Honey Face Mask Recipe
Honey is renowned for its moisturizing and healing properties. Its exceptional properties are documented in religious and historical books.
To reap the nutrients in honey, experts recommend to include raw or manuka honey. As refined or processed honey has less nutritional value.
Oatmeal – 2 table spoon
Raw honey – 1 tbsp
Milk – 2 tbsp
Ground oats into fine powder and add raw honey to it. Now, add milk to make thick paste like consistency. Wash your face before apply this face mask. Leave it for 15-20 minutes then rinse it off.
#2 Lemon Juice and Oats for Skin Whitening
Acidic nature of lemon is known to fade dark spots and scars over the face. Warning: Excess use of lemon juice over skin may make it dry and sensitive to sun rays. Limit or avoid using lemon juice if you've sensitive skin.
Take medium blended oatmeal and add 1-2 tea spoon of lemon juice. Optionally you can add olive oil to the mixture.
Wash your face like you always do and topically apply the face mask evenly. Leave it for 15-20 minutes then rinse it off.
#3 Oatmeal and Tomato Face Mask for Skin Lightening
Not only it taste good, tomato with its antioxidant agents can protect your skin from UV rays and aging wrinkles. Tomato face mask enhances wrinkle free skin and shrinks skin pores.
Blend 1 tomato into smooth paste.
Add this to medium grounded oatmeal. You can also add yogurt to the oatmeal tomato mask.
After mixing it thoroughly, apply it over prewashed face.
#4 Oatmeal and Egg White
Egg whit helps to remove impurities and blackheads. Nutrients in this innate ingredient help to shrink large pores and make your skin firm. Wrinkles and fine lines will get reduced by its topical application.
Blend 2 tablespoons of oatmeal with 1 egg white.
Grind till you obtain thick paste link consistency.
Apply this face mask on prewashed face and rinse it off after 15-20 minutes.
#5 Oatmeal, Gram Flour and Turmeric
Gram flour or besan is known for its cleansing properties. Its application will help you to get rid of oily skin. Antibacterial and anti-inflammatory abilities exhibited by this ingredient can sooth your skin and improve complexion.
Turmeric powder is also known for its skin whitening properties. Apart from this, antiseptic, antibacterial and anti-inflammatory properties help to treat acne.
Take equal amount of grounded oatmeal and gram flour.
Add a pinch of turmeric powder to it.
Mix thoroughly till you obtain paste.
Apply the mask on your face and leave it to dry naturally.
Note: Excess use of turmeric powder may leave yellow stains on your face.
#6 Oatmeal, Cucumber and Aloe Vera
Cucumber is known for its water rich content. It also has soothing and anti-inflammatory properties that can heal damaged skin.
Similarly aloe vera gel has 96% of water, which helps to hydrate your skin. Minerals and vitamins residing in this gel help to lighten the appearance of dark spots.
Take 2 tablespoons of oatmeal and 2 tbsp of aloe gel.
Mix 1 tablespoon of grated cucumber to make paste.
Apply this thoroughly mixed mask on prewashed face.
Rinse it off after 15-20 minutes with cool water.
#7 Coffee and Oatmeal for Skin Whitening
Antioxidant agents residing in coffee beans protect your skin from harmful UV rays. Its topical application will help to soothe inflamed skin.
Like oatmeal, coffee mask is excellent in exfoliating your skin.
Grind 1/2 cup of oatmeal and 1 cup of coffee ground.
Add ½ cup of honey, 2 tbsp of olive oil and ½ cup of sugar.
Mix thoroughly and apply it over prewashed face.
Rinse it off with water after 15-20 minutes.
Related post: 7 DIY Recipes of Coffee for Skin Whitening
#8 Rosewater and Oatmeal for Glowing Skin
Filled with assorted nutrients and natural fragrance, rosewater is extensively used in cosmetic world. It has abundant benefits like moisturizing, cleansing, soothing and it can improve your skin complexion.
Mix 2 Tbsp of grounded oatmeal with 1 Tbsp of rosewater and 1 Tbsp of honey.
Wash your face to remove impurities.
Pat dry with soft and clean cloth.
Now, massage your face with this face mask.
#9 Skin Lightening Oatmeal Face Pack
Your skin is exposed to many impurities. Apart from this, ailments like acne, eczema and psoriasis leave scars on your beautiful face. Regular usage of cosmetic creams may strip natural moisture from the skin.
Instead use this homemade face pack recipe.
Cook ½ cup of oatmeal in 1 cup of milk for 15 minutes.
You can replace milk with water.
When the mixture becomes soft like paste, remove it from the stove.
Allow it to cool for 5-10 minutes.
Apply this paste on your face and rinse it off after 20 minutes.
#10 Oatmeal and Curd
Lactic acid in curd exhibits moisture and nourishing abilities. Vitamin B12 in this home available ingredient helps to improve your skin complexion. Astringent property is known to make your skin firm.
Mix 3 tablespoons of oatmeal with 2 tbsp of plain curd.
Grind the mixture to form thick paste.
Apply it over the face and leave it to dry naturally.
#11 Oatmeal and Almonds
Almonds are packed with vitamin A, E and B, which helps to hydrate and nourish your skin. These vitamins also promote collagen production and improve skin complexion.
Take required amount of almonds and oatmeal.
Grind them into smooth paste.
Add few drops of lemon juice to this mixture and apply it over prewashed face.
Allow the mask to dry naturally and then rinse it off with water.
#12 Oatmeal and Multani Mitti
Fuller's earth or multani mitti is prominent to remove impurities and for obtaining radiant skin. Its assorted nutrients help to remove toxins that may cause skin discoloration.
Take equal amount of oats and multani mitti.
Add required amount of water to obtain paste.
Apply this mask over prewashed face and rinse it off with water.
Like said, sun rays and impurities tan your skin. Exfoliating and cleansing properties in these listed face mask can make your skin bright. Alternatively, you can add any natural home available ingredient to oatmeal mask for skin whitening, but you must be aware of the activity of that specific ingredient else, you may end up triggering allergic reaction.
Important Tips
After heating oatmeal or any other ingredient, allow it to cool before applying it over the skin.
If you're allergic to any of the ingredients mentioned above, then don't use them.
Cosmetic products that include harmful chemical ingredients like paraben and mercury must be avoided.
Mild soaps and detergents go well with your sensitive skin.
Drink plenty of water to hydrate your skin internally.
Stress also results in skin ailments. Avoid it.
Wear sunscreen cream while going out.
Massage your face with natural ingredients to avoid accumulation of dead skin cells and other impurities.
Ingest vitamin rich foods like cooked tomatoes, carrots, sweet potatoes, natto, turmeric, salmon, papaya, safflower oil and green tea.
Did you ever use oatmeal to lighten dark spots, scars or for skin whitening? Share your recipe in comments.