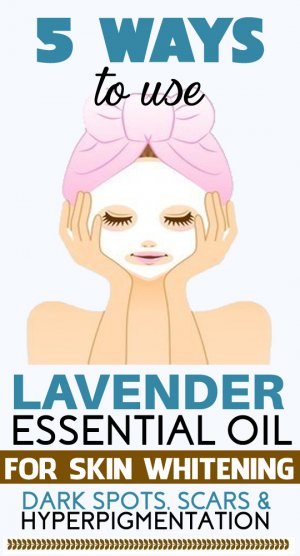 Lavender oil for skin lightening exhibits nourishing and therapeutic benefits for your face. Its soothing aroma is the vital ingredient in many cosmetic products.
Hundreds of skin lightening products testifies the existence of huge percentage of women who're yearning to have glowing skin. Unfortunately, these cosmetic creams are filled with chemicals to increase the shelf-life of the product.
And don't be fooled by their marketing campaign about natural ingredients, often they are refined to meet the product level. Further, these chemical substances can trigger allergic reaction over your skin. (1)
Crave to have glowing skin lead most people to natural home remedies. You can use lavender oil for skin whitening, as it's filled with assorted nutrients. This essential oil has got a prominent role in religious and medicinal purposes. The aromatic smell of lavender oil can be used to reduce anxiety, stress and improve mood in aromatherapy.
What Causes Hyperpigmentation?
Before dwelling on benefits of this essential oil, let's first understand why your skin turns dark?
Experts say that skin color is determined by the amount of melanin, which is produced by melanocytes. External factors like sunlight, skin infection, chemicals and hormones increase the production of melanin.
In some cases, staying indoors away from sunlight is enough to fade the tan. But normally when you don't pay attention to your skin, wrinkles and dark patches become permanent.
According to WebMD.com, mercury is the active ingredient in most skin whitening creams which can lead to serious neurological, psychiatric and kidney problems. It also states that continuous use of skin lightening creams may contribute to premature aging signs. (2)
Related post: Is Olive Oil Good for Skin Whitening?
Is Lavender Oil Good for Skin Lightening?
Like other natural essential oils, lavender oil is loaded with essential nutrients that your skin needs to look radiant.
Below listed are cosmetic benefits of lavender oil for skin.
Topical application of lavender oil can improve blood circulation. Mean more oxygen and nutrients are brought to the skin which makes your skin healthy.
Skin brightening property of lavender essential oil help to lighten the appearance of dark spots, age spots and improve your skin complexion.
The cleansing activity of this essential oil helps to remove dirt and other impurities accumulated over the skin.
Antioxidant activity of this essential oil helps to thwart free radicals, reduce the appearance of wrinkles, fine lines and avoid oxidative stress.
Hydrating ability housed in lavender oil help to lock moisture and relieve dry itchy patches.
This oil is renowned for its healing properties. Experts say that it can enhance new cell growth and fasten the healing of wounds and injuries.
Anti-inflammatory properties help to soothe inflammation and other skin ailments.
Antiseptic and anti-fungal agents help to cure minor sunburns, acne blemishes, acne scars, and rashes.
Assorted nutrients in lavender oil help to fasten the healing process of bug and insect bites.
Stress triggers skin ailments; as mentioned topical application and inhalation of lavender essential oil will reduce stress and anxiety.
Though home remedies are filled with natural ingredients, there is no strong scientific evidence to back these theories. However, people who've used it gave positive feedback with no side-effects.
Note: People who're allergic to lavender oil must avoid using it.
How to Use Lavender Oil for Skin Lightening?
You can use this essential oil for cosmetic purposes in four ways.
Massage, which involves blending lavender oil with other base oil and gently massaging on your sensitive skin.
Facial mist – it is used to hydrate your dry skin. Mix lavender oil with water and spray on your dry face once or twice in a day.
Natural perfume – It may surprise you, how can aroma help skin. Studies show that stress trigger skin ailments and the pleasant aroma of this oil will heal and reduce stress.
Compress– This one is to relieve pain and inflammation. Add lavender oil to warm water, dip a towel in the warm water and apply it on the affected
#1 Yogurt and Lavender Essential Oil
If you didn't skip above lines, then you might have known about cosmetic benefits of lavender oil.
Plain yogurt is packed with lactic acid, which exhibits bleaching properties. Apart from this, antibacterial, anti-aging and moisturizing properties of this home available ingredient can make your skin radiant.
Take 3-5 drops of lavender essential oil and mix it with 1 tablespoon of plain yogurt.
After mixing thoroughly, apply the paste on prewashed face.
Allow the mask to dry naturally for 15-20 minutes.
Rinse it off with water.
Also, apply rosewater to hydrate your skin.
#2 Egg White and Lavender Essential Oil
Prominent for to remove whiteheads and excess sebum from skin pores, egg white application will tighten your skin texture and make it radiant.
This face mask will reduce wrinkles and help you to obtain youthful skin.
Remove egg yolk and collect only egg white in a bowl.
Add 2 drops of lavender essential oil to this egg white.
Stir and apply it to your pre-washed face using a brush.
Leave it to dry naturally.
Wash your face with water.
#3 Carrier Oil and Lavender Oil
High concentration of essential oil can irritate your sensitive skin and lead to allergic reaction.
So, beauty experts recommend diluting it with any carrier oil.
Jojoba oil, castor oil, sweet almond oil and sesame oil are few carrier oils that you can try.
Mix one ounce of carrier oil with 12 drops of lavender essential oil.
Wash your face with water and pat dry with a soft cloth.
Use a cotton ball to apply the oil mask.
Allow it to dry for few hours.
#4 Lavender Oil Essential Oil for Skin Lightening
Initially, you must wipe the impurities off the skin. You can use natural exfoliator like oatmeal or sugar. Pat dry with a soft cloth and apply lavender oil topically when the skin is still damp.
Instead of mixing lavender oil with water you can actually prepare your own lavender skin toner at home.
Boil 100ml of water and drop lavender buds to it.
Cover the bowl and steep for few more hours.
Drain the mixture and collect the water in a container.
After cooling, spray this lavender toner on your face and wipe with a cotton pad.
You can store for a week for future use.
#5 Rosehip Oil and Lavender Oil to Whiten Skin
Like lavender EO, rosehip oil is renowned for its healing and cosmetic benefits. Hydrating, antibacterial and anti-inflammatory abilities exhibited by this oil help to achieve the aesthetic look.
Experts recommend blending any carrier oil like rosehip oil or olive oil with lavender oil before applying it over the face. Alternatively, you can mix warm water with this essential oil and massage evenly all over the face.
Mix 2 drops of lavender essential oil with 2 drops of frankincense essential oil and 1 tbsp of rosehip oil.
Massage this oil on your face for few minutes.
Allow it dry for few more minutes.
Rinse it off with water.
As nutrients residing in this oil have to penetrate deep into the skin and start the healing process, so it takes time to see a positive result. So you're advised to add this essential oil to your beauty regimen and regularly or thrice a week use it over the skin.
Important Tips
Lavender oil alone is not enough to make your skin lightening. You must include nutritional diet and stay away from sunlight or wear natural sunscreen cream.
You must ingest vitamin-rich diet and drink enough liquid to hydrate your skin from the inside.
Cosmetic creams that include chemical preservatives must be avoided, as they irritate your skin and may trigger an allergic reaction.
One more important aspect to achieve glowing skin is to avoid stress.
Did you ever use lavender oil for skin lightening? Let me know here in comments.