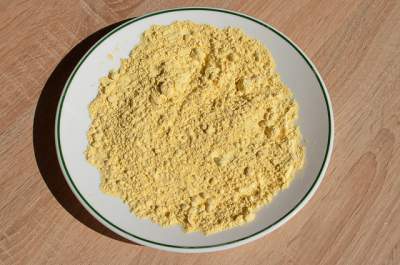 Gram flour or besan (in hindi) is powdered form of raw or roasted chickpeas. Exfoliating and cleansing agents packed in gram flour enticed people to use it as a natural remedy for skin disorders. Right from olden days and till now besan or gram flour face pack has been used as a beauty treatment.
Because of its alkaline nature, it's recommended to add lemon or yogurt. As mentioned, the face pack draws toxins and impurities from the skin.
Also read: Homemade Yogurt Face Mask
Benefits of Gram Flour Face Pack for Skin
Besan face pack is renowned for cleansing dirt and dead skin cells accumulated over your skin. Regular use of gram flour face pack will make your skin free from impurities.
Assorted nutrients in this traditional mask make your skin smooth and tighten the pores by unclogging them.
Not just removing impurities, besan helps to get rid of dark spots.
Treats blackheads, whiteheads and acne lesions.
Use it as a face wash or body wash. Yes, you can replace your pricey soaps with this inexpensive mask.
It absorbs excess oil secreted by your skin and helps to prevent pimples with its antimicrobial properties.
Gram/Besan Flour Face Pack Recipes
This traditional natural face mask works for all skin types. Anyhow, you just need to add other innate ingredients to make it effective for your skin.
For Oily Skin
It's annoying to have oiliness over T zone while going out. Excess oil is always a problem. Mix besan powder with rose water thoroughly. Initially wash/cleanse your face with water and pat dry. Now, apply this face pack over your face evenly. Let it dry naturally, and then rinse it off.
You can replace rose water with yogurt. It will absorb toxins and oil, to make your skin smooth.
Face pack recipe for acne prone skin:
Mix gram flour with cucumber juice thoroughly. Expose your face to steam or wash it with lukewarm water, so that pores open up. After pat dry, topically apply the mask over the skin and rinse it off in 15-20 minutes.
Must read: Get rid of acne with this face mask
For Dry Skin
Your skin is border by natural oil that protects it from harmful virus and infectious bacteria. External or internal factors results in dehydration, which leaves your skin dry and itchy.
Gram flour along with honey, milk and pinch of turmeric powder will moisturize your skin from the outside. Wash your face and mix the above mentioned ingredients in required quantity. Limit the use of turmeric if you're allergic to it. Leave the face mask to dry and rinse it off with water.
Follow with a moisturizer. Because of dryness bacteria invades the skin, applying this face mask helps to restrain infection.
This face pack can be used as a face or body scrub to exfoliate.
For Skin Lightening
Accumulated impurities on skin are main cause of dark spots. Cleansing agents draws them off the skin and helps to make your skin lightening.
Mix besan with 1 table spoon of milk, almonds 4-5 (powdered) and lemon juice. Apply the thoroughly mixed besan face pack over prewashed face. Rinse it off after 15 minutes.
Related post: Turmeric face pack for Skin whitening
Besan face pack for glowing skin
As mentioned above, besan face pack has been used to cleanse impurities over the skin. Pollutants and dirt around our surroundings are increasing exponentially, which gets accumulated over your skin and clogs skin pores along with dead cells.
Dead skin cells, dirt and excess sebum piled over the skin makes it dark at different parts. Natural face mask like besan exfoliates these impurities and makes your skin glow.
Ingredients:
Besan – 4 teaspoon
Lemon juice – 1/2 teaspoon
Turmeric powder – a pinch
Optionally, Yogurt – 1 teaspoon
Lemon juice is packed with citric acid that lightens dark spots, but it may make your sensitive skin so limit its use or wear sunscreen after using it.
Mix above mentioned ingredients in a clean bowl and apply it over prewashed face or skin. Leave it for about 20-25 minutes to dry naturally then wipe it using wet cloth. You can rinse it off with water later.
Get rid of unwanted facial hair using Besan face pack
Add fenugreek powder to besan powder. Fenugreek is popular to control pimples, dandruff and get whitening face. Thoroughly mix both ingredients and apply it over prewashed face and body. This will remove unwanted weak facial hair.
Would you try this traditional gram flour face pack on your skin? Please share your views in comments..