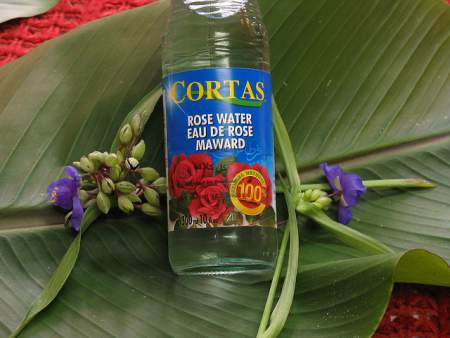 Rose water is prominent for its healing and moisturizing abilities. For centuries this natural ingredient has been used to tone the skin. In this article, you'll learn how to use rose water for acne or pimples.
My cousin's beauty kit includes cleanser, toner, moisturizing lotion and sunscreen product. Am pretty sure there can be few more to the list. If you're like me and love the frugal lifestyle, replace them by rose water.
Before you rely completely on this home available remedy, let me disclose that for serious acne lesions consult a dermatologist.
As it isn't associated with any side-effects, you can give it a try.
Jump to: How to use rose water toner for acne
Is Rose Water Good for Acne?
Rose water which is an emulsion of essential oil (rose oil) and water acts as an effective home remedy to soothe blemishes. Mostly rose water is used as a cleanser.
This innate ingredient is packed with healing and antibacterial abilities, which can efficiently treat acne.
Topical application of rose water helps to cleanse dead skin cells and excess sebum.
Antiseptic and antimicrobial properties exhibited by rose water avoid infectious bacteria and reduce blemishes.
Antibacterial properties in rosewater reduce bacterial infection on the skin.
Rose water contains natural bioactive chemicals; some of them are phenylethyl alcohol, cintronellol, methyleugenol, geraniol and other complex sugars.
Vitamin C residing in this remedy helps to strengthen the immune system to fight back acne causing bacteria.
Vitamin B3 can efficiently reduce redness over the skin and also hydrate it.
Unlike other chemical included creams, rose water is gentle on skin and works for all skin type people.
Hydrating your skin is one of the effective ways to keep the ailments at bay. Rose water is renowned for its hydrating properties can efficiently keep your skin moist.
Vitamin E is prominent for reducing dryness and emollient properties. It can form a protective layer of the skin to thwart infectious bacteria.
Vitamin A housed in rose water exhibited antioxidant activity, which can reduce acne inflammation. (Source)
Assorted vitamins residing in rose water can also help to maintain pH level over the skin.
Antioxidant ability housed in this ingredient can reduce oxidative stress and prevent premature aging wrinkles.
Rose water toner is also packed with astringent property that can cleanse your skin pores and tightens the skin.
Regular application of this effective ingredient will helps to balance pH level on your skin.
Few scientists carried out a study to learn the working of rose water. Rose oil in rose water stimulates the activity of keratinocytes (skin cells). These cells help to heal and protect skin from injuries.
Keratinocytes also release inflammatory chemicals which kill germs, healthy skin cells and avoid inflammation.
Does Rose Water Work for Acne Prone Skin (Oily)?
A British experiment concludes that using only rose water for oily skin is not recommended. As the components in rose water stimulate cell growth which in turn increases sebum production blocking skin pores. So use lemon or glycerin with rose water for pimples.
Before you proceed further, let me discuss main causes of acne.
Skin experts hold inflammation as the main culprit to trigger acne, which stimulates the body to produce more sebum. (Source)
Along with dead cells, this excess oil blocks skin pores resulting in bumps. Further, P.acnes worsens the condition.
How to Use Rose Water for Acne?

You can use rose water directly applying it on washed face or you can add lemon, sandalwood or other natural remedies.
Here we're going to discuss step by step process to use rose water with other natural home available remedies.
Wash your face with cold water and using any cleanser clean it.
Pat dry, now dip a cotton ball in rose water to apply it on your face or acne affected area.
Instead of just using rose water, mix 2 tbsp of lemon juice to 2 tbsp of rose water. Using a cotton ball damp this natural medicine on affected part.
After 15 minutes rinse off with water.
Repeat the process.
Other combinations of rose water
#1 Rose water and Lemon for Acne
This combination is already mentioned above. The healing ability of rose water helps to generate new skin cells.
Lemon juice, which is renowned for its acidic and bleaching ability can lighten the appearance of scars.
These two ingredients combine to cleanse clogged skin pores and restrain infection.
Mix equal quantities of lemon juice and rosewater, now directly apply over pimples using a cotton ball. Rinse it off after 15-20 minutes.
Limit or avoid lemon juice if you've sensitive skin. Else wear sunscreen before going out, because the excess use of lemon juice can make your skin sensitive to sunlight.
#2 Rosewater and Sandalwood Face Pack
Sandalwood powder is prominent to obtain radiant skin. Even cosmetic industries make use of this ingredient to market their chemical included products.
Cleanse ability of sandalwood help to remove excess sebum, dead cells and also enhance collagen production.
To use sandalwood face pack for acne, blend 2 tablespoons of sandalwood powder with a required amount of rose water.
Expose your face to steam before applying this face mask. Steam helps to unclog blocked skin pores and removes impurities.
#3 Rose water, Cucumber, and Honey Mask
If you've sensitive skin, replace lemon juice with cucumber and honey mask.
According to experts topical application of cucumber will unclog skin pores and helps to wipe impurities. The astringent ability of this ingredient can reduce pimples.
Antioxidant agents like Beta-carotene, Alpha-carotene, lutein and zea-xanthin housed in cucumber make it an effective remedy to treat acne.
Benefits of honey for acne need no explanation. Anti-inflammatory, antibacterial and humectant ability of this natural remedy can keep all skin ailments at bay.
Mix 2 pieces of crushed cucumber and 2 tbsp of honey. Then add rose water to this mixture. Now you can apply this face pack on washed face.
Honey and rose water has antibacterial properties which help to fight bacterial infection and cucumber give a cool feeling to your skin.
#4 Glycerin and Rosewater for Acne
Glycerin, also known as glycerol renowned for its use as an ingredient in body lotions, soaps, and creams. Though it looks like oil, it easily gets absorbed by your skin.
These two ingredients combine to form an impeccable remedy to treat acne. Combine this with rose water and both medications will thwart acne causing bacteria. Not just soothing pimples is remedy also hydrates your skin.
Glycerin and rosewater toner can help to treat acne, balance pH of the skin hydrates the skin, fade scars and redness.
#5 Rose Water Toner for Oily Acne Skin
The same remedy may not work for all, due to different skin types. Oily skin needs an excellent recipe that can remove excess oil and open up skin pores.
Apple cider vinegar and rose water both can be used for this purpose.
Cleansing, astringent and skin tightening ability of ACV helps to remove oil from the face.
Rose water is used to dilute ACV, as a high concentration of ACV may irritate your sensitive skin.
Take 30ml of rose water and 5 ml of apple cider vinegar. Mix thoroughly and apply it over prewashed face. Beauty experts recommend applying it twice per day.
You can store excess toner at room temperature for 20-30 days. However, it's preferred to make a small quantity for a week use.
#6. Fuller's Earth and Rose Water for Acne Scars
Multani mitti or fuller's earth is prominent for its beauty benefits. It helps to remove excess oil and impurities piled over your skin.
Healing abilities housed in this natural ingredient will lighten appearance of scars and make your skin glow.
Mix required amount of fuller's earth with rose water to obtain smooth paste.
Wash your face or expose it towards steam to open blocked skin pores.
Apply the mixed paste on acne affected skin and allow it to dry naturally for 15 minutes.
You can apply it as a spot treatment on acne lesions.
Rinse it off with water.
Moisturize your face with rose water after this face mask treatment.
#7. Rose Water and Baking Soda
Exfoliating property of baking soda removes impurities and excess sebum accumulated on your face.
Its anti-inflammatory ability is known to reduce acne inflammation and redness on your face.
Further it helps to cleanse skin pores and stimulate regeneration of skin cells by peeling outer layer.
Take 2 teaspoons of baking soda and mix it with rose water.
Now, apply the obtained paste on prewashed face.
Allow it to dry naturally for 15-20 minutes and then rinse it off with water.
Patch test before applying baking soda on your sensitive skin, it may irritate your skin.
Related post: How to get rid of pimples using baking soda?
What is Rose Water Made Of?
Rose water is a byproduct of distilling rose petals for essential oil known as rose attar.
Workers collect rose petals and crush them in a copper pot.
Petals are now covered with water and heated for few hours, steam in collected in a cooling flask through a valve.
This steam carries essential oil of rose and water. 20% of it is essential oil (rose oil) and 80% is water mixed with essential oil.
This water is known as rose water.
Rose water stays in its stay in room temperature. In Greece and Turkey rose water is used as a flavor in some foods.
You can also make your own rosewater at home. Make sure you choose organic rose petals. Check the process here.
Brief History of Rose Water
I know you're interested in history.
Persian scientist named Avicenna in 10th century discovered this effective natural ingredient. In the Middle Ages, the rose water is used to wash hand before eating.
Cleopatra, who is known for her beauty was huge fan of authentic rose water. Even Shakespeare wrote about her affinity with this wonderful water.
Traditional use of rose water include to treat various ailments like constipation, indigestion, redness, swelling and to ease menstrual bleeding.
Aromatherapy use rose water to get rid of headaches, reduce blood pressure and to calm nerves.
People in India, China and the Middle East use rose water for culinary purposes. (Source)
Important Tips
Start with simple recipe, by applying rose water toner to treat acne lesions.
Ingredients that trigger tingling or burning sensation must be avoided.
Avoid squeezing acne lesions, it worsens the condition and leaves scar on your face.
Research says that acne is also triggered due to stress, so avoid stress.
Have patience while trying to treat acne. It takes time.
Food that triggers acne must be avoided.
Chemical incorporated creams that may damage your skin must be prevented.
You can use cosmetic creams that include rose water.
Feel free to try these recipes on back acne and chest acne.
Do consult a physician if problem persists.
Most important thing, beauty isn't just about looks. Remember it. J
Did you ever use rose water for acne? Share your experience in comments.