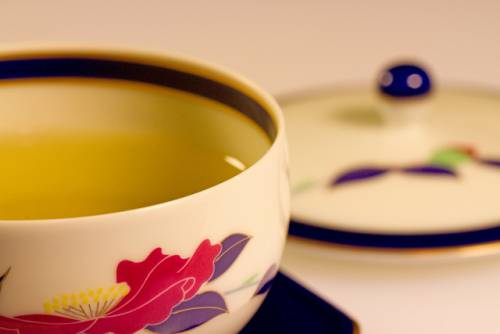 With hectic work and pollution, your skin gets piled with impurities and dead cells. Here you'll learn on how to use green tea for skin whitening.
Just a few days back I was discussing about uses green tea with my mom. As am writing on the same topic for quite some time, I started extolling its benefits for health and skin.
I recommended her to substitute her regular tea with this herbal tea, but she ignored.
We all knew that regular consumption of green tea can reduce weight and thwart free radicals. However, very few of us are aware of its cosmetic benefits.
Is Green Tea Good for Skin Whitening?
Natural ingredients aren't associated with any health issue. But, if you're hypersensitive to its ingredients, allergic reaction triggers.
Make sure you aren't allergic to any of its ingredients.
Green tea is packed with a natural exfoliator Oligomeric Proanthocyanidins, which cleanse impurities off the skin.
Astringent activity of this herbal remedy will shrink large skin pores and help to fade dark spots.
US research states that polyphenol residing in herbal tea reduce peroxides, which makes the skin rough.
Antioxidant agents housed in the green tea restrain free radicals and avoid premature aging wrinkles.
Assorted vitamins and nutrients improve skin complexion by reducing melanin production and improves the elasticity of the skin.
Anti-inflammatory properties reduce acne inflammation and other skin ailments.
It also protects your skin from harmful UV rays and refrains bacterial infection.
Assorted properties in this herbal help to promote healthier skin.
A research conducted by the American Botanical Council states that regular consumption of green tea can reduce stress.
Antioxidants, flavonoids, and polyphenols residing in green tea help to boost your immune system and prevent skin ailments.
It has lots of benefits, take a sip in the morning and massage your skin regularly with its face mask.
How to Use Green Tea for Skin Whitening?
Drink regularly every day in the morning or massage your face with green tea face mask twice in a week.
I personally prefer honey with green tea instead of sugar. Both are natural ingredients with exceptional healing properties.
Below mentioned are different recipes that you can try depending on your skin type.
#1 Green Tea for Skin Complexion
As mentioned above, consumption and topical application of green tea can remove toxins from the body.
Skin rejuvenating property of this herbal tea can improve your skin complexion by removing excess sebum and impurities.
Lemon juice and honey, which are included in this recipe exhibit antibacterial and anti-inflammatory properties that are essential for healthy functioning of your skin.
Bleaching property of lemon juice can effectively reduce dark spots and make your skin radiant.
Take 2 tea bags of used green tea and add 2 tbsp of honey to it.
Mix 1 tsp of lemon juice with the mask and apply it over pre-washed
Allow it to dry naturally for 15-20 minutes and then rinse it off with water.
Repeat this simple process once or twice in a week.
#2 Green Tea Face Pack for Skin Whitening
Studies claim that topical application benefits the skin more than internal consumption, as it readily supplies essential vitamins to the layers of the skin directly.
Brew green tea with the required amount of water in a bowl. Let it cool for 15 minutes and add rice flour to it.
Mix raw honey to the paste and apply it over pre-washed After 15 minutes, dab with little water and remove the mask.
Before applying the face mask, it's recommended to expose your face to steam or wash with lukewarm water.
#3 Green Tea Cubes
This excellent remedy is shared by a beauty blogger here. Brew green tea by adding tea bags to hot water.
Allow it cool down and pour the water in an ice Freeze over night to make ice cubes. That it's, rub these ice cubes on the face to tone the skin.
#4 Green Tea for Face Whitening
Exfoliating process removes impurities and improves blood circulation. Place green tea bag in a 3 tablespoons of hot water.
After 10 minutes cut the tea bag and massage with tea particles on the skin. Optionally, you can add sugar to the mask. It will open clogged skin pores and shed dead cells.
Apply green face mask or rose water to shrink skin pores.
#5 Green Tea for Dark Circles
Astringent and antioxidant agents residing in green tea minimize the appearance of dark circles.
Vitamin K in this herbal tea helps to reduce eye bags and thus reduce dark circles. Topical application of this homemade face pack will shrink blood vessels and lighten the puffiness of eyes.
Refrigerate 2 green tea bags for 30 minutes.
Wash your face and pat dry.
Now place those chilled tea bags on your eyes and enjoy the cooling effect.
Repeat this process regularly.
#6 Turmeric and Green Tea for Skin Complexion
Turmeric is prominent for its skin whitening ability. Antibacterial and antiseptic properties exhibited by this home available spice can restrain skin ailments.
Assorted vitamins residing in turmeric are essential to lighten the appearance of dark spots, regulate melanin production and protect your skin from UV rays.
Mix 3 tbsp of curd, 1 tbsp of green tea and 1 pinch of turmeric powder.
Wash your face and apply this obtained mask evenly all over the skin.
After 15-20 minutes, rinse it off with water.
Note: Excess use of turmeric may leave yellow stains on your face.
#7 Drinking Green Tea for Skin Whitening
As mentioned above, internal consumption and topical application both ways are essential to obtain glowing skin.
Brew green tea by adding 1-2 teaspoons of green tea leaves to boiling water. Add sugar as a sweetener.
Antioxidant agents housed in the herbal tea not only helps to reduce weight and treat health ailments but can improve your physical appearance.
Replace your regular tea with green tea and add raw honey instead to sugar. It can be difficult first, but soon you'll get addicted. 🙂
Important Tips
Don't expect overnight results. Natural remedies may take time to show positive results, but they stay with you.
Studies state that stress can trigger skin ailments like acne and eczema. Calming ability of green tea can help you to reduce stress.
Don't try all of these recipes. Choose one and add it to your beauty regimen.
Ingest vitamin rich diet and drink enough water to hydrate your skin internally.
Regular use of chemical included creams can remove natural elastin from your skin.
Wear sunscreen cream while going out to protect your skin from UV rays.
Ingredients that may irritate your skin must be avoided.
Did you ever use green tea for skin whitening? Share your own recipe in comments.