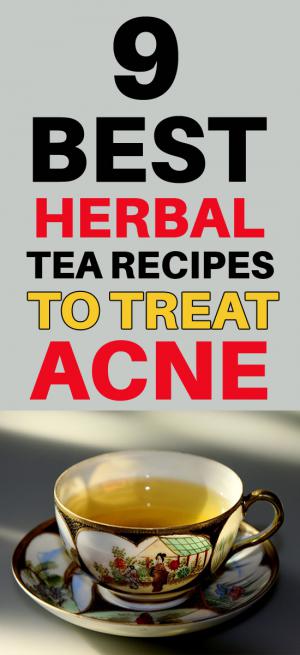 Acne is disturbing and sometimes it's stubborn enough to cause anxiety. Herbal tea is one of the most beneficial ways that can not only make you anxiety-free but also heals your acne. There are many ways to use herbal tea for acne. Since it is safe and natural, it's hardly possible for you to get any side effects.
You can use herbal tea in two ways that are topical and oral. Both are similar and quite easy to make. You just have to brew it. You can also rub some of it on your skin in order to get effective results.
According to a report, about 165 million of teacups are drunk in the UK alone every single day. So naturally, people do love having tea on a regular basis. It is possibly the cheapest form of acne treatment available on the market.
What Causes Acne?
Acne is a frustrating skin condition that invites pimples and spots on your face and other parts of your body. There various types of acne such as pimples, whiteheads, cysts, blackheads, and nodules.
Currently, it is one of the common skin conditions around the world. In the United States alone about 50 million citizens are yearly affected.
Acne blemishes are usually not dangerous, but they can cause stubborn scars to appear on your skin. It can occur due to a sebaceous gland that gets activated in puberty. In the skin, small sacs, follicles, bring together the glands and the pores.
Sometimes, the gland produces an oily liquid called as sebum. This sebum goes through the follicles to the skin surface. It when a small hair starts to grow from the follicles.
The pimples occur when the oil doesn't get out of the skin and gets locked up inside the skin. Most often, hair, sebum and the skin cells come together and work as a plug. When it gets infected by some bacteria, the pimple comes out.
Other than bacteria, there are factors that cause acne such as hormones. There's a particular hormone known as androgen that grows in human when adolescence starts. Sometimes this androgen increases the oil gland in the skin.
That means the higher the level of androgen is, the larger the oil gland becomes. And when it is enlarged, it produces extra sebum. This sebum then breaks the cellular wall and invites acne-causing bacteria.
Related post: How to Get Rid of Whiteheads on Nose?
Studies show that there can also be other triggers for acne such as cosmetics, menstruation, hormonal changes, and emotional stress.
How Can Herbal Tea Clear Acne?
1. Bacteria removal
In traditional days, it was used to help one defeat the wars of a cough and cold. It kills the bacteria that cause cold and cough. Along with that herbal tea is also helpful in killing the bacteria that cause acne to appear on the skin.
2. Helpful for stomach
A perfect digestive tract can get many diseases away. Bad digestion can be a cause of stress and anxiety. This can lead to the rise of acne. Herbal tea can be useful for reducing your stress and acne by making your digestion better.
3. Prevents infections
When the herbal tea is taken in the early infection stage, it is healed and gives you a better health. It is also helpful in removal of skin infections that can cause acne and other skin conditions.
4. Stress reliever
Intake of herbal tea every day can make your mind relax and at peace. It is especially helpful when stress and anxiety are the cause of acne on your skin. It gives you natural sleep and makes your body relaxed. It gives your body a calming effect.
5. Anti-inflammation
Inflammation can cause many skin conditions such as acne, spots etc. intake of herbal tea reduces the inflammation and gives you bright and glowing skin. You can also get relief from various conditions such as rheumatic aches.
6. Improves your blood pressure
High blood pressure can cause many defects in your body, especially to the kidneys and heart. The herbal tea can naturally treat your blood pressure without any fear of side effect.
Unlike chemicals oriented teas, it doesn't contain harmful ingredients such as caffeine and others.
7. Boosts iron in your body
A healthy person has 74% of iron in his body while a girl has 85%. It promotes the manufacturing of RBCs and gives you more energy. It can provide you helpful results in treating acne.
8. Nausea and vomiting
Vomiting and nausea can cause acne due to hormonal changes and other problems. The herbal tea can help you to get rid of the root problem, nausea, and vomiting. In pregnancy, intake of herbal tea can cause women to be relieved and peaceful.
9. Insomnia
Insomnia can be one of the causes of acne that occurs due to a lot of stress and anxiety. Herbal tea relaxes the body and gives you good night sleep.
10. Best antidepressant
Depression is the most common phenomenon in the world today. Herbal tea, however, is one of the effective means for curing depression in a natural way.
11. Gives energy to your tissue
It was seen that the tissue cells get energy and strength when someone takes the intake of this herbal tea. It makes your body stronger.
12. Makes your kidney healthy
A good kidney brings about positive change in your life. It helps in not only removing the bacteria from the skin, stomach and other places, but also from the kidney.
You will be in lower level of stressful mental state than usual. And slowly, it works to reduce impurities and bacteria that cause damage to your kidney.
13. Anti-aging
Acne can also occur in aged women, not just adolescent. Antioxidants in the herbal tea can slow down the aging process. It prevents the skin from further damage by providing it protection against free-radicals.
Best Herbal Tea for Acne
#1. Green Tea
Green tea is one of the best teas available for treating acne on your skin.  It contains ascorbic acid, tocopherols, tocopherols, EGCG, and carotenoids and other antioxidants that promote healthy skin. It prevents further damage by protecting your skin from oxidation and free-radicals.
The green tea is made from the Camellia Sinensis leaves mostly found in China. It is helpful in reducing heart disease risks, burns fat, promotes the healthy immune system, provides healthy dental hygiene, and many other things.
When it comes to acne, green tea helps in reducing the causes of acne that gives you glowing skin. You get reduced inflammation and prevents an imbalance of hormones.
It is antimicrobial that helps in removal of acne-causing bacteria from the pores of your skin. Zinc is one of the popular antimicrobial agents that treat acne from its roots.
You can even apply green tea on your face. One study was done to prove its efficiency on the skin of various volunteers. About 30 of them applied it twice a day for 6 continuous weeks. It was found that more than half of them were healed from acne.
Must read: How to Use Green Tea for Skin Whitening?
Benefits:
 A recent study stated that green tea is similar to 4% of benzoyl peroxide in providing you acne free skin.
 There are many pro-vitamins and vitamins that help in fighting the acne by removing the root causes from your skin.
It reduces inflammation, prevents hormonal imbalances and provides the healthy immune system.
 It is an effective antimicrobial agent that heals your skin from its roots.
#2. Spearmint Tea
Spearmint leaves have many herbal qualities. Its leaves can be used in many ways such as dry, frozen or fresh. Spearmint is famous for its oil.
The aromatic fragrance in the spearmint oil occurs because of an active component called as carvone. This tea and the oil can be used to heal the conditions such as gas and stomach aches.
Spearmint is also used as a flavoring agent in many things, soaps and many types of toothpaste. It is first dried, powdered and then steeped in hot water. Many studies also prove that spearmint has antifungal and antioxidant properties.
It is also used in acne because of its anti-inflammatory property. It destroys bacteria and gives your beautiful skin.
A recent study shows that there is a close similarity between acne treating drug, minocycline, and spearmint. It is powerful when one drinks twice a day for 3 weeks.
Users claim that it is one of the best herbal tea for acne. It cleans your skin from deep and brings out clean and glowing skin. This one is most effective for women.
Benefits:
It has antioxidant and anti-fungal properties that prevent skin from further damage.
It maintains hormonal balance and helps in healing skin from having an excess of sebum.
It prevents the formation of free radicals that produce oxidation in the skin.
 It reduces the breakouts of acne by promoting the growth of estrogen in females
Adult women can get much help to get relief from stubborn acne, especially during menstruation cycle.
#3. Chamomile Tea
It is one of the most popular teas in entire Europe. Traditionally, it has been used as a medicine in ancient Greek and Europe cultures.
Even at present, it is being used for treating many conditions such as gingivitis, psoriasis, insomnia, cold, irritable bowel syndrome, eczema, anxiety, sore throat, colic, and acne.
Chamomile has many herbal properties such as antimutagenic, antibacterial and anxiolytic. It is especially seen that active ingredients such as coumarin, farnesene, chamazulene, flavonoids and bisabolol that gives you better and healthy skin.
It protects your skin from many things such as sun damage. It also provides you stress-free mind that gives relief from stress.
Benefits:
This tea can reduce the breakouts of acne and relieve you from its causes.
You can also rub the powdered leaves on your face and acne. This heals them and provides you acne free skin. For this, the most effective method is to press chamomile against the pimples and acne.
It is an effective agent of the anti-inflammation property.
You can also add lemon juice and lemon in the tea for faster results.
Related post: 30 Benefits of Chamomile Tea for Skin
#4. Rooibos Tea
It is especially found in South Africa also famously known as Red Bush. In traditional days, it has been used as a medicine in many countries.
Rooibos has many properties such as antibacterial, antioxidant and immune modulating. It has a high level of aspalathin and nothofagin and superoxide dismutase antioxidants.
It makes your skin free from harmful effects of free-radicals and provides you glowing and soft skin.
It also has an anti-inflammatory property that reduces the breakouts of acne and helps in regulating your immune system. it is one of the best herbal tea for acne that can make your skin look glowing and smooth.
Benefits:
 It has the antibacterial property that kills the bacteria that causes acne.
 It protects your skin from irritation and it is hypoallergenic too.
 It helps in the removal of extra sebum and protects the skin from the further occurrence of dead skin cells.
 You can use it as a toner or a cleanser that can restore your body PH. It also unclogs your skin pores and makes your skin soft.
#5. Red Clover Tea
Also known as wild clover, cow grass and trefoil, red clover helps to thwart toxins and purify bloodstream to avoid acne.
Anti-inflammatory ability of this herb can effectively reduce inflammation triggered due to acne.
Ingesting red clover tea can promote bile production, which helps to cleanse liver and stimulate production of digestive fluids that contribute for healthier skin.
Vitamin B, C, E, flavonoids, iron, calcium, chromium and manganese residing in herbal tea helps to eliminate toxins that may trigger skin ailment.
You can ingest red clover with salads, honey or brew herbal tea with it.
Just drop few dried red clover to your black tea and replace sugar with raw honey.
Mix thoroughly and enjoy the drink.
#6. Nettle
Stinging nettle is prominent to boost immune system, reduce menopausal symptoms and encourage healthy skin.
Consuming nettle tea will help to flush toxins from your body and its anti-inflammatory ability can reduce acne blemishes.
Vitamin K, B, zinc and selenium residing in nettle support healthy and acne free skin.
Note: Fresh nettle leaves can irritate, however, dried nettle is safe to use.
#7. Dandelion Tea
Like red clover tea, ingesting dandelion tea will improve functioning of liver and flush toxins from it.
Rich concentration of vitamin A, B, C and D housed in this herbal tea can clear acne and promote healthy skin.
You can consume it in different ways, either make dandelion tea or ingest capsules.
However, according to University of Maryland, few sensitive people may experience allergic reaction.
#8. Hibiscus Tea for Acne
Consuming hibiscus tea will reduce blood pressure and cleanse liver. Its anti-inflammatory and antioxidant agents can effectively reduce acne inflammation.
Vitamin A and C residing in this herbal tea can lighten the appearance of acne scars and treat chronic skin ailments.
Check out beauty benefits of hibiscus here.
#9. Tulsi Tea for Acne
Also known as holy basil, this herb is packed with antibacterial, anti-inflammatory and skin whitening abilities.
Topical application of this herbal tea can reduce swelling and redness.
You can drop 2-3 fresh tulsi leaves to your black tea and enjoy its aroma.
Ingesting this herbal tea will boost immune system and is known to flush toxins from the body.
It also promotes cell regeneration and lightens the appearance of acne scars.
Also read: Is Tulsi Good for Acne?
Important Tips
Diet plays a vital role in your skin. If you take unhealthy diet, your skin can get greatly damaged. If you have a sensitive skin, it is better to stay away from things that can cause irritation such as sunburn, spicy food or snacks.
Having healthy food will help your skin to produce required sebum and prevents the formation of acne.
Sipping in one of the above herbal tea cups can help you to have reduced acne. Herbal tea for acne is especially best if it is applied to the face. You just have to use cotton balls, or a washed cloth, dip it in the tea. Apply it on the acne and leave it to rest for 10 minutes.
Make sure you don't have any habit of getting intoxicated or waking up late in the morning. Daily exercise can also help in reducing acne from your skin and it can fasten the process of herbal tea.
Apart from being delicious and nutritious, herbal tea is a stress buster. Share your favorite tea recipe in comments.