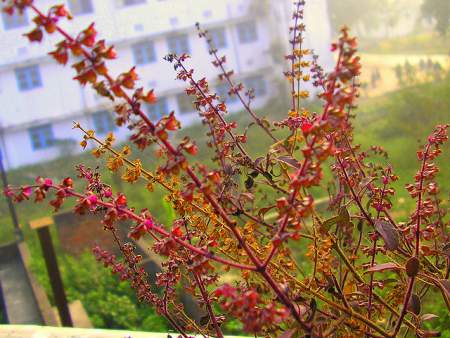 Bad thing about acne is that they pop-up anytime, like just one day before your college event or party. Good thing is that using natural remedies you can quickly deal with them.
Basil (tulsi), an herbal remedy is prominent for its medicinal properties. Tulsi for acne is one among the recommended home remedies as it isn't associated with any serious ailment.
Often acne is related with teenagers. Though 85% of adolescents face this ailment, this doesn't mean that adults are safe. Reports show that 43% people (above 30 yrs) in America alone deal with adult acne. (1)
Difference Between Pimples and Acne?
Blockage of skin pores by excess sebum and dead cells often leads to acne & pimples. However, they aren't same.
Pimples pop-up once in a while and acne appears in a bunch with lesions filled with pus. (2) Acne is a chronic skin ailment, which can't be cured. But, don't worry using effective innate ingredients you can keep them under control.
Is Tulsi Good for Acne?
Belonging to the mint family, this scared herb is renowned for healing body, mind and spirit. Prominent in Ayurvedic medicine, tulsi is an active ingredient in cosmetic creams too.
Anti-bacterial and anti-fungal abilities of this herb can restrain infectious acnes bacteria that worsen the acne.
Vitamin A, C, E, and K packed in it promote cell regeneration to lighten the appearance of acne scars.
Internal consumption of tulsi is known to purify blood from toxins and reduce pimples.
Eugenol is the active compound in basil that exhibits antimicrobial property.
Studies show that topical application of coconut oil with tulsi face pack can reduce acne blemishes. (3)
Nutrients in this Queen of Herbs help to reduce acne scars, shrink large skin pores and repairs epidermal damage.
It also cleanses your skin by wiping dead cells and excess sebum piled over your face.
Along with these exceptional benefits, tulsi can hydrate your skin and help you get rid of the dry scaly skin.
Anti-inflammatory properties of this natural ingredient can reduce inflammation caused by acne blemishes.
Its exfoliating ability is excellent to remove blackheads and whiteheads.
12 DIY Recipes to Use Tulsi for Acne and Acne Scars
It's really enticing to see all these cosmetic benefits of tulsi leaves. Wouldn't you want to include this Queen of Herbs to your beauty regimen?
Below listed are different recipes. Choose the one that goes well with your skin type.
#1 Honey and Tulsi to Treat Pimples
Raw honey is my favorite natural ingredients, for it can treat all health and skin ailments. I personally take 1 teaspoon of raw honey mixed with water every morning.
Anti-inflammatory and antibacterial abilities of honey can easily reduce acne/pimples. Healing abilities of this innate ingredient are included in religious scriptures and historical books. Topically apply it over the scars to lighten their appearance.
How to Use:
Dry fresh tulsi leave for a couple of days under sunlight. Powder the dried leaves and collect in a container.
Add 1 tablespoon of raw honey with 1-2 tbsp of tulsi powder.
Expose your face to steam so that blocked skin pores open up.
Pat dry and apply this honey-tulsi face pack evenly.
Leave the mask on the face for 15 minutes.
Take normal cold water to rinse it off.
#2 For Acne Prone Skin
Fuller's earth or multani mitti is known to remove impurities and treat ailments. However, people with extremely dry skin must stay away from its use.
Rosewater is also prominent for its antibacterial, anti-inflammatory and hydrating properties. This simple ingredient can also cleanse your skin and tone it.
How to Use:
Take required amount of powdered tulsi leaves with fuller's earth.
Add rosewater to make a thick
You can also add distilled water to replace rose water.
Now wash your face and pat dry it.
Mix the ingredients thoroughly, apply it over the face.
Rinse it off after 15 minutes.
#3 Tulsi for Acne Scars
In this recipe, you'll need a powdered orange peel and milk.
Vitamin C housed in orange peels help to promote collagen production and lighten the appearance of scars. Nutrients in orange make your skin firm and radiant.
How to Use:
Blend powdered tulsi leaves and orange peel powder in a bowl.
Add milk to it to obtain a smooth
You can replace plain milk with rose water or distilled water.
Apply the mixed mask over prewashed face.
#4 Neem and Tulsi
This combination will treat acne and reduce irritation over the skin.
Antibacterial, anti-fungal and astringent abilities of neem leaves are helpful to prevent acne. Renowned for its healing ability neem leaves can hydrate your skin and prevent clogging of pores.
Antioxidant property of neem face pack can reduce wrinkles and thwart free radicals.
How to Use:
Make a paste with fresh tulsi and neem leaves by grinding them.
Add water to obtain a smooth
Optionally, mix a pinch of turmeric powder.
Apply this homemade face pack on the skin and leave it for 15-20 minutes before washing.
#5 Gram Flour and Tulsi Face Pack
Gram flour is prominent to remove impurities. Also known as besan, this ingredient can wipe excess sebum and dead cells accumulated over the skin.
How to Use:
Mix required amount of powdered tulsi leaves with powdered mint leaves.
Now add gram flour to it.
To obtain a smooth paste, add required amount of water.
Apply it over the face after mixing thoroughly.
#6 Tulsi and Milk
Milk is packed with anti-inflammatory and cleansing properties. It can effectively treat. However, there are few myths regarding its internal consumption.
How to Use:
Take fresh tulsi leaves and grind it with the required amount of milk to form a thick
Add water if needed.
Apply the obtained face pack over acne affected skin.
Allow it to dry naturally for 15-20 minutes before you rinse it off with water.
#7 Tulsi and Lime Juice
Antibacterial and exfoliating abilities which are essential to treat acne are housed in lime juice. Apart from this, vitamin C, flavonoids, antioxidant and astringent properties are packed in it.
It promotes elasticity and improves your complexion.
How to Use:
Crush fresh tulsi leaves and add 1 teaspoon of lime juice to it.
Mix thoroughly and apply it on acne affected skin.
Rinse it off with water.
#8 Tulsi and Oatmeal Face Pack
Oatmeal exfoliates your skin and absorbs excess oil from it. Anti-inflammatory property packed in it reduces acne inflammation.
Fatty acids in it can effectively hydrate your skin and vitamins promote cell regeneration. Topical application of this face pack will prevent clogging of skin pores.
How to Use:
Mix 1 tablespoon of powdered tulsi leaves with oatmeal powder.
Add milk powder to the above mixture.
Now, make it into smooth paste by adding distilled water to it.
Wash your face and pat dry.
Apply the face mask evenly and rinse it off with water after 15 minutes.
#9 Tulsi and Sandalwood Powder
Anti-inflammatory and healing abilities of sandalwood are prominent. Its astringent ability can make your skin firm and supple.
How to Use:
Mix powdered tulsi leaves with the required amount of sandalwood powder.
Add rose water and distilled water to make a thick
Optionally, add few drops of olive oil to it.
Apply this homemade face pack over acne affected skin and rinse it off with water.
#10 Tulsi and Tomato Face Pack
This face pack is best to lighten acne scars. Tomato is renowned for balancing pH level over the skin and restoring natural oil.
Salicylic acid in tomato makes it an effective remedy to treat acne. This natural astringent makes your skin firm.
How to Use:
Grind fresh tulsi leaves with tomato pulp.
Apply the obtained mask over the face and leave it to dry for 15 minutes.
Wash your face with normal cold water.
#11 Tulsi and Multani Mitti
As mentioned above, multani mitti powder is prominent to remove excess sebum from the skin. Its antibacterial properties can effectively treat acne blemishes.
Regular application of this face mask can lighten the appearance of acne scars and it exfoliates your skin.
How to Use:
Mix 2 tablespoons of powdered tulsi leaves, 1 tablespoon of multani mitti and 1 tbsp of sandalwood powder in a bowl.
Add rosewater and few drops of olive oil to it to make a smooth
After mixing thoroughly, apply the face mask over acne affected skin.
Rinse it off with water.
#12 Yogurt and Tulsi to Treat Acne
Mix yogurt and gram flour in equal quantities. Add fresh tulsi leaves or powdered tulsi leaves. Grind and obtain a smooth paste.
Now, apply this paste on the skin and allow it to dry for 15-20 minutes. Rinse it off with water.
Important Tips
Along with these natural homemade recipes, you must ingest vitamin rich food.
Stay away from ingredients that irritate your skin.
Foods that trigger acne blemishes must be avoided.
Excess washing of your face with antibacterial soaps will not help you. Instead, they strip natural moisture from your skin.
Regularly, apply rosewater or jojoba oil before going to sleep.
Drink enough water to hydrate your skin from the inside.
Cosmetic creams that include chemical ingredients can irritate your sensitive skin.
Avoid squeezing pimples, they make the condition worse.
Did you ever use tulsi for acne blemishes? Share your recipe here.