Rigorous itching accompanied by inflamed flare-ups is among the common signs of contact dermatitis. Your restless nights of scratching can now come to an end.
Spare some time and you'll end up learning benefits of jojoba oil for eczema.
It starts with a scratch and then the cycle repeats. Initially, I never regret for scratching but the inflammation of eczema flare-ups made my day worse. I've zero knowledge about dermatology and can't give you medical assistance.
However, from my personal experience and few anecdotal reports I came to know that natural remedies can do wonders on your skin. Apart from treating various ailments, jojoba oil can enhance collagen production and make the skin firm.
Eczema is a chronic skin infection which results in dry and itchy patches. Reports say that about 30 million Americans experience atopic dermatitis (eczema). But, unfortunately there is no permanent cure for this skin ailment.
However, you can reduce it with different home and over the counter remedies.
Note: If you don't care to change your diet and lifestyle, topical remedies cannot make an impact on the skin.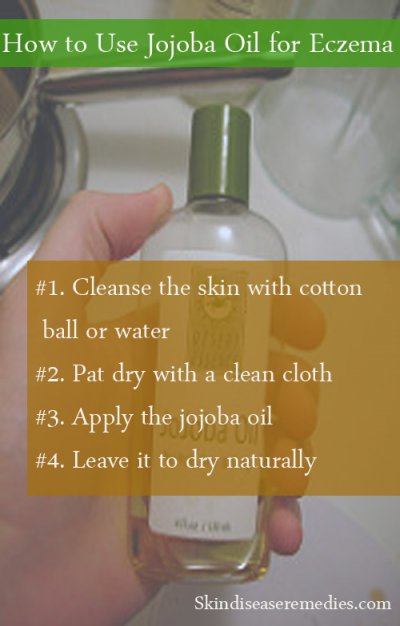 Is Jojoba Oil Good for Eczema?
Jojoba oil is extracted from nuts of jojoba plant. This liquid wax resembles sebum, which keeps your skin moist. Because of this unique quality, it is prominent for hydrating dry itchy patches.
Often dry skin is the root cause of most skin ailments. Moisturizing elements in this oil helps to get rid of itching and dry skin.
It tricks skin to control excess sebum production. Excess oil attracts impurities and leads to acne.
Anti-inflammatory properties residing in jojoba oil relieves you from burning sensation of eczema flare-ups.
Antioxidant and vitamins lighten the appearance of scars and dark spots.
Vitamins and minerals penetrate deep into the skin and enhance elasticity of the skin.
Assorted properties in this liquid wax remove impurities and dead skin off the skin.
Non-comedogenic activity of jojoba oil unclogs blocked skin pores, by which the skin can quickly absorb nutrients and vitamins.
Antibacterial ability exhibited by this oil can effectively restrain infectious germs.
Vitamins residing in jojoba oil can help to maintain pH level on your skin.
Assorted nutrients in this liquid wax boost collagen production and encourage elastin to make your skin free from premature wrinkles.
Being a carrier oil, jojoba oil can be mixed with any essential oil to improve your skin texture. For the best aroma mix lavender oil and jojoba oil together.
How to Use Jojoba Oil for Eczema?
Impurities and dry skin patches block skin pores and acts as obstacle for topical remedies. So, you're advised to exfoliate the skin using cleanser or with water so that your skin gets ready for the natural treatment.
#1 Jojoba Oil
Make sure you don't scratch in the process and avoid lukewarm water or chemical incorporated soaps.
When you're done with cleansing; pat dry using soft cloth.
Take organic jojoba oil in a palm and apply over the affected parts. Concentrate more on flare-ups or bumps. Leave it to dry naturally.
Because of its exceptional property, you won't find the oil too oily. Your skin absorbs it and the vitamins housed in the oil will kick start their work.
#2 Aloe Vera Gel and Jojoba Oil
Prominent for its cooling and healing abilities, aloe gel application will reduce eczema inflammation.
Its hydrating ability can put an end to your repeated scratching.
Wash eczema affected area with normal water and pat dry.
Now mix, 1 tbsp of aloe gel with 2 tbsp of jojoba oil.
Apply thoroughly mixed mask on eczema affected skin.
Allow it to dry naturally for 15-20 minutes.
Rinse it off with water and apply thin layer of aloe gel to avoid itching.
#3 Honey, Lemon Juice and Jojoba Oil to Treat Eczema
Experts always recommend raw honey for cosmetic and health related issues. As it is packed with humectant abilities that lock moisture on your skin and avoid itching.
Dry eczema patches that ruin your physical appearance can be removed by healing abilities of this natural ingredient.
Lemon juice is prominent for its bleaching and antibacterial abilities can effectively improve your skin texture.
Take a bowl and add 3 tbsp of jojoba oil and 1 tbsp of raw honey to it.
Mix thoroughly and add few drops of fresh lemon juice.
Mix the paste once again.
Apply the mixed mask on eczema affected skin using your clean fingers.
Allow it to dry naturally for 20 minutes and then rinse it off with water.
#4 Tea Tree Oil and Jojoba Oil for Scalp Eczema
Renowned for its antibacterial properties, tea tree essential oil can thwart infectious germs and avoid itching.
However, high concentration of this essential oil can irritate your sensitive skin or scalp. So, mix jojoba oil with it and gently apply on the scalp.
In a tablespoon of jojoba oil, add 3 drops of tea tree essential oil.
Mix thoroughly and then apply it on prewashed scalp or skin.
Try this simple remedy regularly to get rid of scalp eczema.
#5 Carrot Seed Oil, Frankincense Oil and Jojoba Oil
Frankincense essential oil is packed with astringent, moisturizing and soothing properties. Its application can lighten the appearance of eczema scars on your skin.
Healing property in carrot seed oil helps to regenerate damaged skin cells and avoid rigorous itching.
Mix ¼ ounce of jojoba oil with ¼ ounce of evening primrose oil, ¼ ounce of pomegranate oil, 10 drops of carrot seed oil, 15 drops of vitamin E oil and 20 drops of frankincense oil.
Mix all listed ingredients and apply it on your skin evenly using a cotton ball.
Rinse it off with water after 15-20 minutes
#6 Jojoba Oil and Cornmeal
Cornmeal can help to remove hanging dry patches. However, if you're gentle while applying the mask it may irritate your sensitive skin.
Mix 1 teaspoon of cornmeal with 1 tablespoon of jojoba oil.
Wash your face and then apply this face mask on the affected skin.
Let it dry naturally for 15-20 minutes and then rinse it off with water.
#7 Almond Oil and Jojoba Oil
Almond oil is housed with vitamins and minerals that can lighten the appearance of eczema scars. Its hydrating property can help to avoid dry patches.
Mix 1 tablespoon of jojoba oil with 1 tbsp of almond oil.
Apply the mixed lotion on eczema affected skin and allow it to dry naturally for 15-20 minutes.
Wash it off with water.
#8 Lemon Juice and Jojoba Oil
High amount of vitamin C in lemon juice promote collagen production and its bleaching ability lighten your skin.
Applying few drops of lemon juice mixed with jojoba oil can help to reduce inflammation triggered by eczema and thwart infectious germs.
#9 Castor Oil and Jojoba Oil
Ricinoleic acid residing in castor oil helps to reduce eczema inflammation, as it is packed with anti-inflammatory properties.
Stick nature of this oil lock moisture and instantly stop itching.
Though you may not like its smell, mix 1 tbsp of castor oil with 1 tbsp of jojoba oil.
Apply this obtained lotion on your eczema affected skin and allow it to dry naturally for 15-20 minutes.
Rinse it off with water.
#10 Turmeric and Jojoba Oil
Antiseptic abilities residing in this spice is prominent. Its application can avoid excess scratching and thwart infectious germs.
Curcumin is the active compound in turmeric powder that can fade eczema scars.
However, excess use of this ingredient may leave yellow stains on your skin.
Mix 1 teaspoon of turmeric powder with 1 tablespoon of jojoba oil.
Apply the obtained paste on your prewashed face and allow it to dry for 15-20 minutes and then rinse it off with water.
If in case the mask leaves yellow stains, don't worry they will fade in few hours.
Like cosmetic industries, I'll not give false claims that jojoba oil will reduce eczema overnight. Natural remedies aren't associated with any chemical ingredients and they treat the ailment from the root.
So you must try applying jojoba oil for about 2-3 weeks to see the positive change. Like mentioned above, this liquid wax can replace your beauty products. Consider this before going to bed and include it in your beauty regimen.
Other innate ingredients which you can include with jojoba oil are glycerin, tea tree oil, rosewood essential oil, and lavender oil.
Important points
Though jojoba oil is one of the effective oil and has bunch of assorted nutrients. But, it alone can't treat eczema. You must check with your dermatologist for severe eczema symptoms and must follow strict diet as prescribed by doctor.
Drinking enough water, doing regular exercise and moisturizing the skin with jojoba oil or any other natural oil will keep eczema in control.
Sweat and unhygienic lifestyle will trigger itching and the cycle commence. Hygienic lifestyle is also important.
Coming to creams, this is my personal opinion that we must pamper our skin but not with chemical incorporated products. Like you love natural items, your skin will love to have innate ingredients.
If you ever used jojoba oil to treat eczema, then please share your experience in comments.