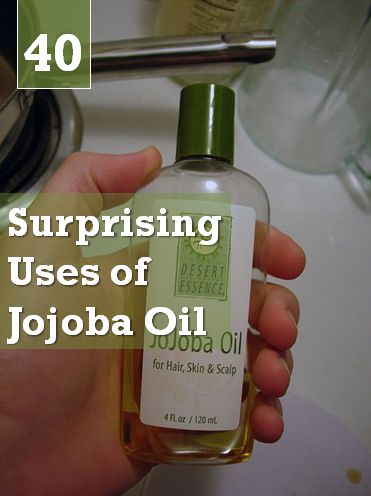 Jojoba oil uses in cosmetic industries are worth noting. Its restorative and moisturizing benefits compelled many giant cosmetic industries to include it as an ingredient. Jojoba oil uses are not confined to skin or hair almost for every part of the body you can use jojoba oil to some extent under the supervision of doctor.
In 1970s, when sperm whale oil banned jojoba oil stood as best alternative to it. It is when all industries shifted their focus on this Mexican oil.
After research we came to know that jojoba oil is consists wax esters rather than liquid, and to our surprise these are the same wax esters found in sebum. This making this innate oils a great remedy to moisturize our skin, hair and nails. Nutrients like vitamin E, B complex vitamins, zinc, chromium, iodine and copper.
Research is still going on to identify other jojoba oil uses, for now we're sharing few of them.
Note: For jojoba oil skin benefits for acne click here
40 Jojoba Oil Uses for Skin, Hair and Nails
It's no exaggeration in saying jojoba oil is marvelous moisturizer for face. Alarming levels of pollution depletes moisture from face leaving your face dry and itchy. Nutrients in jojoba oil penetrate into skin and hydrates it just like your own sebum does.
To reap jojoba oil benefits add it to your beauty regimen. Jojoba oil face mask brings back your skin to life.
Mix it with your favorite essential oil and it turns as a body moisturizer. Not just face now you can hydrate your whole body with this liquid wax.
Though the structure of jojoba oil resembles sebum it is non-comedogenic, mean it doesn't clog pores.
Oily skin people, topical apply this innate oil to control oil. Jojoba oil tricks your skin to produce less sebum and thus controls sebum production. [Related post: Jojoba oil for oily skin]
As it controls oil production, it's a great remedy for acne prone skin. Mix it other essential oil and topically massage over acne areas and leave it. Repeat the process and you'll see blemishes wiping out.
Cleanse your face with jojoba oil recipes. Your face is exposed to dust, makeup and pollution which clogs skin pores, jojoba oil cleanse your face and help your skin breathe easy.
Chemical ingredients in makeup harm your face. Dip cotton ball in pure jojoba oil and remove makeup from face.
Jojoba oil penetrates and enhances collagen production which is responsible for skin's elasticity. Take it as anti-aging cream. [Related post: Jojoba Oil for Wrinkles, Including Face and Wrinkles]
Vitamin E and B complex vitamins in jojoba oil are great relief for sunburns.
Add base oil or essential oil with pure jojoba oil and it turns to body lotion, which locks moisture.
The unmatched consistency of jojoba oil penetrates into skin and fastens healing process of deeper layers of skin. Apply jojoba oil after shave to treat razor burns.
A skin softener. Tremendous moisturizing elements in jojoba oil soothe skin irritation and make skin smooth.
A lip conditioner, mix it with soybean oil and vitamin E to condition lips.
Use jojoba oil as lip balm. Mix it with other essential oil or you can get one from local store.
Can be used as a lip gloss.
Shed all dead cells over your lips with jojoba oil lip scrub.
Rejuvenate your skin with massaging it with jojoba oil.
Eczema which a set of skin diseases can be reduced by topical application of this desert oil. Dry and itchy skin is main reason behind eczema, jojoba oil moisturizes and iodine in it thwarts infection causing bacteria.
Likewise psoriasis, though can't treat these chronic diseases completely you can reduce itchy feeling.
This oil is renowned for unclogging pores, this helps to treat black heads, whiteheads and bumps.
Fades stretch marks. Stretch marks appears when you lose or gain weight, nutrients in jojoba oil penetrates into skin and repairs broken connective fibers and fades stretch marks.
Reduce or face acne or other injury scars with this liquid wax. [Reduce acne scars with jojoba oil]
Great carrier oil, all the necessary nutrients needed for supple skin are packed in jojoba oil.
Apply before sun tanner on elbows, knees and on palms.
Soothes itchy skin.
Exfoliates skin and enhances skin tone.
Worried of your dry and broken cuticles, hydrate them with jojoba oil.
Foot moisturizer.
Keeps nail fungus at bay.
Tame flyaways, by rubbing your jojoba oil on hair.
Great source anti-bacterial properties which retrains bacterial growth.
Anti-inflammatory properties soothes irritate skin.
Hair conditioner. Mono saturated fats in jojoba oil penetrate into hair follicles and helps strengths them.
Cleanses the dead cells from scalp.
Stimulates hair growth naturally.
Excellent hairs shine spray.
As it's identical to sebum in many aspects it's readily accepted by scalp, so it hydrates dry scalp just like sebum does.
Hair detangling cream.
Deal with oily hair (it controls oil production) and dry hair (hydrates hair) with jojoba oil.
Before swimming, apply jojoba oil over skin, this makes hair follicles to close which prevent harmful chemicals to enter. Treat acne with caveman regimen.

Share this list of jojoba oil uses with your family and friends.