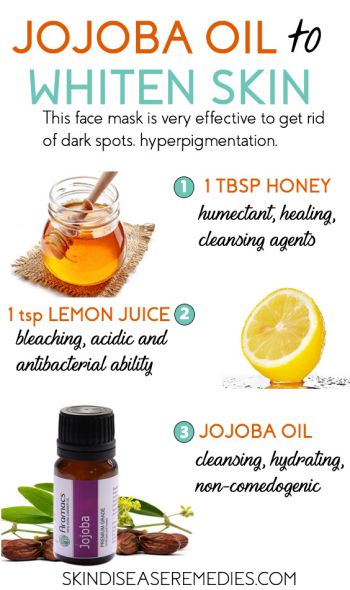 Natural DIY beauty tips are way better at treating skin disorders than chemical filled creams. Jojoba oil for skin lightening is one among them. This oil is extracted from seeds of jojoba plant.
Excellent thing about natural ingredients is that they all are cheap and mostly available at home.
Pronounced ho-ho-ba not jo-jo-ba, this isn't oil. Technically it's a liquid wax that resembles the similar properties of sebum. It easily gets absorbed by your skin and effective at controlling excess sebum production. Assorted properties in jojoba oil for skin whitening can efficiently fade dark spots and scars.
Does Jojoba Oil Lighten Skin?
Julie Gabrie an author of The Green Beauty Guide states that, jojoba oil mixed with licorice extract is an effective remedy for whitening black skin.
Hydrating ability of this liquid wax lock moisture on your skin.
Cleansing ability exhibited by jojoba oil helps to wipe impurities, dead cells and to remove make-up.
Antibacterial property housed in the oil reduces inflammation caused by acne and other skin ailments.
Topical application of jojoba oil unclog blocked skin pores and treats acne blemishes.
Rich concentration of vitamin E in jojoba oil stimulates collagen and elastin production, which helps to reduce wrinkles and obtain flawless skin.
With identical properties like sebum, this oil tricks your skin to produce less sebum and help to get rid of oily skin.
Anti-inflammatory ability exhibited by the oil help to treat eczema, psoriasis and other chronic ailments.
Healing property of jojoba oil fastens the healing process of injuries, scars and cracked heels.
Assorted nutrients in this liquid wax help to improve your skin complexion and reduce dark spots.
How to Use Jojoba for Skin Whitening?
Jojoba oil is packed with natural fats, antioxidants, vitamin E and sterols which exhibit anti-inflammatory activity. These exceptional properties mimic outer layer of the skin and draws impurities off it.
Factors like pollution, dirt and UV rays results in dark patches over different parts of the skin. A natural remedy like jojoba oil not only stripes impurities but nourishes your skin and makes it supple.
#1. Jojoba Oil & Licorice Extract
Licorice is a root of Glycyrrhiza glabra plant, which has sweet flavor and is blended in cigarettes. Surprisingly this root extract exhibits anti-inflammatory and anti-ulcer drug, states a study.
Blend 1/2 tbsp of licorice extract and 4 tbsp of jojoba oil.
After mixing them thoroughly, apply them over prewashed face using cotton ball. Leave it for 15-20 minutes then rinse it off.
#2. Aloe Vera Gel & Jojoba Oil
Renowned for its exceptional soothing properties, aloe gel can be used to treat most skin orders. Both aloe gel and jojoba oil can effectively thwart infectious bacteria and reduce inflammation.
This lotion can be used to treat acne, eczema, psoriasis and other chronic skin infections.
Mix 3 tbsp of aloe gel to 1 tbsp of jojoba oil and apply it over prewashed face. Regularly use this lotion to fade dark spots.
#3. Jojoba Oil & Lemon Juice
Acidic properties residing in lemon juice helps to lighten dark spots and scars. Anyhow, excess use of lemon juice may make your skin sensitive to sun rays. Avoid or limit its use if you've sensitive skin or apply sunscreen cream before leaving your house.
Take 1/2 tea spoon of lemon juice and mix it with 3 tbsp of jojoba oil.
Wash your face and pat dry with cloth.
Now, apply the skin whitening face mask using cotton ball.
Leave it for 15-20 minutes, and then rinse it off.
#4. Honey and Jojoba Oil
Prominent for its healing, humectant and antibacterial properties, topical application of honey can help you to get rid of hyperpigmentation.
Mix 1 tablespoon of honey and 3 tablespoons of jojoba oil.
Wash your face with water and pat dry.
Now apply the mixed face mask evenly on your face.
Leave it for 20 minutes, so that nutrients in the mask can accomplish their work.
Rinse it off with water
#5 Body Scrub (Jojoba oil, Lemon, Honey and Almond oil)
Like its neighboring ingredients, almond oil is renowned for its moisturizing, healing and skin whitening benefits.
Lemon juice as mentioned has bleaching property, which is help to lighten dark spots. However, excess use of lemon juice on sensitive skin isn't recommended.
Mix ½ cup of brown sugar, 1 tbsp of jojoba oil, 1 tablespoon of lemon juice, 1 tbsp of almond oil with 2 tbsp of raw honey.
Apply this mixed ingredient on prewashed face.
Rinse it off with water.
If you're in love with jojoba oil, avoid adding other ingredients and use jojoba oil for skin whitening directly.