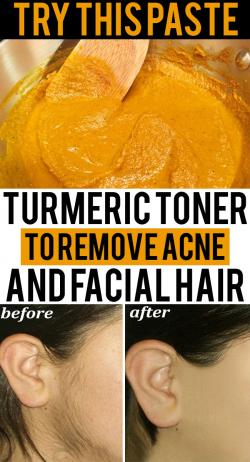 Turmeric is well known spice used for many purposes and widely used in Indian cooking recipes as well as herbal remedies. Turmeric is capable of treating all types of skin issues such as acne, breakouts, stretch marks, pimples, blackheads and gives you healthy and glowing skin.
The anti inflammatory and anti bacterial properties in turmeric helps to fights against blemishes to give natural and clear skin. Enhancing this wonderful ingredient with other kitchen ingredients make it a powerful turmeric toner to reduce breakouts and facial hair easily.
However, adding toner to your regular skin care routine is a great way to maintain healthy and glowing skin. Generally, toner helps to get rid of excess oil and stubborn dirt or makeup left over on your face after washing it which might results in damaging your skin.
Let's see how to make simple turmeric toner in this article, that helps in reducing breakouts and for easy removal of facial hair and reducing its growth. Before that, check out the benefits offer by ingredients used in this toner.
Benefits:
Turmeric:
The anti bacterial and anti acne properties in turmeric keeps your skin clean, clear and brightened.
Witch Hazel:
Witch hazel helps to shrink the pores of skin and reduces the excess production of oil and gives you clear and clean skin.
Tea Tree Oil:
Tea tree oil is effective in treating all types of skin problems. it easily treats acne and prevents the breakouts.
Aloe Vera Gel:
Aloe vera gel is loaded with wonderful properties that keep your skin hydrated and unclog the pores. It keeps acne and blemishes at bay.
What You Need:
Pinch of turmeric powder
1 table spoon of witch hazel
1 table spoon of aloe vera gel
5 drops of tea tree essential oil
1 cup of water
What You Need To Do:
Take a jar and add witch hazel and water.
Now add turmeric, tea tree oil and aloe vera gel and mix them well.
Pour this mixture in spray bottle and use it as a skin toner twice in a day to maintain healthy and smoother skin.
Note:
Don't forget to do patch test before using it overall your face. If you are allergic to any ingredient in this toner, try to avoid using it without consulting your doctor. It might result in causing allergic reactions.