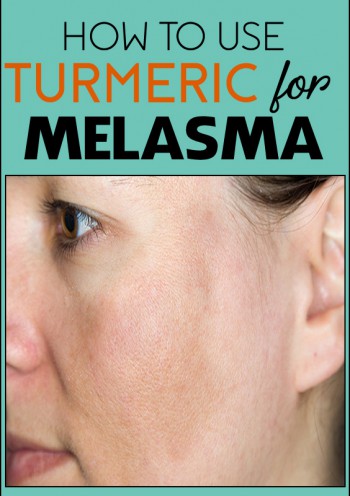 Brown to grey patches on your face is one of the common signs of melasma. In this article, I'll discuss different recipes of turmeric for melasma.
Turmeric is prominent spice, which is extensively used for culinary purposes. Packed with essential nutrients that your skin needs, turmeric powder has the ability to treat various skin disorders including hyperpigmentation.
Before jumping to its benefits, let's look at causes of melasma.
Who Gets and What Causes Melasma?
According to American Academy of Dermatology, only 10 percent of people who're affected with this skin disorder are men. So, this is most common in women and people with dark skin.
Melanocytes, which are responsible for your skin color, produce too much melanin resulting in grey to brown patches on your skin.
The mere cause of these unusual patches is unknown. However, hormonal change, sun exposure, and certain chemical filled creams may increase melasma condition.
Why Turmeric to Treat Melasma?
Curcumin is the active compound in this spice that exhibits antibacterial, anti-fungal, anti-inflammatory and antioxidant activity.
Extensively used in cooking, internal consumption of turmeric powder can improve heart functioning, Alzheimer's disease and other health related ailments.
Assorted nutrients in this spice are renowned to lighten the appearance of scars, dark spots and reduce hyperpigmentation.
Curcumin is known to regulate melanin production and helps to reduce hyperpigmentation problem.
Topical application of turmeric helps to inhibit the growth of matrix metalloproteinase-2 which reduces collagen production.
Protect your skin from harmful UV rays.
Antioxidant agents packed in this ingredient help to reduce oxidative stress fights free radicals and prevent wrinkles.
Anti-inflammatory properties housed in turmeric reduce inflammation triggered due to various chronic skin ailments.
Antibacterial ability residing in turmeric powder can restrain infectious germs and fast the healing process.
Chronic skin ailments like acne, eczema, and psoriasis can be reduced by anti-inflammatory property of turmeric powder.
How to Use Turmeric for Melasma?
To avail these enticing benefits, all you need to do is apply turmeric paste on the affected part of your skin and leave it to dry naturally.
Below listed are different recipes, pick the one that suits your skin type.
#1 Turmeric and Lemon
Lemon is known for its bleaching property. Topical application of this juice will help to reduce the appearance of brown patches.
Apart from that, it's antibacterial, anti-inflammatory and skin tightening abilities can improve skin functioning.
Blend 1 tablespoon of lemon juice with 1 teaspoon of turmeric powder.
Wash your face to cleanse impurities and pat dry with a cloth.
Apply the mask on your face in circular motion.
Leave it for 10-15 minutes and then rinse it off.
Note: Excess use of lemon juice makes your skin sensitive to sunlight. Apply sunscreen while going out.
#2 Turmeric, Almond Oil, and Gram Flour
Almond oil is packed with vitamins and minerals that exhibit SPF 5 to protect your skin from UV rays. Vitamin A, E, and B housed in the oil hydrates your skin and avoid premature aging wrinkles.
Gram flour is known to exfoliate your skin and remove impurities. Vitamins in this home available ingredient promote collagen production, lighten brown patches and make your skin firm.
Turmeric powder – ¼ teaspoon
Gram flour (chickpea flour) – 3 tablespoons
Almond oil – ½ teaspoon
Milk – ½ teaspoon
Cucumber juice
Mix all listed ingredients in a bowl. Also, add milk to obtain thick paste like consistency.
Cucumber juice works great to achieve radiant skin.
Apply the mixed mask on pre-washed face and leave it to dry naturally for 10-15 minutes. Rinse it off with lukewarm water.
Note: Initial usage may not seem beneficial, but regular usage will reduce melasma patches.
#3 Turmeric, Egg White, and Red Sandal Powder
Assorted nutrients in egg white can remove impurities, dead cells and excess sebum on your skin. Packed with skin brightening properties, this ingredient is really beneficial to treat melasma.
Red sandalwood powder is also packed with exfoliating, antibacterial and skin lightening properties. Because of its alluring nutrients, cosmetic industries incorporated this innate ingredient to their products.
Take 1 egg white, 2 tablespoons of lemon juice, 1 teaspoon of almond oil and ½ tsp of turmeric powder.
Also, add ½ teaspoon of red sandalwood powder to above mixture.
Wash your face and pat dry with clean cloth.
Now, apply the mixed mask evenly on your face and rinse it off after 15-20 minutes.
#4 Turmeric and Butter Milk
Proteins and lactic acid present in buttermilk exhibit skin lightening properties. It also helps to cleanse dead cells, pollutants and excess oil from your skin.
Regular application of this home available ingredient can improve your skin complexion.
Mix a pinch of turmeric powder in 2 tablespoons of buttermilk.
Mix well and apply it over your face using your clean fingers.
Leave it to dry naturally and rinse it off with water after 15-20 minutes.
#5 Neem and Turmeric for Melasma
Nutrients in neem help to reduce scars and lighten the appearance of brown patches. Its antibacterial and anti-inflammatory agents are beneficial to make your skin supple.
Grind few fresh neem leaves with a ½ teaspoon of turmeric powder to form a paste.
Apply the paste evenly and rinse it off with water after 15-20 minutes.
Repeat the process 2-3 times in a week.
#6 Castor Oil and Turmeric to Treat Melasma
Omega-3 fatty acids residing in castor oil promote healthy tissues and reduce pigmentation. It's hydrating property helps to lock moisture in the skin.
Rinoleic acid housed in castor oil is known to reduce melasma. Assorted nutrients in this sticky oil help to restore your skin complexion.
Mix 1 tablespoon of castor oil with 1 teaspoon of turmeric powder.
Apply this thick paste on pre-washed face and leave it to dry naturally.
Rinse it off with water after 15-20 minutes.
#7 Turmeric and Gram Flour
Gram flour or besan is an excellent cleansing ingredient. Apart from that, it can lighten the appearance of scars and brown patches.
Mix ½ teaspoon of turmeric powder with 2 tablespoons of gram flour and required an amount of yogurt.
Mix well till you obtain paste like consistency.
Apply the paste on pre-washed face and rinse it off with water.
Tips
Use sunscreen cream while going out in summer.
Drink plenty of water to hydrate your skin from inside.
Eat vitamin rich diet to provide essential nutrients to your skin.
Remove chemical included creams and makeup
Avoid stress, as it can trigger skin ailment.
Cover your face with wide-hat or cloth to protect from sunlight.