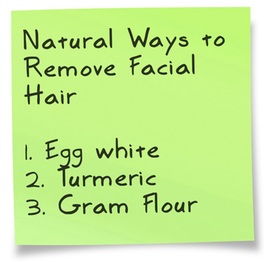 Men look enticed with facial hair and it add up for their macho look. Anyhow, this is not the same case with feminine. Women try to get rid of this unwanted facial hair using bleaching, shaving or waxing. Unfortunately all these cost effective remedies go in vain.
Luckily, with home available products you can effectively remove this unwanted hair from body. Let me line few notable innate home remedies to get rid of facial hair for your easy understanding.
1. Egg mask for hair removal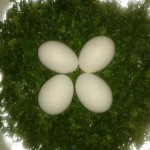 Unlike chemical filled remedies, these natural ingredients don't irritate your sensitive skin. Egg mask is packed with exceptional nutrients and proteins, which can enhance healthy functioning of hair and skin.
Make a smooth paste like consistency by mixing 1 egg white, 1/2 tbsp corn flour and 1 tbsp of sugar. Wash your face and apply the egg white face mask over the face. When the mask dries up completely, pull it out. Yes, you'll feel a bit painful but it works.
2. Turmeric for facial hair removal
Studies claim that turmeric is packed with powerful medical properties. In India it's renowned as first aid for all minor injuries. Its anti-inflammatory and antibacterial properties restrain bacterial infection over the affected area. Anyhow, it's also known to remove unwanted hair on face, legs and on hands (for women). Though I don't know the exact reason, brides in India are treated with turmeric face mask before marriage.
Its damn simple to make your own turmeric face mask, mix turmeric powder in required amount of water and then start apply it over prewashed face. Leave it for few minutes, when the mask is dried wipe it using a clean cloth.
Also read: 10 Amazing Benefits of Multani Mitti for Skin
3. Gram flour for facial hair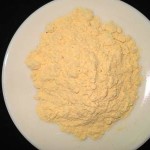 Gram flour is known to remove dark spots and improve your complexion. Indian women use gram flour with turmeric as a beauty remedy to remove hair around mouth and chin.
Take equal parts of gram flour (besan) and turmeric powder in a clean bowl. Add required amount of water to it and mix thoroughly. Wash your face and pat dry using soft cloth. Now, topically apply the mask over face, particularly over hair spots. After leaving for few minutes, wipe it with soft cloth.
Studies show that hormonal imbalance trigger facial hair, consuming food with phytoestrogens can reduce hair growth on the face. Foods with phytoestrogens are: soy beans, tempeh, soy milk, soy protein powder, green bean, peanuts, flax seed and dried dates.