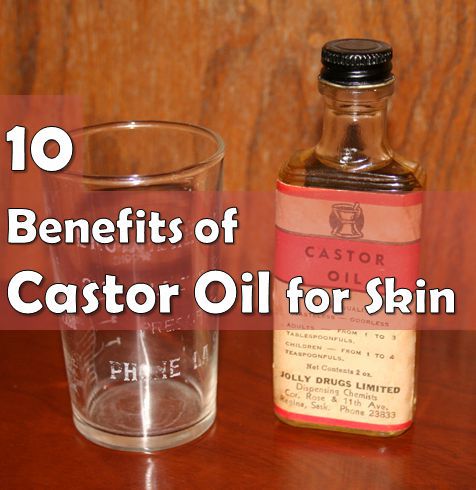 Do you remember your grandmother threatening you to give castor oil if you don't eat food? Most of us have experienced this thick and odor oil. But unfortunately we limited its use as laxatives.
From centuries castor oil has been used to treat major health issues. But because of its odor (I guess) it didn't receive much press attention.
Before delving into benefits of castor oil for skin let's have a brief intro about castor oil.
Castor oil is extracted from seeds of castor oil plant (Ricinus communis). It is colorless to very pale yellow liquid with unpleasant smell. It's a vegetable oil and native to Africa and India. Cosmetic industries as well as other industries use castor oil as main ingredient.
10 Amazing Benefits of Castor Oil for Skin
Ricinoleic acid is the main protein present in castor oil, which has anti-inflammatory and anti-bacterial properties. To steal the benefits of castor oil opt for organic castor oil.
1. Castor Oil Remedy for Dry Skin
Our largest organ skin has capability to release natural moisture which refrains skin from drying out, but at times skin fails to do so. Applying external moisturizer helps skin a lot.
Mix equal quantities of castor oil and coconut oil in a bowl and apply it on your dry skin. Rinse it off after 30 minutes. Repeat the process.
Face Mask Remedy:
Mix 1tbsp of castor oil with egg yolk thoroughly, and then apply it on your face in circular motion. After leaving it for 20 minutes rinse it off. Apply perfumed moisturizer after this.
2. Castor Oil for Sunburn
This remedy is only for minor burns, major burns need doctor's attention.
Anti-inflammatory properties present in castor oil helps soothe sunburns. Apply castor oil mixed with coconut oil in equal quantities on affected area and soon it will relieve pain.
3. Itchy Skin Remedy
Skin protects our body and natural moisture present on skin protects it from harmful bacteria. Because of dehydration your skin fails to release natural moisture, this triggers itching and bacteria starts invading resulting in chronic skin diseases.
Apply castor oil on dry itchy skin; soon you'll see the result. You can also mix coconut oil with castor oil.
4. Castor Oil for Wrinkles and Fine Lines
Main protein which is responsible for skin's elasticity is collagen. Decrease in collagen leads to wrinkles and frown lines. Castor oil when applied on skin gets absorbed and it stimulates production of collagen. It also hydrates skin from the outside. Thus makes your skin softer and smoother.
You just need to apply castor oil on wrinkles and fine lines for 15-20 minutes and then rinse it off. Repeat the process for best results.
Also read: How to get rid of forehead wrinkles
5. Castor Oil to Prevent Stretch Marks
Castor oil gets absorbed into skin fading stretch marks. For pregnant women castor oil is must recommended oil. Mix castor oil with coconut oil to apply on stretch marks.
6. Castor Oil for Acne
Ricinoleic acid present in castor oil makes it a super remedy for treating acne blemishes. Skin when secrets excess oil gets accumulated over skin pores with dead skin cells forming pimples/blemishes. Anti-inflammatory properties in castor oil soothe these blemishes and controls excess oil production.
Anyway, for severe acne we recommend consulting doctor.
Other treatments for Acne
7. Castor Oil Fades Scars
Acids present in castor oil penetrate into tissues and stimulates its growth. Thus fades scars. Regular application is important.
Related post: 10 Home Remedies for Acne Scars
8. Removes Warts and Skin Tags
Warts are caused due to virus infection on outer layer of the skin. Whereas tags are formed when bunch of collagen and tissues gets trapped inside skin it forms skin tags.
Regular topical application of castor oil can remove warts and tags.
9. Castor Oil Works as a Great Moisturizer
If you're looking for inexpensive and quick moisturizer then opt for castor oil. Fatty acids present in castor oil gets absorbed by skin easily, hydrating dry and itchy skin patches.
Few drops of castor oil are enough to bring your skin back to life.
10. Antimicrobial Properties
Acids present in castor oil has antimicrobial properties that helps to heal open wounds, ring worms, minor cuts and other fungal infections.
Few drops of topical application can do this work for you.
Did we forget to disclose any top benefits of castor oil for skin? Do share in comments.