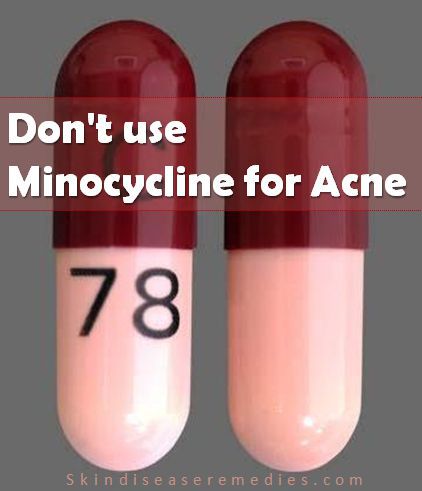 Minocycline has anti-inflammatory and anti-bacterial properties which can treat acne. Propionibacterium acnes, the bacteria which is the main cause of acne blemishes can be restrained with anti-bacterial properties.
It was believed that minocycline is most effective antibiotic for treating acne inflammation. Anyhow, after studies it was proved that other tetracycline antibiotics can treat acne without side-effects. Though minocycline has properties to treat acne, it's now not first line antibiotic acne treatment because of its adverse effects.
Related post: Cortisone Cream for acne
Below listed are few points disclosing why minocycline for acne is not recommended.
Minocycline belongs to tetracycline antibiotics and it can treat bacterial infections, skin infection, severe acne and urinary tract says Drugs.com. However it's very expensive when compared to other oral antibiotics.
Drugs.com doesn't recommend minocycline for pregnant women, as this may harm unborn baby and may permanent cause tooth discoloration.
Minocycline neutralizes birth pills. Experts don't recommend minocycline if you're taking birth control pills.
Makes your skin sensitive to sun.
Long term use of minocycline may cause hyperpigmentation. (Source: pubmed.gov)
This antibiotic treatment may induce hypersensitivity reactions affecting liver, kidney, and lungs, also may cause autoimmune reactions. (Source: pubmed.gov)
Considering its adverse effects with its efficacy in treating acne, experts don't recommend minocycline for acne as first line antibiotic treatment.
Note: Anyway if you want to give this pricey antibiotic a try then don't do it without doctor's prescription.
Share your home remedy for acne here in comments.