People with oily skin are gifted with well hydrated skin, it hardly dries. And you're free to use harsh chemicals or remedies that reap moisture. However, you must check at regular intervals to confirm that your face is not too oily. Cons of oily skin are out ranking its pros in most cases; anyhow, it may differ from person to person.
Multani mitti for oily skin is nature's excellent medicine to control excess oil production. Pimples or acne are most common issue with oily skin. Assorted nutritional property in fuller's earth helps to make your skin supple and radiant. Its exceptional benefits for skin and hair enticed cosmetic industries to include it to their beauty products.
Is Multani Mitti Good for Oily Skin and Why?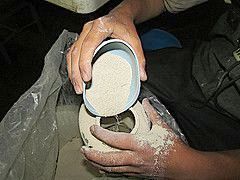 Unlike pricey facial creams Fuller's earth has been packed with exceptional nutrients. As it's derived directly from the nature (clay), you don't see any serious side-effects associated. Resource like zinc, iron, mica and magnesium are housed in this clay.
Multani mitti works as an excellent drying agent. Excess oil produce by sebaceous glands because of hormonal imbalance can be absorbed by this clay. Post usage your skin doesn't stretch or dry. You can also mix it with talcum powder and apply over feat to absorb sweat.
Acne blemishes pops-out over oily skin. Try multani mitti face pack mixing 2 tbsp of this clay, 1 tbsp of lemon juice and 1 tbsp of sandalwood powder for acne. Mix it thoroughly and apply over prewashed face. Properties in this clay affect oil producing glands and prevent further oil production. Reduce redness of pimples and inflammation with its cooling properties.
Dark spots and scars can be effectively treated by Fuller's earth.
Excess sun exposure results in sun tan, hyperpigmentation or freckles. Multani mitti treatment mixed with sandalwood helps to obtain radiant skin.
Skin whitening and skin complexion can be achieved with regular use of this natural clay.
Also known as Fuller's earth, multani mitti (mud from Multan) has been used by Romans for removing stains from laundry.
[Related post: Multani mitti face pack for pimples]
How to use Multani Mitti on Face for Oily Skin?
After buying it from local store, mix it with rosewater or distilled water and apply it over prewashed face. Regular topical application is recommended for best results. Along with this clay you can mix other natural ingredients (as long as you're aware of what you're doing).
Multani mitti face pack for oily skin:
Take required quantity of multani mitti (2-3 tbsp) and mix tomato juice, lemon juice, oatmeal powder and rosewater with it. You can replace rosewater with distilled water.
Before applying face pack, cleanse your face and then use your hands to apply this paste over face avoiding eye area. Yes, you can place sliced cucumbers over eye lids. Just lay down for few minutes and wipe it off using water. Post face pack application; apply jojoba oil or coconut oil.
If you're from India or Pakistan, then you'd have tried it. Share your experience about multani mitti for oily skin with us.