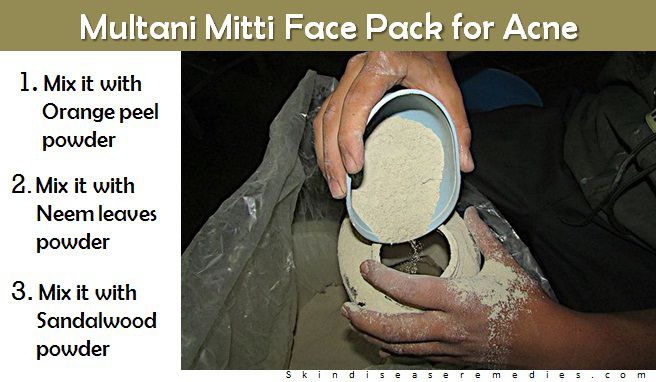 Also known as Fuller's earth, multani mitti is most prominent home available remedy for glowing skin in India and Pakistan. Though westerners hardly knew about it, multani mitti face pack has abundant benefits for skin. Few cosmetic industries incorporated this natural clay into face creams.
You can replace it with your cleanser and skin toner. Multani mitti face pack for acne and oily skin is an exceptional remedy because of its innate properties that unclog pores and controls excess sebum production.
Acne or pimples trigger because of hormonal imbalance. Sometimes it's accompanied by red, swollen and inflamed blemishes. Squeezing or bursting them will not help you. Internally you need to control oil production and external bacterial infection must be confined.
Magnesium chloride in Fuller's earth can reduce excess oil production and anti-bacterial properties thwarts acne causing bacteria.
Different Recipes of Multani Mitti Face Pack/Mask for Oily Skin and Acne
To reap benefits from this herbal remedy, mix it with other innate ingredients like neem leaves, sandal wood or Orange peels. However we're going to share recipes below.
1. Neem Leaves and Multani Mitti Face Pack for Oily Skin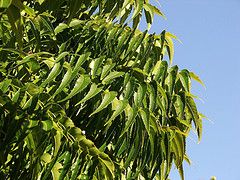 Like multani mitti, neem leaves are packed with nutrients, in India its well known for its antibacterial properties.
Things you'll need
Multani mitti clay – 1 tbsp
Neem powder – 1 tbsp
Rose water
Procedure
In a bowl mix all the above ingredients. You can replace rose water with distilled water. When you're done with mixing, wash your face prior to application of face pack.
Then with the help of your partner or yourself apply paste over face.
After 15 minutes rinse it off with water.
Regular application can fade acne scars.
2. Sandalwood and Multani Mitti Face Pack for Acne Scars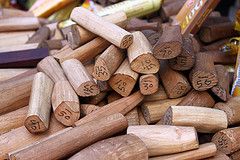 Sandalwood powder has antimicrobial and anti-aging agents housed in it. Its healing properties lighten scars and helps for skin whitening. Here we're also mixing turmeric you can replace it with milk or other natural ingredient.
Things you'll need
Multani mitti powder
Sandalwood powder
Turmeric powder
Rose water
Procedure
Mix all ingredients in required quantities in a bowl. If rose water is not available then you can replace it with distilled water or milk. Now apply the paste over your prewashed face.
See that face pack is spread evenly all over the face and around the neck (if needed). Leave it for about 15-20 minutes and rinse it off with water. Multani mitti also exfoliates dead cells, so you can use it as an exfoliator.
3. Orange Peel Powder and Multani Mitti Powder Face Pack for Acne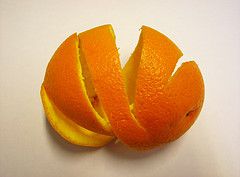 Orange peel powder has anti bacterial properties that fight acne causing bacteria and fuller's earth combination helps to shed dead skin cells. You can add lemon juice to this face pack. Alternatively you can add raw honey to Fuller's earth.
Things you'll need
Orange peel powder – 1 tbsp
Fuller's earth or multani mitti – 2 tbsp
Lemon juice – few drops
Water or rose water
Procedure
Mix above mentioned ingredients in a bowl. Add few drops of lemon juice and water (required) and mix thoroughly. Cleanse your face with lukewarm water. Pat dry with soft cloth and using your fingers apply the face pack over acne blemishes.
When you're done applying evenly, leave it for about 15 minutes and rinse it off with water. Pat dry using cotton cloth.
Important
If you've sensitive skin, then avoid excess lemon juice.
In case if your skin becomes dry after using this face pack, apply moisturizer when the skin is still damp.
Don't add allergic ingredients to your face pack.
You can also add olive oil by replacing rose water or milk.
People with dry skin are recommended to use moisturizer (coconut oil) after using multani mitti face pack for oily skin.