Don't expect a glowing skin right after getting up from a dream. You must wash the alarming levels of pollution and impurities accumulated over your face using innate ingredients like turmeric honey mask.
When I say about face wash, immediately you might think about pricey cosmetic products. Though you can expect instant results, chemical ingredients are left behind on your skin. This is why many beauty experts recommend natural remedies.
Also read: How to Use Turmeric for Acne
Honey and Turmeric Face Mask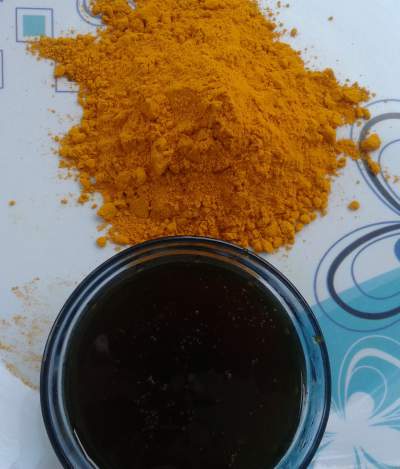 Extolling benefits of honey and turmeric are included in ancient and religious books. Antibacterial and antiseptic properties in this face mask can aid to treat pimples. Antioxidants housed in raw honey will restrain free radicals and enhances wrinkle free skin. Consume it or use it externally, honey has abundant benefits.
But, the refined honey has low nutrients when compared with its raw form. Though few recipes include heating honey experts condemn this procedure, because heating evaporates all nutritional properties in honey.
In India, turmeric powder is renowned for its antiseptic properties. It's been used as a first aid for minor or moderate injuries. You can reduce wrinkles, acne scars, stretch marks and other skin disorders using this natural spice.
Recommend: Honey and lemon face mask
Ingredients:
Raw honey (Manuka honey) – 1-2 tbsp
Turmeric powder – 1 pinch
Lemon juice – optional
Limit the use of lemon juice if you've sensitive skin, and you're allowed to add any other natural ingredients to the mask until you're not allergic to it.
Mix the ingredients in a clean bowl.
Prior to face mask application, wash your face with water and pat dry using soft cloth.
With your clean fingers apply the turmeric honey mask on the face. Don't miss wrinkled areas and acne/pimple spots.
After leaving for few minutes you can rinse it off.
As both the ingredients are natural, no side-effects are associated. However, turmeric may leave yellow stains over the skin. Just wash it 2-3 times and it fades. Replace turmeric with milk or cinnamon if you've no time to wipe yellow stains.