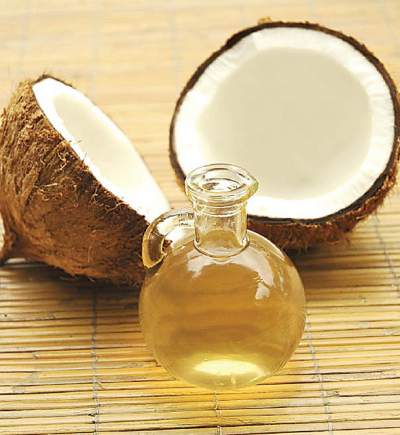 Though coconut oil is renowned for healthy hair, you can use it as a skin moisturizer, it's an instant cure for dry itchy patches. In parts of the world it has been used as a vital ingredient in foods.
Coming to topic, coconut oil for skin whitening works extensively, when you choose virgin coconut oil. Anyways, few beauty bloggers recommend to use sunscreen at daytime and coconut oil at night, also they recommend to stay at home if you used coconut oil over dark spots topically.
The reason I think why coconut oil turn your skin black is, when you apply coconut oil to your face and expose it to harmful UV rays, compositions residing in the oil along with melanin (a pigment responsible for skin color) darken the skin color. Or may be dust/dirt attracted by the oil responsible in some way.
Whatever the reason, I too recommend to stay at home after using coconut oil else use it before going bed if you desire to have lightening skin.
To make coconut oil more effective to lighten dark spots, you can mix few drops of lemon juice to it and use it as skin whitening lotion. But note that, lemon juice makes your sensitive, so use it at night.
Before you check nutrients in this home available ingredient, one must understand the mere cause of darkening of the skin.
What Causes Skin Darkening?
Your skin gets its color from a pigment known as melanin. Under the influence of external factors like sunlight, chemical incorporated creams, skin ailments and internal factors like certain medication, melanin pigment is produced excessively.
This results in darker skin and in some cases dark patches appear on different parts of your body.
Apart from environmental factors like impurities, pollutants, sun light and poor diet, genetics also influence your skin color.
Is coconut oil good for skin lightening?
Yes, it's good. But, not everyone is fortunate to experience positive results. There are cases studies where people complained about darker skin after using this oil. You give it a try and stick to pure coconut oil to see how it works for you.
Must read: 20 Best Fruit Juices for Skin Whitening
Does Coconut Oil Whiten Skin?
Am sure you'll be surprised to see cosmetic benefits of this home available ingredient.
According to another study, SPF of coconut oil is 7.119, which is second highest after olive oil.
Vitamin E and antioxidant properties exhibited by this oil help to encourage collagen production, thwart free radicals and promote cell regeneration.
New cell growth ensures that your skin stays bright without any lesions.
Renowned for its hydrating abilities, coconut oil application can improve your skin tone and make the skin supple.
Fatty acids residing in the oil penetrate deep into the skin to nourish the skin.
Assorted nutrients in this oil can protect your skin from harmful UV rays and thwart infectious germs.
It's packed with antibacterial, anti-inflammatory, antiviral and anti-fungal abilities that fight bacterial and fungal infection.
Capric, caprylic and lauric acids residing in the oil help to lock moisture and thus promote healthy functioning of your skin.
This moisturizing property prevents sunburns, ailments and dry patches.
How to Use Coconut Oil for Skin Whitening?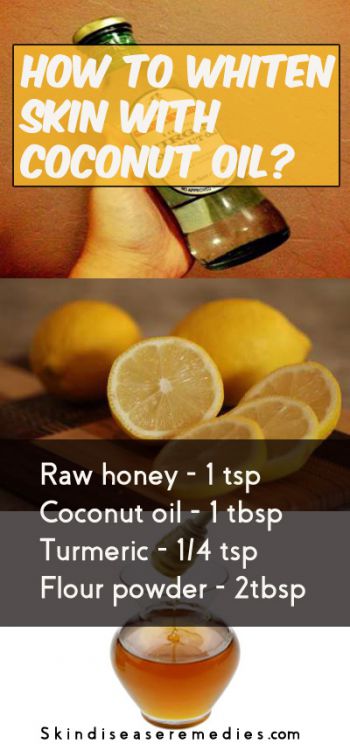 Coconut is packed with fatty acids, which help you to lose weight and lauric acid housed in this oil can kill bacteria, viruses and fungi. A research concludes that coconut oil is safe and effective moisturizer for dry skin. (1)
You can also use it for dark thighs to lighten them or on face. I recommend virgin coconut oil to whiten skin. To make it more effective you can add other natural ingredients.
Also read: 25 Best Foods to Lighten Skin Quickly
#1 Lemon and Coconut Oil
Lemon juice is housed with vitamin C, acidic and bleaching ability. Its application can restrain bacterial infection and treat various chronic skin ailments.
Add few drops of sliced lemon juice to 2 tbsp of virgin coconut oil.
Mix it well and apply using cotton ball on prewashed face.
Leave it 15 minutes, and then rinse it off with lukewarm water.
As mentioned above, use it before going to bed and while going out use sunscreen cream.
Properties in natural ingredients acts as a sunscreen, a study states that coconut oil, peanut, cottonseed oil and olive oil can guard your skin from 20% of UV rays.
#2 Sandalwood and Virgin Coconut Oil
Sandalwood oil or powder is prominent for its skin whitening properties. Its application will helps to lighten dark spots, scars and make your skin bright.
Mix equal amounts of virgin coconut oil with sandalwood oil.
Apply this oil mixture on prewashed face and allow it to dry naturally for 10 minutes.
Then wash with lukewarm water.
#3 Cold Pressed Coconut Oil for Skin Whitening
To whiten the skin on face or any other part of the body, opt for organic coconut oil.
Wash the skin with water to remove impurities and dead skin cells.
Take organic cold pressed coconut oil in required quantity.
Now gently massage it over the skin in circular motion.
Leave it to dry naturally and rinse it off in the morning.
#4 Turmeric and Coconut Oil to Whiten Skin
Curcumin, a compound present in turmeric powder can effectively reduce melanin production. Antibacterial and anti-inflammatory properties are renowned to treat skin ailments like acne, eczema and psoriasis.
Note: Excess use of turmeric may leave yellow stains on your face.
Blend 1 teaspoon of raw honey, 1 tablespoon of coconut oil and ¼ teaspoon of turmeric powder with 2 tablespoons of flour powder.
Mix thoroughly to obtain smooth paste.
Apply the mask on prewashed face and leave it to dry naturally.
After 20-25 minutes, rinse it off.
You can just mix turmeric and coconut oil, if you don't want to use honey.
Also read: How to Use Turmeric Powder for Skin Whitening?
#5 Coconut Oil for Dark Thighs
Because of its moisturizing properties, it's good to apply coconut oil over the whole body.
In cold seasons, legs and thighs start itching. Massage them with coconut oil to lighten dark patches and moisturize the skin.
Blend 3 tablespoons of coconut oil with half lemon juice. Wash your thighs with water and pat dry. Now massage the coconut and lemon pack over the skin.
Let it dry naturally. Rinse it off with lukewarm water.
#6 Coconut Oil for Dark Circles Under the Eyes
As you know, skin under the eyes is very sensitive. With age, skin becomes delicate and blue veins underneath the skin can be seen. Apart from aging, lack of sleep, stress and long exposure to T.V or computer screen results in dark circles.
Vitamin E residing in coconut oil repair skin cells and its anti-inflammatory properties reduce swelling. Lactic acid in this home available oil shrinks skin pores and tighten the skin.
Blend virgin coconut oil with grapeseed oil or sandalwood oil in required quantity. Before applying the mask, wash your face with water and pat dry.
Using your fingers apply the coconut oil mixture under the eyes and leave it to dry naturally.
#7 Coconut Oil for Dark Armpits
Poor ventilation, dead cells, chemical incorporated deodorants and regular use of hair removal creams cause dark underarms.
We all knew it isn't associated with any skin ailment. However, I personally experienced rigorous itching under arm. Coconut oil with its hydrating properties can lighten dark armpits and help to get rid of itching.
Sweating is the main cause of itching underarms.
Vitamin E is prominent to lighten dark underarms. Wash armpits with water, use soap to remove sweat if needed. Pat dry and massage with virgin coconut oil for skin whitening.
Repeat the process regularly to see positive result.
When to Apply Coconut Oil for Skin Lightening?
You can use this innate oil in various ways. Dr.Axe shared on his blog 20 ways.
Best time to apply coconut oil is before going to sleep.
As mentioned above, make sure you don't go out with coconut oil on your skin, because it attracts impurities and pollutants on the skin.
Limit the use of lemon juice if you've sensitive skin.
Along with these awesome recipes, drink enough water, eat water-rich fruits and vegetables, avoid stress, have enough sleep and don't spend too much time before computer screens.
Watermelon, strawberries, grapefruit, cantaloupe, peaches, pineapple, oranges, apricots, plums and apples are water rich fruits.
Spinach, zucchini, tomato, green cabbage, radish, broccoli, green peas, celery and cucumber are water rich vegetables.
Follow this diet along with coconut oil for skin whitening mask. 🙂
Other skin whitening remedies