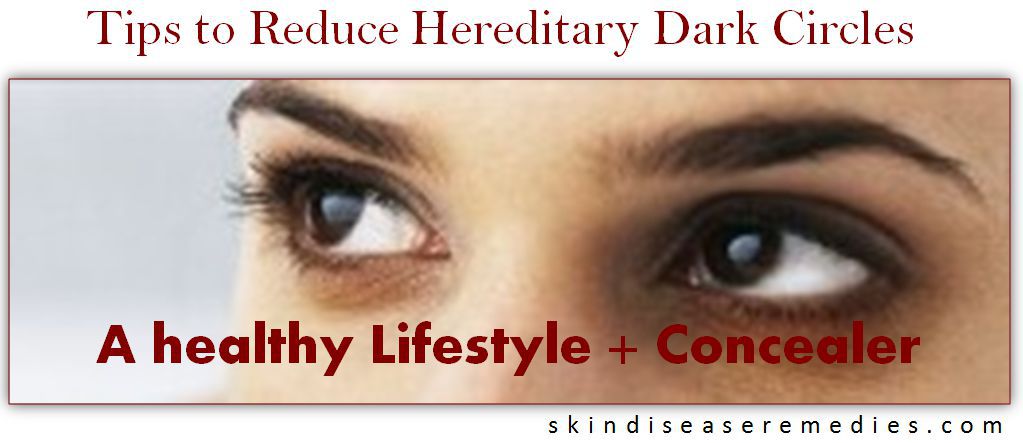 Skin discoloration under eyes is commonly referred as dark circles or black eye circles. Various factors like lack of sleep, vitamin deficiency, stress, aging and heredity are held responsible for these dark rings.
However, heredity is one of the common causes. So, how to get rid of hereditary dark circles?
According to New York Cosmetic Skin and Laser Surgery Center genetic hyper-pigmentation (dark circles under eyes) are treatable.
Dark circles under eyes are closely related to lifestyle and they get worse due to stress, depression, eating habits and late night sleeps.
Applying moisturizing cream/natural remedies, retinol and practicing a healthy lifestyle can reduce genetic dark circles.
Before jumping to treatment, please check with your dermatologist to confirm the main cause of dark circles.
How Dark Circles are Formed?
Your eyes blink approximately 10,000 times a day. (1) For this purpose skin must be muscular, so naturally skin around the eye is fragile and very fine.
You may experience black, purple, grey or yellow-brown colored dark circles. This is due to bad blood circulation under eyes, which can be easily seen due to fine skin around the eyes. (2)
How to Get Rid of Hereditary Dark Circles Naturally?
These black circles under eyes aren't associated with any serious health ailment, but people try to get rid of them due to cosmetic concern.
You can use concealer, chemical peels, lightening creams or laser therapy to treat genetic dark circles. However, of all these methods most people prefer home remedies, as they are inexpensive and filled with exceptional nutrients.
Along with home remedies you must change your lifestyle, as mentioned below.
In case you fail even after using all these remedies to fight hereditary dark circles, try creamy concealer that matches your skin. But, men have to address this cosmetic issue by trying these home remedies.
#1 Rose Water for Dark Circles
The reason it made first position because it is packed with humectant and soothing properties. On top of that it isn't associated with any side-effect.
Topical application of rose water helps to restore pH level and lighten the appearance of excess pigmentation.
Anti-inflammatory property in it helps to reduce swelling and redness.
Astringent ability helps to tighten skin under eyes.
It hydrates, protect the skin from harmful UV rays, unclog skin pores and enhance collagen production.
Dip a cotton ball in rose water and apply it on under eye skin. Leave it to dry naturally. Alternatively, you can blend glycerin and rosewater in equal quantity and use it for dark circles.
#2 Raw Potatoes
This home available vegetable has bleaching property that can reduce dark circles. It also contains Catecholase, which can reduce puffiness under eyes.
Hydrating ability of potato moisturizes your skin.
Antioxidants, vitamin A and other nutrients housed in this vegetable help to tighten skin and make it bright.
Anti-inflammatory property helps to reduce swelling and lighten dark circles.
Slice one raw potato into thick pieces and place two of them over your eye lids. Relax for about 20 minutes with these sliced potatoes. Alternatively, you can apply potato puree to skin under-eye.
#3 Cucumber to Get Rid of Hereditary Dark Circles
Cucumber consists of 90% of water in it. It is prominent for its hydrating and cooling abilities.
Antioxidant agents present in this vegetable help to reduce dark circles and puffiness.
Cooling ability of cucumber helps to avoid accumulation of fluid under eyes. Thus it can reduce appearance of dark circles.
Vitamin K housed in cucumber can help to reduce dark discoloration under eyes.
They also contain potassium, which help to reduce the appearance of fine lines.
Vitamin C packed in it enhances collagen production and restores skin's elasticity.
Manganese and beta-carotene residing in this cool cuke reduce inflammation and swelling.
Just like potatoes, peel, slice and place two thick cucumber pieces over the eye lids. Alternatively, you can extract its juice and apply it on dark circles using a cotton ball.
#4 Lemon Juice
Renowned for its bleaching property, lemon juice can effectively reduce dark circles. But, excess use of lemon juice may irritate sensitive skin under eyes.
So, experts recommend diluting it with water or cucumber juice.
Topical application of lemon juice avoids accumulation of fluids under the skin.
Astringent property exhibited by lemon tightens skin and make it wrinkle free.
Antibacterial and antiseptic properties of this natural ingredient help to thwart infectious germs and allergens.
Vitamin C packed in lemon strengthens skin cells around the eye.
Mix lemon juice with juice extracted from fresh cucumber. Use a cotton ball to apply this solution on the skin under eye.
#5 Almond Oil
Nutritional properties residing in almond oil are perfect for sensitive skin under eyes.
Vitamin K in almond oil avoids dark discoloration under eyes.
Retinol and palmatic acid present in almond oil hydrates dark circles and make it smooth.
Emollient ability of this oil locks moisture over the skin and prevents dryness.
Dark spots, dark veins and dark circles can be reduced by assorted nutrients in almond oil.
Wash your face and pat dry with a soft cloth. Take few drops of almond oil and apply it under eyes. You can also mix honey or coconut oil with almond oil.
#6 Tomato to Get Rid of Hereditary Dark Circles Under Eyes
Bleaching property residing in tomato helps to lighten black circles under eyes.
For topical application, mix 1 teaspoon of tomato juice with 1-2 drops of lemon juice and apply it on skin under eyes.
For internal consumption, mix lemon juice and mint leaves to tomato juice.
#7 Coconut Oil
Applying coconut oil will hydrate your skin and also promotes skin whitening. However, there are few cases where people reported that they experienced dark skin after using coconut oil.
Beauty experts recommends to use pure coconut oil and stay home after applying coconut oil, as it will attract impurities.
Wash your face and pat dry using a clean cloth as mentioned above.
Take extra virgin coconut oil and gently massage under eyes.
Leave it to dry naturally and then rinse it off.
Tips on How to Get Rid of Genetic Dark Circles
Stay away from sun: Exposing too much to UV rays form dark color on parts of the body including eyes, forehead, hands and back (if your back is exposed). Wear sunscreen, hat and long sleeves while going out in summer.
Don't strain your eyes by watching TV or sitting in-front of PC all the time. Harmful radiation from these screens may harm your skin.
Get enough sleep, preferably at night time. It is nature's law to sleep at night, so follow it if you want to have a healthy life.
Drink more water, approximately 70% of our body is made of water. Not drinking enough water will trigger many health as-well-as skin diseases including eczema, psoriasis and dry skin.
Get enough vitamins for your body through diet. When toxins accumulate in body they trigger skin ailments, vitamin A helps to reduce toxins. Iron deficiency may cause dark circles says experts.
Retinol (a form of vitamin A) boosts collagen production which wipes away fine lines under eyes. It may also work on discoloration of skin. You can retinol cream from a local drug store.
After washing your face pat dry, while the skin is still damp apply moisturizing cream.
Stay happy, don't stress yourself or get depressed.
All the above listed tips may or may not work for you, as skin tone is not same for all. But without any doubt it will benefit your skin to some extent.
Treating Hereditary Dark Circles
With advanced cosmologist and skin experts with us still we can't treat hereditary dark circles completely. That is why I recommended you a healthy lifestyle (which I discussed above); with these tips you can at-least recover to some extent.
Anyway, those who've lots of money in their pockets can try surgical or laser treatment by consulting dermatologists. Or you can just use concealer to hide dark under eyes.
Many people (both with white and black skin tone) prefer concealer to hide dark circles. Yes, it's not a remedy and you must apply every day.
Note: Keep your skin away from chemical filled make-ups.